Picture Book Highlights | Celebrate Pride Month!
By
Monica C.
Fri, June 4, 2021
Looking for books to celebrate Pride month? Look no further than these titles bursting with love and pride!
These picture books have it all, with families finding homes, love, and adventures along the way, and are sure to find a place on your to-read shelf.
Over the Shop written by JonArno Lawson; illustrated by Qin Leng
A lonely little girl and her grandparent need to fill the run-down apartment in their building. But taking over the quarters above their store will mean major renovations for the new occupants, and none of the potential renters can envision the possibilities of the space—until one special couple shows up. With their ingenuity, the little girl's big heart, and heaps of hard work, the desperate fixer-upper begins to change in lovely and surprising ways.
Adventures with My Daddies written by Gareth Peter, illustrated by Garry Parsons
ebook available from Overdrive
Set off on a series of incredible adventures with an endearing, diverse family as the bedtime stories they read burst into colorful life. Together, the daddies and their little one battle dragons, dodge deadly dinosaurs, zoom to the moon, and explore the world in a hot air balloon, before winding down to sleep in a wonderfully cozy ending.
Ritu Weds Chandni by Ameya Narvankar
ebook available from Overdrive
Ayesha is excited to attend her cousin Ritu's wedding. She can't wait to dance at the baraat ceremony! But not everyone is happy that Ritu is marrying her girlfriend Chandni. Some have even vowed to stop the celebrations. Will Ayesha be able to save her cousin's big day?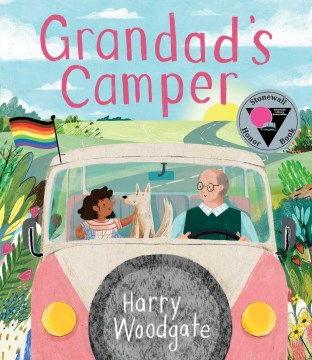 Grandad's Camper by Harry Woodgate
Gramps and Grandad were adventurers. They would surf, climb mountains, and tour the country in their amazing camper. Gramps just made everything extra special. But after Gramps died, granddad hasn't felt like traveling anymore. So, their amazing granddaughter comes up with a clever plan to fix up the old camper and get Grandad excited to explore again.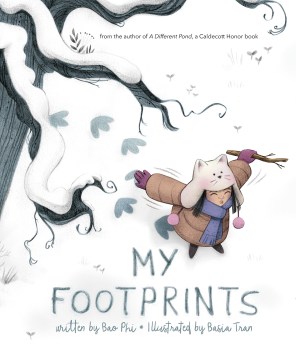 My Footprints written by Bao Phi, illustrated by Basia Tran
ebook available from Overdrive
Every child feels different in some way, but Thuy feels "double different." She is Vietnamese American and she has two moms. Thuy walks home one winter afternoon, angry and lonely after a bully's taunts. Then a bird catches her attention and sets Thuy on an imaginary exploration. What if she could fly away like a bird? What if she could sprint like a deer, or roar like a bear? Mimicking the footprints of each creature in the snow, she makes her way home to the arms of her moms. Together, the three of them imagine beautiful and powerful creatures who always have courage - just like Thuy.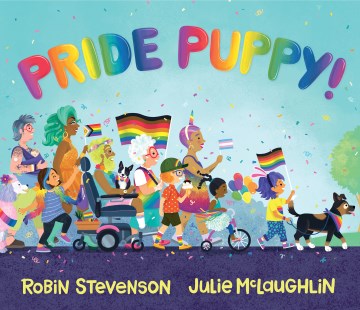 Pride Puppy! written by Robin Stevenson; illustrated by Julie McLaughlin
ebook available from Overdrive
A young child and their family are having a wonderful time together celebrating Pride Day—meeting up with Grandma, making new friends and eating ice cream. But then something terrible happens: their dog gets lost in the parade! Luckily, there are lots of people around to help reunite the pup with his family. This rhyming alphabet book tells a lively story, with rich, colorful illustrations that will have readers poring over every detail as they spot items starting with each of the letters of the alphabet. An affirming and inclusive book that offers a joyful glimpse of a Pride parade and the vibrant community that celebrates this day each year.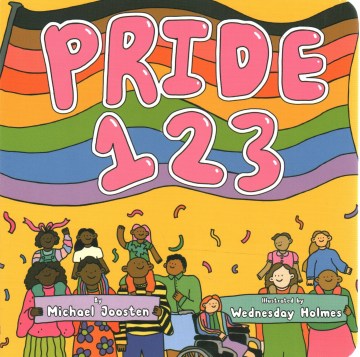 Pride 1 2 3 written by Michael Joosten; illustrated by Wednesday Holmes
ebook available from Overdrive
Teach your little ones about the Pride Parade with this colorful, energetic counting book! Featuring a diverse cast of characters and families, this board book highlights and celebrates the LGBTQIA+ community, love, and standing up for who you are while counting to ten. Perfect for all families, this counting board book should be shared and read with pride!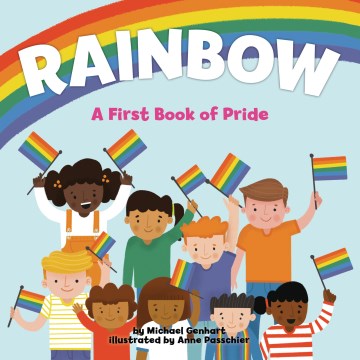 Rainbow: A First Book of Pride written by Michael Genhart; illustrated by Ann Passchier
This is a sweet ode to rainbow families, and an affirming display of a parent's love for their child and a child's love for their parents. With bright colors and joyful families, this book celebrates LGBTQ+ pride and reveals the colorful meaning behind each rainbow stripe. Readers will celebrate the life, healing, light, nature, harmony, and spirit that the rainbows in this book will bring.
Be sure to check our catalog and Overdrive Kids eReading Room, for these titles and many more being added!