Blessed are those whose ways are blameless (Wohl denen die ohne Wandel leben)
Fraktur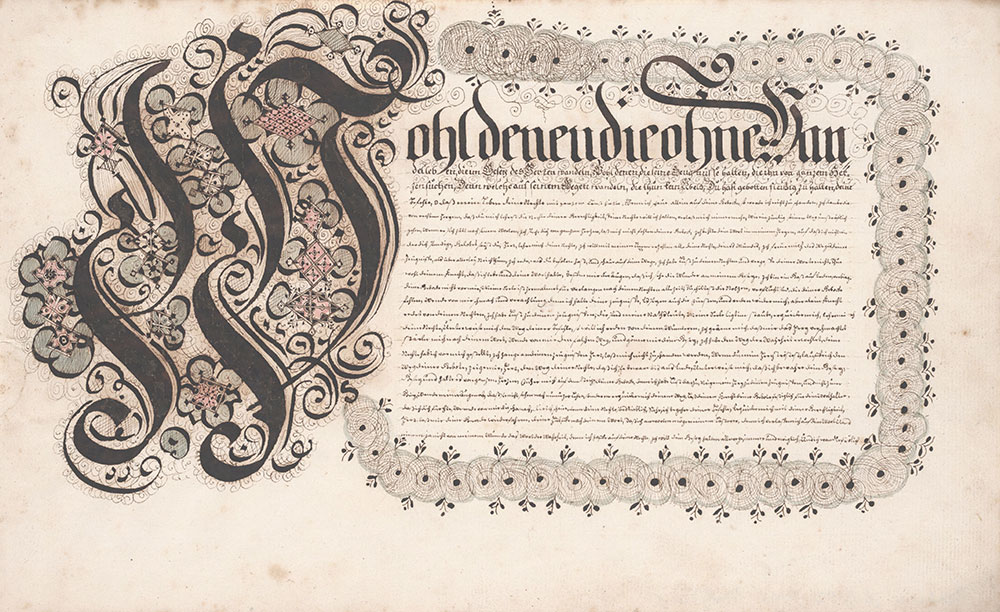 Item Info
Item No: frk01117
Title: Blessed are those whose ways are blameless (Wohl denen die ohne Wandel leben)
Scripts/Text:
Fraktur; German script
Language:
German
Physical Description:
Leaf
Material:
Laid paper; watercolor; ink
Transcription:
Wohl denen die ohne Wan= \ del leben, die im Gesetz des Herren wandeln, Wohl denen die deine Zeugnüsse halten, die ihn von ganzen Her= \ zen suchen, Denn welche auf seinem Wegen wandeln, die thun kein übels, Du hast gebotten fleißig zu halten deine \ befehle, O daß mein Leben deine Rechte mit ganzem Ernst hielte. Wenn ich schaue allein auf deine Gebote, so werde ich nicht zuschanden. Ich danke dir \ von rechtem Herzen, daß du mich lehrst die Rechte deiner Gerechtigkeit. Deine Rechte will ich halten, verlass mich nimmermehr, Wie wird ein jündig seinen Weg unsträflich \ gehen, Wenn er sich hält an deine Worte, Ich suche dich von ganzem Herzen, laß mich nicht fehlen deiner Geboten, Ich behalte dein Wort in meinem Herzen, auf daß ich nicht wi= \ der dich sündige. Gelobet seist du, Herr, lehre mich deine Rechte, Ich will mit meinen Lippen erzählen alle deine Rechte deines Mundes, Ich freue mich des Weges deiner \ Zeugnisse, als über allerley Reichtum, Ich rede, was du befohlen hast, und schaue auf deine Wege, Ich habe Lust zu deinen Rechten und vergesse deine Worte nicht, Thue \ wohl deinem Knecht, daß ich lebe und dein Wort halte, Öffne mir die Augen, daß ich sehe die Wunder an meinem Gesetz, Ich bin ein Gast auf Erden, verbirg \ deine Gebote nicht vor mir, Meine Seele ist zermalmet für Verlangen nach deinen Rechten allezeit. Du schiltst die Stolzen, verflucht sind, die deiner Gebote \ fehlen, Wende von mir Schmach und Verachtung, denn ich halte deiner Zeugnisse, Sitzen auch die Fürsten und reden wieder mich, aber dein Knecht \ redet von deinen Rechten, Ich habe Lust zu deinen Zeugnisses; die sind meine Rathgeber, Meine Seele liegt im Staube, erquicke mich, lehr mich deines Rechtes, Unterweise mich den Weg deiner Befehle, so will ich reden von deinen Wundern, Ich gräme mich, dass mir das Herz verschmachtet \ stärke mich nach deinem Wort, Wende von mir den falschen Weg, und gönne mir dein Herz, Ich habe den Weg der Wahrheit erwählet, deine \ Rechte hab ich vor mich gestellt, Ich hange an deinen Zeugnissen fest, laß mich nicht zuschanden werden Wenn du mein Herz tröstest laufe ich den \ Weg deiner Gebote, zeige mir, Herr, den Weg deiner Rechte, daß ich sie bewahre bis ans Ende, Unterweise mich, daß ich bewahre dein Gesetz \ Gesetz und es halte von ganzem Herzen, Führe mich auf dem Steig deiner Gebote, denn ich habe Lust darzu, Neige mein Herz zu deinen Zeugnissen, und nicht zum \ Geiz, Wende meine Augen ab, daß sie nicht sehen nach unnützer Lehre, sondern erquicke mich auf deinem Weg, Laß deinen Knecht deine Gebote festliglich für dein Wort halten, \ daß ich dich fürchte, Wende von mir die Schmach, die ich scheue, denn deine Rechte sind lieblich, Siehe, ich begehre deine Befehle, Erquicke mich mit deiner Gerechtigkeit, \ Herr, laß mir deine Gnade widerfahren, deine Hilfe nach deinem Wort, dass ich antworten möge meinem Lästerer, denn ich verlasse mich auf dein Wort, Und \ nimm ja nicht von meinem Munde das Wort der Wahrheit, denn ich hoffe auf deine Rechte, Ich will dein Gesetz halten allezeit, immer und ewiglich, Und ich wandle fröhlich [text breaks off]
Translation:
Blessed are they whose ways are blameless, who walk according to the law of the Lord. Blessed are they who keep his statutes and seek him with all their heart. For those who walk in your ways do nothing wrong. You have laid down precepts that are to be fully obeyed. Oh, that my ways were steadfast in obeying your decrees! Then I would not be put to shame when I consider all your commands. I will praise you with an upright heart as I learn your righteous laws. I will obey your decrees; do not utterly forsake me. How can a young man keep his way pure? By living according to your word. I seek you with all my heart; do not let me stray from your commands. I have hidden your word in my heart that I might not sin against you. Praise be to you, Lord; teach me your decrees. With my lips I recount all the laws that come from your mouth. I rejoice in following your statutes as one rejoices in great riches. I meditate on your precepts and consider your ways. I delight in your decrees; I will not neglect your word. Do good to your servant, and I will live; I will obey your word. Open my eyes that I may see wonderful things in your law. I am a stranger on earth; do not hide your commands from me. My soul is consumed with longing for your laws at all times. You rebuke the arrogant, who are cursed and who stray from your commands. Remove from me scorn and contempt, for I keep your statutes. Though rulers sit together and slander me, your servant will talk about your decrees. Your statutes are my delight; they are my counselors. I am laid low in the dust; preserve my life according to your word. I recounted my ways and you answered me; teach me your decrees. Let me understand the teaching of your precepts; then I will speak of your wonders. My heart is weary with sorrow; strengthen me according to your word. Keep me from deceitful ways; grant me your heart. I have chosen the way of truth; I have set my heart on your laws. I hold fast to your statutes; do not let me be put to shame. When you comfort my heart I run in the path of your commands, show me, Lord, the path of your laws so that I may keep them to the end. Give me understanding, and I will keep your law and obey it with all my heart. Direct me in the path of your commands, for there I find delight. Turn my heart towards your statutes and not towards selfish gain. Turn my eyes away so that they may not see worthless teachings; preserve my life on your path. Let your servant steadfastly take your commandments as your word, so that I may fear you. Take away the disgrace I dread, for your laws are good. See, I yearn for your commandments; preserve my life in your righteousness. Lord, may your unfailing love come to me, your salvation according to your promise; then I will answer the one who taunts me, for I trust in your word. And do not snatch the word of truth from my mouth, for I have put my hope in your laws. I will always obey your law, always, forever and in eternity. And I will walk about joyfully [text breaks off]
Category:
Religious Text
Media Type:
Manuscripts
Source:
Rare Book Department
Notes:
Hand-drawn; hand-colored; hand-lettered. The first letter in a particularly prominent and decorative style is on the left side of the document. The text in Fraktur within a decorative frame is next to it. The text is Psalm 119:1-45. See FLP 1116 for a related example.
Creation Place Note:
Creation Place Note:Unknown; possibly European
Creation Year (Single Year or Range Begin):
ca. 1850
Image Dimensions Width:
21.5 cm
ShelfMark:
FLP 1117
Creator Name:
Anonymous - Decorator
Anonymous - Scrivener
View other associated items