Discover Black Folk Musicians
By
Natalie H.
Wed, July 8, 2020
Although many people associate the term "folk music" with white musicians like Pete Seeger, there is a long tradition in the United States of Black folk musicians.
In fact, without the spirituals sung by enslaved people, the railroad songs of the Reconstruction era, and the ragtime hits of the early twentieth century, modern folk music would not exist. From now-deceased legends like Lead Belly and Odetta to present-day banjoists like Jake Blount and Rhiannon Giddens, there is a tremendous amount of music by Black artists to enjoy.
Listen to the following playlist of songs on our Spotify channel by Black folk musicians, appropriate for children but fun for all ages. The genres of songs on this playlist range in levels of twang and bluesiness, so there is something for everyone!
Philadelphia in particular has a rich history regarding folk music. For example, the anthem of the 1960s Civil Rights movement, "We Shall Overcome," was written in 1900 as a hymn by a Black Philadelphian minister, Reverend Charles A. Tindley. Another notable Philadelphian musician of the nineteenth century is James A. Bland, a Black minstrel who wrote over 600 songs in his life and toured the world playing his banjo. These musicians and other Philadelphian folk songs are featured in my recent video, created for children ages four and up:
Interested in learning and reading more about folk music? Check out the following ebook suggestions from our catalog!
Folk Music ebooks for Children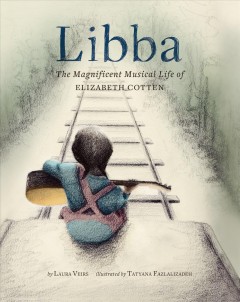 Libba: The Magnificent Musical Life of Elizabeth Cotton written by Laura Veirs; illustrated by Tatyana Fazlalizadeh
Available through Hoopla
Elizabeth Cotten was only a little girl when she picked up a guitar for the first time. It wasn't hers (it was her big brother's), and it wasn't strung right for her (she was left-handed). But she flipped that guitar upside down and backwards and taught herself how to play it anyway. By age eleven, she'd written "Freight Train," one of the most famous folk songs of the twentieth century. And by the end of her life, people everywhere—from the sunny beaches of California to the rolling hills of England—knew her music. This lyrical, loving picture book tells the story of the determined, gifted, daring Elizabeth Cotten—one of the most celebrated American folk musicians of all time.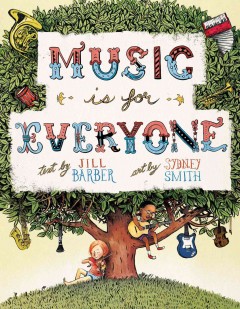 Music is for Everyone written by Jill Barber; illustrated by Sydney Smith
Available through Hoopla
This title is sure to get you excited about making music! Singer-songwriter Jill Barber takes her young readers through many different kinds of music—hip hop, jazz, classical, folk—and instruments in an energetic, rhyming tour. Sydney Smith's gleeful illustrations capture all the joy that comes from making music in all its forms!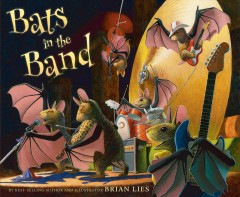 Bats in the Band by Brian Lies
Available through Hoopla
The look on our faces is easy to read: a little night music is just what we need! A late-spring night sky fills with bats flocking to a theater, already echoing and booming with delightful sounds of music. Bat music full of plunky banjoes, bat-a-tat drums, improvised instruments, country ballads, and the sweet cries of a bat with the blues. Join this one-of-a-kind music festival as the bats celebrate the rhythm of the night and the positive power of music. Brian Lies's newest celebration of bats and their dazzling, dizzying world will lift everyone's spirits with joyous noise and cheer!
Folk Music ebooks for Adults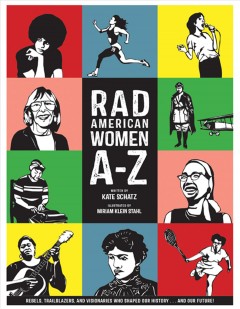 Rad American Women A-Z written by Kate Schatz; illustrated by Miriam Klein Stahl
Available through Overdrive
26 American women from the 18th through 21st centuries are profiled here, all who have made—or are still making—history as artists, writers, teachers, lawyers, or athletes. The women come from a variety of economic and ethnic backgrounds, and many had to overcome extreme hardships. One woman represents each alphabetical letter beginning with Angela Davis, an activist, teacher, and writer, and concludes with Zora Neale Hurston, an anthropologist and writer. Check out Odetta's chapter beginning on page 34.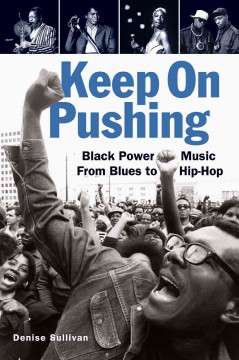 Keep on Pushing: Black Power Music from Blues to Hip-Hop by Denise Sullivan
Available through Hoopla
This title explores the bond between music and social change, while tracing the evolution of protest music over the past five decades. The marriage of music and social change did not originate with the civil rights and black power movements of the 1950s and 1960s, but never before had the relationship between the two been so dynamic. Black music altered the road to liberation for minorities, sparking creativity and resulting in genre-encompassing poetry, jazz, folk, and rock, along with a new brand of prideful and political soul and funk. Through extensive research and exclusive interviews with musician-activists such as Yoko Ono, Richie Havens, Janis Ian, and Buffy Sainte-Marie, this chronicle details the struggle that went into the creation of liberation music. A bittersweet narrative covering more than 50 years of fighting oppression through song, Keep on Pushing defines the soundtrack to revolution and the price paid to create it.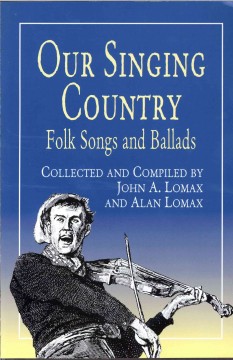 Our Singing Country: Folk Songs and Ballads by John A. Lomax and Alan Lomax
Available through Hoopla
This sequel to the Lomaxes' widely acclaimed American Ballads and Folk Songs includes melodies and words for tunes from all parts of the country. Songs include spirituals, hollers, game songs, lullabies, courting songs, chain-gang work songs, Cajun airs, breakdowns, and many more. Judith Tick, a scholar and award-winning author, provides a new fact-filled Introduction; notes on tune origins, two indexes, and an extensive bibliography round out this archive of some 200 authentic folk songs and ballads.
---
Have a question for Free Library staff? Please submit it to our Ask a Librarian page and receive a response within 72 hours.
This calls attention to forgotten black artists and musicians, and to the importance of music during the 1960's civil rights movement. It's a very literate blend of music, historical commentary and it highlights Free Library resources (print and non-print) for children and adults.
Thursday, July 9, 2020
---
Great article. There is also a new biography of Odetta that just came out!
Thursday, July 16, 2020
---
I want to continue collecting folk music and blues on vinyl
Saturday, December 11, 2021
---