LGBTQ History Told Through Comics and Graphic Novels
By
Shelley R.
Wed, October 13, 2021
A panel from Hazel Newlevant's exposé of queer uprisings found within Be Gay, Do Comics!.
All October we'll be talking about LGBTQ History on the Free Library's blog! Last week we discussed LGBTQ Historical Young Adult Fiction. This week, we turn our attention to comics and graphic novels!
I think comics are really great because they're so quick to read, often beautiful to look at, and perfect for anthologies by letting us engage with even more stories, so those voices can be heard and amplified.
Did you know that the country's first act of civil disobedience against transphobic discrimination happened right here in Philadelphia? That there were covert gay Nazi-fighters in Germany? That the Philippines has a long history of non-binary genders from before they were colonized? Have you thought about the history of how we think about queerness and identity? Do you just really like comics? Then let's check out these LGBTQ History Comics and Graphic Novels!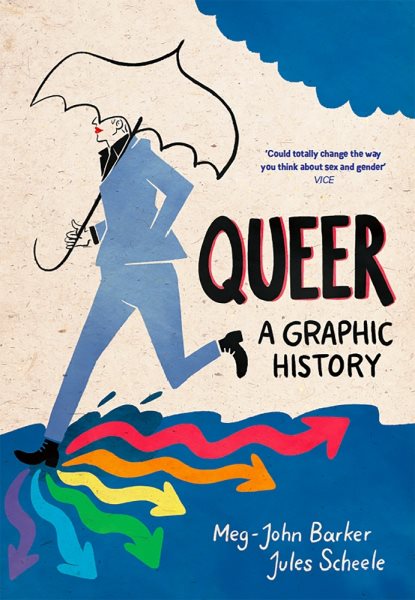 Queer: A Graphic History
by Meg John Barker
This book is
not
a history of the LGBTQ rights movement or our communities. This book
is
a history of how people have
thought
about gender, sex, sexuality, and
queerness.
It's a primer on the different ways people have talked about identities and what it means to be LGBTQ. It covers, in brief, all the many different arguments that have happened within and outside of the LGBTQ community about what it means to be a woman, or bisexual, or genderqueer. If you're getting ready for college, this is an excellent read to prepare you for the different conversations you're likely to encounter in a gender studies class. It's also just interesting for reflecting on your own identity and how you relate to it. The illustrations and easy language make concepts frequently considered inaccessible, accessible. Be advised that there are some cartoon illustrations of breasts and adults participating in BDSM on some pages.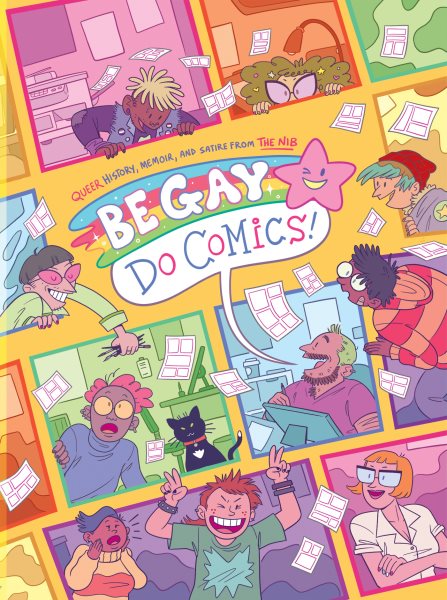 Be Gay, Do Comics!: Queer History, Memoir, and Satire from The Nib
edited by Matt Bors
This anthology of comics by more than 30 LGBTQ artists and writers contains a variety of genres, including history! Included within these pages are a biography of a gay Jewish nazi fighter, a look at Puerto Rico's LGBTQ community, various coming out memoirs (of course), and histories of pre-Stonewall uprisings, non-western non-binary genders, queerness in the Middle East and North Africa, the rainbow flag, gay rights in the Phillippines, the Lavender Scare, and more! Yes! Even more! I love anthologies!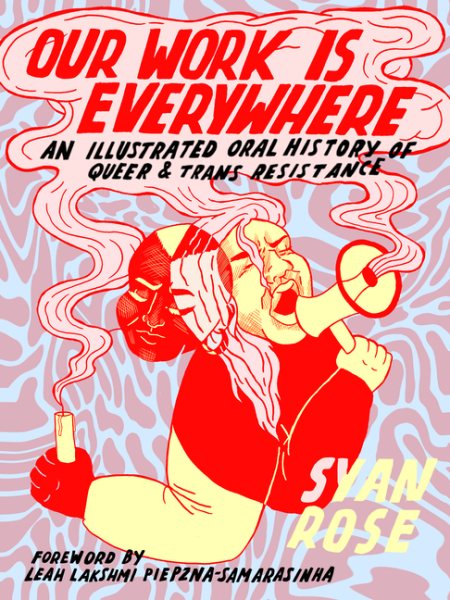 Our Work Is Everywhere: An Illustrated Oral History of Queer and Trans Resistance
by Syan Rose
Hot off the presses! Syan Rose interviews queer and transgender activists, artists, freedom fighters, and organizers, while beautifully illustrating their words. There is so much community history that is often not "historical" enough to show up in newspapers and history books but still shapes the world we live in. Oral history is a wonderful way to capture these oft-overlooked histories. In many ways, this is "history of the present-day" and bridges the gap between where the book ends and the ongoing struggles begin.
Here are some more comics recommendations that you might be interested in that aren't about history, but rather, are themselves historical!
Gay people were making beloved self-published comics throughout the 20th century and we have some of them in our catalog. Check out the Dykes to Watch Out For series (by Alison Bechdel, of the infamous Bechdel Test!) and No Straight Lines: Four Decades of Queer Comics.
Next week: Historical Nonfiction
---
Have a question for Free Library staff? Please submit it to our Ask a Librarian page and receive a response within 72 hours.