What Do You Know About Bollywood? | International Bollywood Day
By
Inaara S.
Tue, September 28, 2021
September 24 is International Bollywood Day!
So... what exactly is Bollywood? Depending on who you ask, each person defines it differently.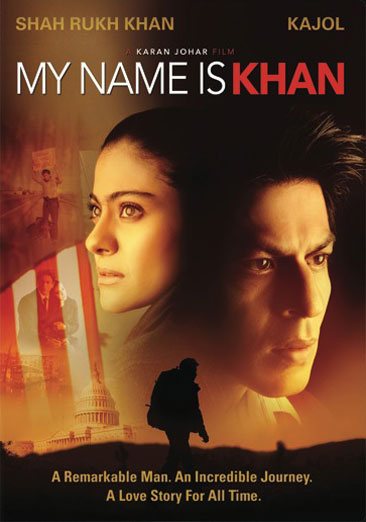 In the film My Name Is Khan, an Indian man embarks on a remarkable journey across America to win back the love of his life.
Bollywood is a combination of the words Hollywood and Bombay, the former name of the city of Mumbai in India. Many consider Mumbai to be the epicenter of the Hindi film industry.
One of the primary features of Bollywood films are the songs and dances. Music directors collaborate with lyricists and playback singers to produce a soundtrack for the film. Then, choreographers work with the actors and large dancing companies to create dance pieces.
Remarkably, while many continue to watch Bollywood films throughout the decades, the songs from Bollywood films have their own legacy. These songs remain commercial successes even years after the film is released. Notably, the actors in a Bollywood film are not singing the songs themselves but are lip-syncing. Playback singers who perform these songs in the film use these songs in their repertoire during their musical tours.
Bollywood also tends to operate as a fraternity. Oftentimes the same collection of writers, actors, directors, producers, playback singers, lyricists, music directors, choreographers, and designers are involved in the production of the films. Additionally, many within the industry offer repeated opportunities to their own children and family members. This is why it's very difficult for newer talent, many of whom may not have connections, to enter into the industry. These realities make Bollywood a film industry known for its exclusivity and nepotism.
When did the Bollywood film industry begin?
While all Bollywood films are Hindi films, not all Hindi films are Bollywood films... and not all films produced in India are Hindi films. In other words, Bollywood does not represent all the films produced in India, which are actually created in various languages including Punjabi, Marathi, Tamil, Telugu, Bengali, Gujarati, and many, many more!
Because Bollywood films are a subsection of the Hindi film industry, it's important to question when Bollywood films began to be produced.
Actress Nargis starred in the film Shree 420, a 1955 classic motion picture.
The answer lies in understanding what Bollywood films tend to be about, which usually focus on storylines with characters that are mostly wealthy or at least financially secure. Not many Bollywood films focus on the stories of financially insecure individuals and the struggles of the "common person." While this isn't always true, it is a genuine trend. In the past, many more Hindi films focused on the lived experiences of the "everyday person."
Bollywood films are also marked by the era of globalization. As economic trade increased throughout the world, more Hindi films were subtitled and dubbed so that non-Indian and non-Hindi speaking audiences could enjoy them. This has led to the widespread commercialization and success of Bollywood films. With this global appeal, Bollywood films offer stories not just relevant to Indians living within India, but also to Indians in the diaspora, living in countries all over the world with movies like My Name is Khan and Swades.
Director Karan Johar has come to represent the "Bollywood brand." With his large commercial successes that have remained popular throughout the decades, his grand song and dance numbers, stories that are often set abroad with wealthy main characters, and popular actors starring in his films like Shah Rukh Khan, Kajol, Rani Mukerji, Amitabh Bachchan, Jaya Bachchan, Saif Ali Khan, Kareena Kapoor, Preity Zinta, Karan Johar's films symbolize what Bollywood means for many viewers.
Using Karan Johar's filmmaking as the foundation for defining what a Bollywood film is, I use Karan Johar's debut as a director with the film Kuch Kuch Hota Hai as the starting point of Bollywood—the year 1998.
Many would disagree with me!
This is but one framework to understand and explain Bollywood. Many would question why I use Karan Johar as the starting point for Bollywood. Many would claim that films like Shree 420 with classic songs like "Pyar Hua Ikraar Hua" starring Raj Kapoor and Nargis produced in 1955 or Umrao Jaan starring Rekha with songs like "Dil Cheez Kya Hai" and "In Ankhon Ki Masti" produced in 1981 are part of the Bollywood film industry. Then again, many would say that this framework doesn't account for historical films.
These are all very important questions and critiques of this single framework. Bollywood cannot be defined in a simple, clear, one-dimensional way. There are lots of different parts of Bollywood that are unique that cannot always be explained. I offer this framework, even though I, myself, contradict it sometimes, because it's a helpful tool to better engage with Bollywood as a film industry with its own history, defining qualities, and cultural impact.
Is it helpful to even use the term "Bollywood"?
Many actors, directors, and artists in the film industry do not like the term "Bollywood." Part of this legacy is also colonialism where many European and U.S. critics and industry members have used Bollywood to judge and reduce these films as a bad remake of Hollywood films. For these artists, Bollywood is a negative word that prevents people from understanding the substantial history of their film industries and encourages viewers to engage with an incomplete understanding of the film's artistic goals. As a result, the term Bollywood can minimize the film industry's artistic creations.
Some companies have even sold "Bollywood flavored" food items using two stereotypes, 1) that Bollywood somehow represents all of India and 2) that Indian cuisine is inherently spicy, to justify describing spicy food items that are semi-related to Indian cuisine as having a "Bollywood flavor." This has left many confused and angry at the misrepresentation of their work.
Again, a very valid point! These are important questions that challenge us to think about whether Bollywood is a helpful term to even use anymore.
Actors Rani Mukerji, Shah Rukh Khan, and Kajol of Kuch Kuch Hota Hai and Ranveer Singh, Sanjay Leela Bhansali, and Deepika Padukone from Ram-Leela
With all these criticisms about using the term "Bollywood" and disagreements about how to define the Bollywood film industry, why celebrate International Bollywood Day?
We celebrate Bollywood while understanding its many problems and inconsistencies. By learning more about these conflicting realities, many are continuing their efforts to better understand what "Bollywood" even is.
The celebration of Bollywood films continues because these films matter a lot to a lot of people and they love them. For many, Bollywood films are not just pure entertainment; these films' influence continues even after their initial release. For Bollywood lovers around the world, Bollywood songs make appearances at various social events from weddings, birthdays, and parties—throughout their lifetime! Many watch Bollywood movies over and over again.
It's through these films that people reflect upon family dynamics, love, tragedy, and find inspiration to pursue their dreams. The feeling of watching one's favorite actors on the large screen presenting an epic story where they overcome challenges can be a defining and memorable experience for many viewers. Sometimes these films help confront societal problems and inequities and encourage fans to think more about how they can help achieve justice.
With all its limitations, critiques, misunderstandings, and problems, Bollywood has come to represent such an important way of approaching one's own life. Whether it's artistry, music, or storytelling, we celebrate International Bollywood Day to honor the films that continue to matter to so many.
---
In celebration of International Bollywood Day, I've compiled a list of ten films that you can find through the Free Library's catalog.
Is your favorite Bollywood film not included in the above list? Share your favorite Bollywood movies in the comments and let us know how you are celebrating International Bollywood Day!
---
Have a question for Free Library staff? Please submit it to our Ask a Librarian page and receive a response within 72 hours.
Good information
Tuesday, September 28, 2021
---