Edible Alphabet Recipe of the Week: Pizza
By
Lindsay S.
Wed, March 24, 2021
by Breshay Woods, Culinary Literacy Center Intern
---
Edible Alphabet is a free English Language Learning (ELL) program offered by the Free Library's Culinary Literacy Center. Our mission is to teach English language and literacy skills through hands-on cooking projects. For the time being, all Edible Alphabet classes are being run virtually in the interest of public health and safety.
---
Today we are sharing a recipe from our Edible Alphabet English cooking curriculum that is a hit with participants year after year: homemade pizza. Pizza is often a go-to meal for a family night, and spending time together in the kitchen preparing the dish from scratch doubles the fun. This pizza recipe is highly customizable. Edible Alphabet participants always have a great time (and great discussions in English) deciding on the pizza toppings their groups want to use. We often include pepperoni, peppers, onions, mushrooms, and spinach as topping options.
One of my favorite activities as a child was reading books and watching movies during pizza night! The Free Library offers a wide selection of books and movies in our catalog that can please everyone in the family.
Here are some children books that share the love of pizza with readers: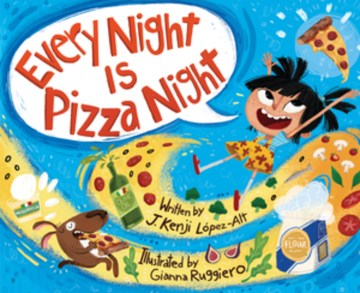 Every Night is Pizza Night written by J. Kenji López-Alt, illustrated by Gianna Ruggierro
Kids of all ages can share the sentiment that pizza is the best food of all with Pipo, the main character who refuses to eat anything but pizza until her parents send her on a journey to taste some other dishes from around their diverse neighborhood.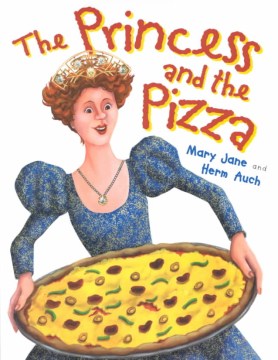 The Princess and the Pizza by Mary Jane and Herm Auch
Many little girls dream of being a princess and this princess is looking to marry her prince! To wed Prince Drupert, she must first pass a series of tests, including a cooking competition involving pizza.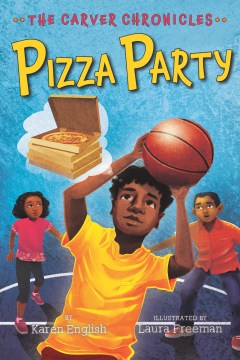 Pizza Party written by Karen English; illustrated by Laura Freeman
A common practice in schools pre-quarantine was to reward students' good behavior with a pizza party! In this book, third grader Richard and his friends have only 4 days left until they can earn a pizza party, when a substitute teacher accuses some of the class of cheating.
Looking to add a family movie to your pizza night? The Free Library offers all cardholders the opportunity to use the film streaming platform Kanopy for free. All you need is your library card number and your PIN or password to access thousands of movies!
Here are some movies to enjoy from Kanopy's family collection:
Nocturna (2007)
A movie full of creativity and captivating visuals that the whole family will enjoy! Tim is a young boy that is thrust into the secret world of Nocturna where he encounters some curious creatures that control the night.
Welcome Back Pinocchio (2007)
The story of Pinocchio is one of the most known in America, and for good reason! Join young Pinocchio in his attempts of staying out of trouble to avoid turning back into a piece of wood. Pinocchio learns many lessons that many children will identify with.
Once I Was a Beehive (2015)
A perfect film for older children, this movie is about a young teenage girl who is grieving the recent loss of her father. The girl is sent to a camp for Mormon girls with her new step-cousin. At this camp, the girl realizes that there are others who sympathize with her and that she never has to be sorrowful alone.
And finally, here is our class pizza recipe. Happy cooking!
Homemade Pizza
Ingredients
Dough:
1 package yeast (1/4 oz.)
1 cup warm water
½ tsp. sugar
2 ½ cups all-purpose flour
1 tbsp. salt
1 tbsp. olive oil
Cornmeal (for dusting- optional)

Toppings:
1 ½ cups mozzarella cheese (grated)
1 cup tomato sauce
1 clove garlic (minced)
¼ cup basil leaves (julienned)
1/3 cup parmesan cheese (grated)
Any other toppings you like (pepperoni, tomatoes, spinach, mushroom, arugula, pepper, onions)
Salt, black and red pepper to taste

Instructions
Mix yeast, sugar, and warm water in a large mixing bowl until dissolved.
Stir in flour, salt, and oil with a wooden spoon until it starts to form a ball. Put flour on your hands and use them to finish forming the dough into a ball. Knead the dough on a lightly floured surface until smooth.
Rest the dough for 10-15 minutes in a bowl covered with a dish towel or plastic wrap. Place on or near the stove to keep it warm.
Preheat oven to 500° F.
Prepare your toppings as listed. Mix sliced tomatoes with salt and olive oil and let sit.
Dust pizza pan with flour or cornmeal.
Stretch pizza dough as thinly as possible over the surface of the pan.
Arrange your favorite toppings on the dough (basil should be added after baking).
Bake in the oven for 10-15 minutes, or until the crust is golden brown.
Slice pizza into triangles with a pizza cutter and enjoy!
---
Edible Alphabet is made possible through the generous support of the Dry Family Foundation and Dietz & Watson.
For more information about Edible Alphabet and the Culinary Literacy Center, visit freelibrary.org/cook or email kitchen @ freelibrary.org.
Enjoy this recipe? Leave a comment and stay tuned for more Edible Alphabet recipes in the coming weeks!
---
Great recipe! maybe I'll try it, and it looks good.
Thursday, April 1, 2021
---
Great Blog!
Wednesday, July 13, 2022
---