Picture Books Highlights | Asian Pacific American Heritage Month
By
Monica C.
Fri, April 30, 2021
May is Asian Pacific American Heritage Month!
As part of the celebration, let's dive into recent picture books created by Asian authors and/or illustrators. This is just a small sample—for many more titles, be sure to check out our booklist. Titles are available both in print and as ebooks whenever possible.

Eyes That Kiss in the Corners written by Joanna Ho; illustrated by Dung Ho
ebook available from Overdrive
A young Asian girl notices that her eyes look different from her friends' eyes. They have big, round eyes and long lashes. She begins to wish for eyes that are like theirs until she realizes that her eyes are like her mother's, Amah's, and Mei Mei's. They have eyes that kiss in the corners and glow like warm tea, crinkle into crescent moons, and are filled with stories of the past and hope for the future. Throughout the course of the story, she learns that her eyes are beautiful.
Laxmi's Mooch written by Shelley Anand; illustrated by Nabi H. Ali
ebook available from Overdrive
A joyful, body-positive picture book about a young Indian American girl's journey to accept her body hair and celebrate her heritage after being teased about her mustache. Laxmi never paid much attention to the tiny hairs above her lip. But one day while playing farm animals at recess, her friends point out that her whiskers would make her the perfect cat. She starts to notice body hair all over—on her arms, legs, and even between her eyebrows. With her parents' help, Laxmi learns that hair isn't just for heads, but that it grows everywhere, regardless of gender.
My First Day written by Phung Nguyen Quang; illustrated by Huynh Kim Lien
ebook available from Overdrive
This is no ordinary first journey. The rainy season has come to the Mekong Delta, and An, a young Vietnamese boy, sets out alone in a wooden boat wearing a little backpack and armed only with a single oar. On the way, he is confronted by giant crested waves, heavy rainfall, and eerie forests where fear takes hold of him. Although daunted by the dark unknown, An realizes that he is not alone and continues to paddle. He knows it will all be worth it when he reaches his destination—one familiar to children all over the world.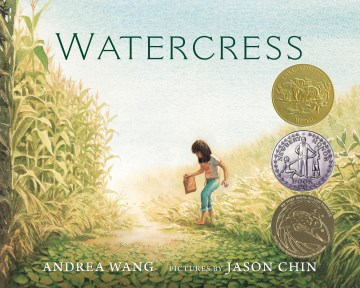 Watercress written by Andrea Wang; illustrated by Jason Chin
ebook available from Overdrive
Driving through Ohio in an old Pontiac, a young girl's parents stop suddenly when they spot watercress growing wild in a ditch by the side of the road. Grabbing an old paper bag and some rusty scissors, the whole family wades into the muck to collect as much of the muddy, snail-covered watercress as they can. At first, she's embarrassed. Why can't her family get food from the grocery store? But when her mother shares a story of her family's time in China, the girl learns to appreciate the fresh food they foraged. Together, they make a new memory of watercress.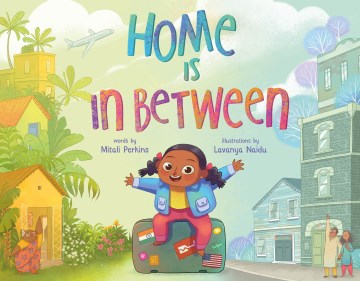 Home Is in Between written by Mitali Perkins; illustrated by Lavanya Naidu
ebook available from Overdrive
Shanti and her parents say goodbye to the monsoon rains in their Indian village. They move to a snowy town on the other side of the world. At first, it isn't easy for Shanti, as she trudges back and forth between her family's Bengali traditions and her new country's culture. Again and again, in between. She feasts on biryani rice while kids in town eat hot dogs and PB&J sandwiches. She watches Bollywood movies at home and Hollywood movies with new friends. Is she still Indian? Is she becoming American? How should she define home?
I Am a Bird written by Hope Lim; illustrated by Hyewon Yum
Every day, a little girl rides to school on the back of her father's bike. As they twist and turn through the streets, the little girl spreads her arms like wings and sings her birdsong for all to hear. But when they pass a strange woman in blue who carries a mysterious bag, the girl goes quiet until the woman is out of sight. One day, when they're running late, the little girl discovers what the woman does with her bag each morning—a surprise that transforms her wariness into a feeling of kinship to be celebrated. Hope Lim's simple text and Hyewon Yum's delicate, expressive illustrations create a touching story that encourages readers to embrace our similarities rather than focus on our differences.
Be sure to check our catalog and Overdrive Kids eReading Room, for these titles and many more being added!
---
Have a question for Free Library staff? Please submit it to our Ask a Librarian page and receive a response within 72 hours.