Earth Day Project | Upcycling with Plastic Yarn
By
Echo P.
Thu, April 22, 2021
Earth Day is here again and while I try to do my part in reducing, reusing, and recycling all year long, I'm always looking for more ways to keep the Earth and, more specifically, the streets of Philadelphia a little cleaner.
But I have a confession to make: I still have that bag of plastic shopping bags living in my kitchen.
Some stores have plastic bag recycling bins, but often they are few and far between. When the bag of bags began overflowing, I decided to do some research into ways of reusing plastic shopping bags and that is when I learned about plarn. Plarn, or plastic yarn, is a chunky yarn made from plastic shopping bags that can be used to make everything from dish scrubbers and coasters to bags, hats, sleeping mats, and even sandals!
How to make plarn using just bags and a pair of scissors:
First you'll want to straighten the bags for easier folding.
Once the bag is flat, fold it in half length-wise 2-3 times and then cut off the bottom and the handles.
After you have removed those elements, cut the remaining portion of the bag into ½ to 1 inch sections.
Then, open up each of the sections and using two opened loops, overlap each loop on a flat surface.
Fold the left loop under the edge of the right loop and pull the folded left loop through the opening of the remaining bit of the left loop – this will create a knot that connects both loops.
Repeat the folding process until all loops are connected.

I've demonstrated this process in the following video:
Once you have a decent amount of plarn you can start creating any number of items!
If you are looking for plarn-specific patterns, Ravelry.com is a wonderful free resource for patterns. One of the great things about plarn is that you can use it in any pattern that calls for chunky yarn and the Free Library has a great selection of knitting and crochet pattern books, including some that focus on unconventional or recycled materials: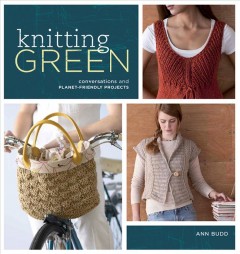 Knitting Green: Conversations and Plant-Friendly Projects by Ann Budd
Detailing a wide range of perspectives and approaches to environmental issues, this unique crafting manual offers ideas for knitting conscientiously. Leading figures of the industry, from designers to yarn company executives, share their methods for integrating green principles into their work and lives—selecting organic products, facilitating an alternative to chemical detergent, recycling old projects, reducing disposable plastic bags, and creating pieces that provide warmth and save on energy. Inventive and timely, this practical guidebook explains answers to important questions such as "What makes a yarn organic?" and "Are natural dyes safer than chemical dyes?" Providing 20 clever designs for earth-friendly garments, accessories, gifts, and home furnishings, craft enthusiasts of all skill levels will enjoy projects that balance the altruism of saving the planet with the joyful benefits of their favorite hobby.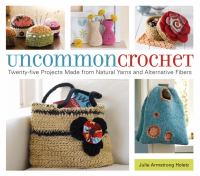 Uncommon Crochet: Twenty-Five Projects Made from Natural Yarns and Alternative Fibers by Julie Holetz
Designer Julie Armstrong Holetz applies new ideas and unconventional materials—like wire, raffia, jute, sisal, recycled belts, fabric strips, and felted beads—to twenty-five patterns for bins, baskets, totes, handbags, clutches, jewelry, and more. Step-by-step instructions, detailed how-to photographs, and essential advice about creativity, design, and experimentation encourage you to play with fiber, add funky embellishments, and use your creative spirit to customize any pattern—even the ones in this book!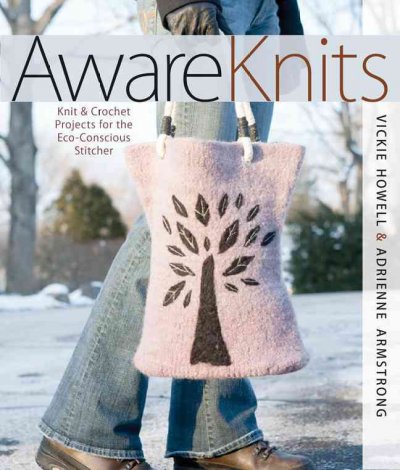 AwareKnits: Knit & Crochet Projects for the Eco-Conscious Stitcher by Vickie Howell
The fiber world is all abuzz about sustainable yarns and alternative materials, and AwareKnits jumps on this trend with a socially conscious approach to knitting and crochet. Knitting superstar Vickie Howell and activist-knitter Adrienne Armstrong present a groundbreaking volume that's part pattern book and part crafty call to action. They offer 31 stylish projects that use a variety of "green" yarns, including ones made from soy, corn, and hemp.