Palestinian Stories in Literature for Young People
By
Administrator
Mon, June 21, 2021

What does it feel like to be a child living through war and displacement? How can young people in the United States learn to develop empathy for young people around the world? How do we explain to our children what they see or hear on the news?
Reading literature is a powerful way for parents and other caring adults to help children make sense of a world that sometimes feels scary and dangerous. We have compiled a list of resources for young people and their caregivers who want to learn more about what it means and feels like to be Palestinian today.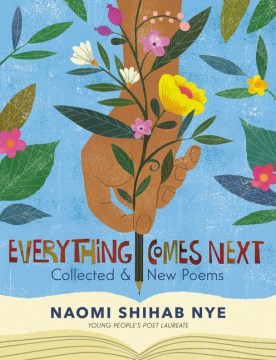 When seeking Palestinian voices in children's literature, it's impossible to not be drawn to poet Naomi Shihab Nye. Poetry is an essential educational tool in the development of children and teens' social-emotional learning and understanding of our world, and Nye's writing meets this need beautifully. As the Young People's Poet Laureate for 2019-2022, Nye's task is to "raise awareness that young people have a natural receptivity to poetry and are its most appreciative audience, especially when poems are written specifically for them." In Everything Comes Next (2020), childhood is fully centered in over 100 of her most beloved poems, old and new.
Nye's work reflects how observant and curious children are about the world. She recognizes their ability to understand not only adversity, racism, and violence, but also kindness, justice, and what is right. This shines in the childlike questioning found in the following excerpt:
"Everything in our world did not seem to fit: Why was someone else's need for a home greater than our own need for our own homes we were already living in?"
With roots in both Palestine and Ferguson, Missouri, her writing is also shaped by the connected struggles for racial equity in the US and Palestinian liberation from occupation (see Nye's note on "Yellow Glove" about Ferguson, racial violence, and segregation: "lines made by adults."). Everything Comes Next offers children and their caregivers a moving introduction, and a human connection, to Palestinians' "longing for a lost homeland."
Making connections between the personal and the universal is a key aspect of memoir writing, and many teens and tweens are particularly drawn to memoirs. The adolescent years are a time in which young people are developing a sense of identity and learning how they fit into their families, their local community, and the larger global community. Reading memoirs is a powerful tool of empathy and a way to build understanding. Balcony on the Moon: Coming of Age in Palestine is Ibtisam Barakat's second memoir, which received multiple starred reviews and was published in 2016. It follows her first memoir, Tasting the Sky: A Palestinian Childhood, which was published in 2007 to critical acclaim.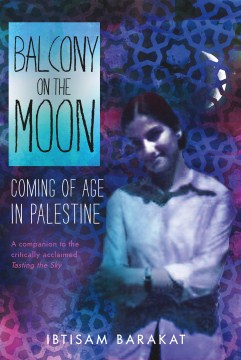 In Balcony on the Moon, readers are immersed in Barakat's vibrant inner world as she recounts her teenage years in the 1970s. The author remembers her childhood, growing up feeling always fearful, and how reading helped her feel safe.
"As I sail into mysteries, monsters hide everywhere, but I battle them and triumph, and always return home, bringing back gifts for everyone who waits for me."
She experiences adolescence in a way that is both like and unlike American teenagers. She wrestles mightily with the complexities of her world: "I wonder whether it is possible to have freedom without death and fighting." The beauty of her story is that it tells the truth of her experience as a Palestinian child, displaced by war, in the context of the universal experience of growing up, becoming a young person aware of both yourself and the world around you.

To explore these and more children's and teen books about Palestine, check out our curated booklist in our catalog.