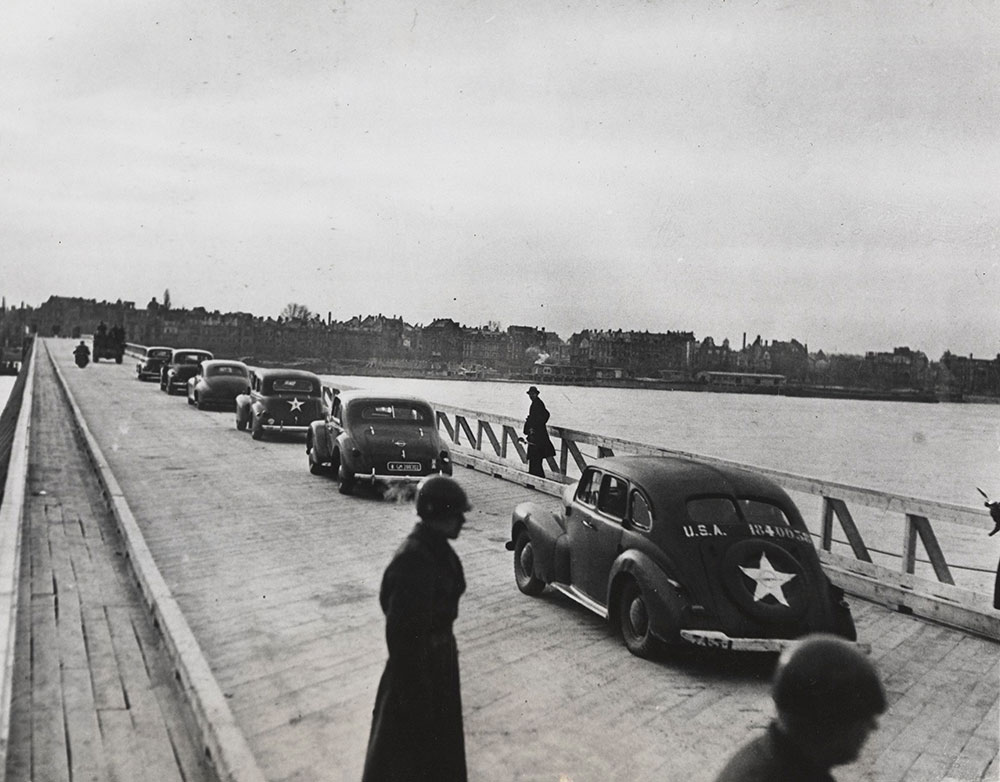 Item Info
Item No: arcm00040
Title: Traffic over "General Patch Highway Bridge" Germany
Creation Date:
1/25/1946
Media Type:
Photographic Prints
Source:
Automobile Reference Collection
Notes:
Information attached to back of photo:
Traffic Over "General Patch Highway Bridge"
Germany.......A procession of Army vehicles led by Lt. General Keyes, rolls over the 2,000 foot stretch of the new highway bridge over the rhine into the American zone of occupation in Germany. The bridge, named in honor of the later General Alexander L. Patch, U.S. seventh Army commander is the work of U.S. Army Engineers. There are ample walkways to accommodate pedestrians between the French and American Zones. To complete the huge task, more than one-half million man hours were required. General Keyes performed the opening ceremonies on January 22nd.
Opel
Opel
LaSalle
Packard
Cadillac
Cadillac
This photo supplied by
International News Photo
A unit of King Features Syndicate
235 East 45th Street, New York 17, N.Y.
Syndicating Prohibited
This photograph is not sold but a licensed is granted for its publication as a news photograph only. It must not be loaned or sold without our consent and must be returned at our request. It can be used for advertisement purposes or for purposes of trade only if you first secure the written permission of the individuals in it.
Creator Name:
international news photos - Photographer
Subjects
Tools
For a high-resolution copy of this image contact the AACA Library.