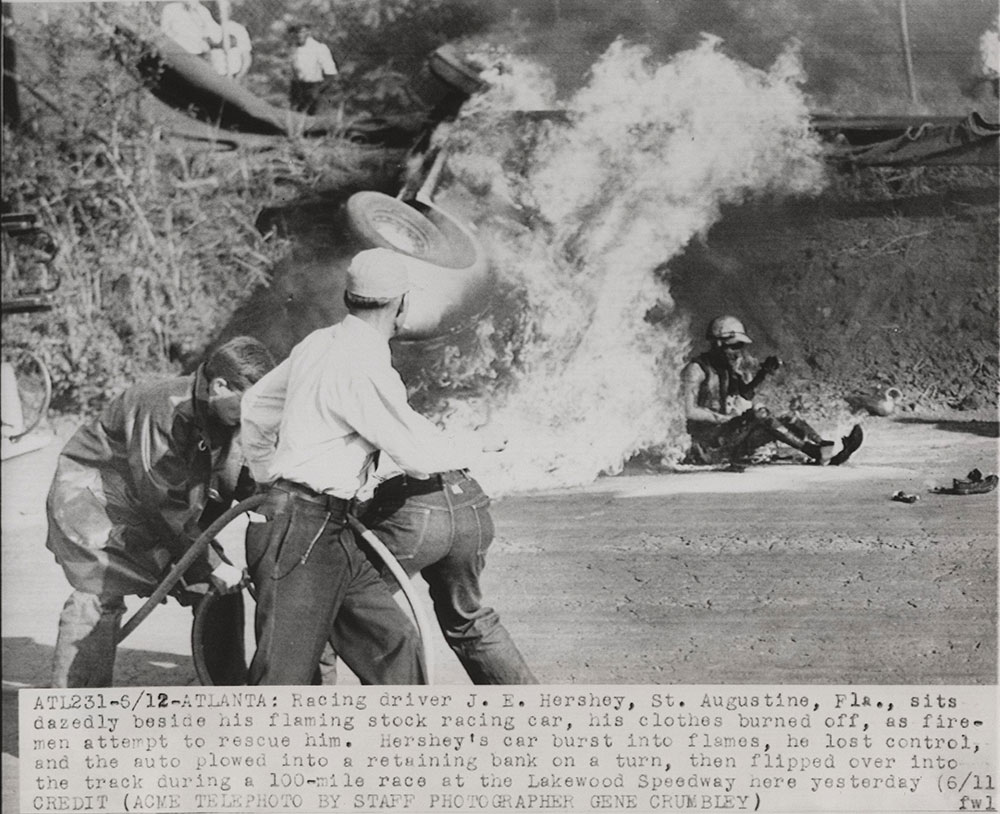 Item Info
Item No: arcr00002
Title: Stock car race crash
Creation Date:
6/11/1950
Media Type:
Photographic Prints
Source:
Automobile Reference Collection
Notes:
Information attached to photo:
6/12 - ATLANTA: Racing driver J.E. Hershey, St. Augustine, Fla., sits dazedly beside his flaming stock racing car, his clothes burned off, as firemen attempt to rescue him. Hershey's car burst into flames, he lost control, and the auto plowed into a retaining bank on a turn, then flipped over into the track during a 100-mile race at the Lakewood Speedway here yesterday (611)
According to Georgiaracinghistory.com, the accident occurred on June 11, 1950.
"The closest person to Hersey was a photographer for an Atlanta newspaper (which is still being published today). The photographer moved out onto the track, and had been taking photos of the accident when Hersey emerged from the flames. He never went to help. He just continued taking photos. They would run in gruesome sequence on the front page of the next day's paper. Finally, someone reached Hersey and managed to get the fire on him put out. But it was too late. He would be transported to Grady Hospital, where he died one day laterThe race was not restarted. Jack Smith was declared the winner."
Creator Name:
Gene Crumbley - Photographer
Acme Newspictures (New York, N.Y.) - Photographer
Subjects