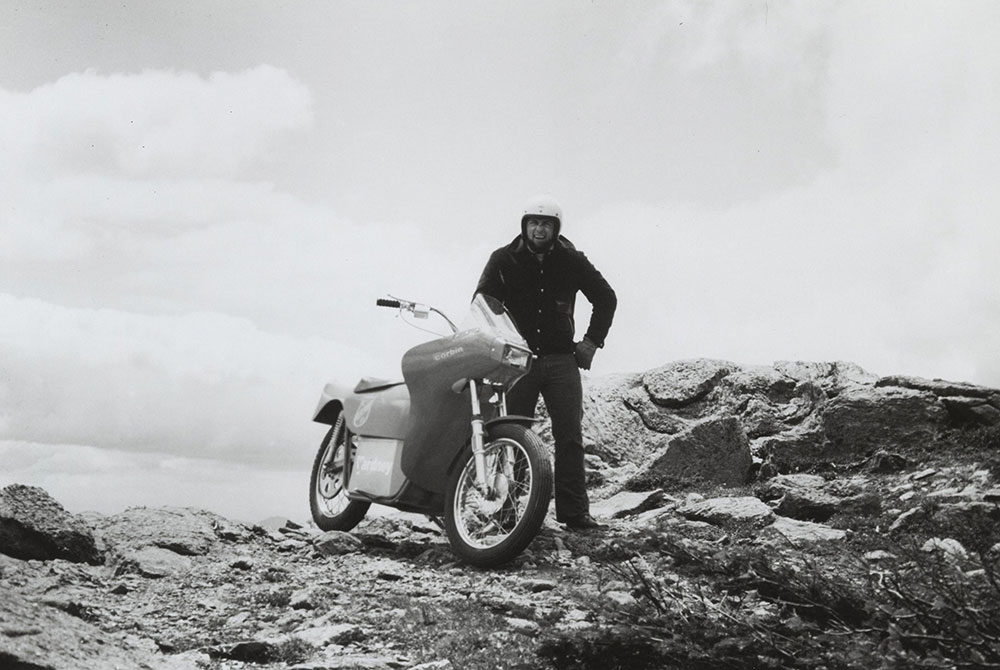 Item Info
Item No: arcd02982
Title: Corbin Yardney Motorcycle on top of Mt. Washington
Production Year:
2012
Media Type:
Photographic Prints
Source:
Automobile Reference Collection
Notes:
Electric powered Corbin-Yardney motorcycle conquers Mt. Washington, New Hampshire, in first annual alternative vehicle regatta.
During the week of June 15-20, 1975, the first annual alternative vehicle regatta was held at Mt. Washington, New Hampshire. The regatta was created and promoted by Charles McArthur, an environmentalist who sincerely believed that the rally was necessary to gather together and test all possible forms of alternative transportation to the internal combustion engine. Emphasis was placed on low energy consumption and minimum amount of pollution.
Mike Corbin, president of Corbin-Gentry, and Dr. A.W. Petrocelli, Chief Operating Officer of Yardney Electric, Pawcatuck, Conn., met in March 1975 to make final arrangements for the high energy density silver zinc battery to be used in the Mt. Washington attempt. On June 17, 1975 this super battery, with a total energy content of over 4,680 watt hours, successfully powered the Corbin designed motorcycle 8 miles to the summit on an average grade of 12%, through 99 hairpin turns, in 26 minutes nonstop. On June 18, this same winning combination made 2 nonstop trips to the summit, thus setting another record.
Commonly thought to be slower and have an inability to climb hills, electric vehicles have been pushed to the background in man's "love affair" with his automobiles and motorcycles. Corbin-Yardney, by taking a world land speed record at Bonneville Salt Flats, August, 1974, of 165.367 mph, and by accomplishing the Mt. Washington ascent have dispelled both these myths.
Yardney and Corbin are continuing technological developments to be applied to electric vehicle transportation. These advances in technology will lead to production by 1977 of the Corbin XLP-2 electric powered motorcycle with a capacity of 50 mph at 80-100 mile range before recharge. Currently, Yardney markets high intensity hand held portable rechargeable lights, emergency beacons for boats, batteries for heart monitoring devices and TV and news camera batteries. Yardeny Electric also provides a full line of high energy batteries for undersea, military and aerospace applications. Electrically operated vehicles of many types offer numerous savings from the more efficient use of energy expended, pollution control, and low dollar operating costs to the end user. To this end, Yardney has accelerated its programming toward the development of new, low costs, high energy batteries for all types of electrically powered vehicles.
Corbin-Gentry is considered by many to be one of the finest alternative vehicle designers and manufacturers in the world. Designing from the chassis up, utilizing the most up to date quality components and production control, Corbin engineers have produced the Corbin electric motorcycle, which is the best electric vehicle per dollar value on the market today. Corbin-Gentry also manufactures a complete line of motorcycle accessories, as well as an electric conversion kit for Volkswagens ― which has been extremely well accepted by the home workshop enthusiast.
An important feature of the Mt. Washington regatta was a windgenerator erected on the summit for the event. Enertech Corp., of Norwich, Vermont, provide free electricity for recharging to any electric vehicle making it to the top. Steve Schiffer, New Products Manager of Yardney Electric and Bill Drake, president of Enertech, saw to it that the Corbin-Yardney motorcycle was recharged using this free source of power.
Because of the Yardney energy system, the Corbin futuristically designed motorcycle of only 322 lbs. and the windgenerator supplied by Enertech, the job of conquering Mt. Washington was accomplished. These three companies have proven that the technology does exist to do a specific transportation job. So vital to today's American is his individual automobile or motorcycle and so vital is the need that he be made aware that additional transportation methods are available to him now and that there is not a 10 or 15 year wait. There are no technological breakthroughs
Creation Year:
1975
Tools
For a high-resolution copy of this image contact the AACA Library.