Happy Inventors Day for Monopoly Lovers!
By
Sharyl O.
Tue, February 11, 2020
I am a Monopoly lover! This celebrated board game became popular in the 1930s after it was patented by Philadelphia inventor Charles B. Darrow, who lived on W. Hortter St. in the West Mt. Airy area of Philadelphia. Mr. Darrow was out of work and hoped to generate some income by selling the game. He didn't have a sudden flash of brilliance when he came up with the idea for Monopoly, however. Instead, he took an existing board game called the "Landlord's Game," invented by Elizabeth "Lizzie" Magie Phillips in the early 1900s, made some changes, filed for U.S. patent 2,026,082, and became a wealthy man.
When Monopoly manufacturer Parker Brothers learned of Ms. Magie Phillips's earlier patented games from 1904 and 1924, they paid her $500 to purchase her patent rights. She died in 1948, penniless and a widow with no children. In contrast, Mr. Darrow became a millionaire. You can learn more historical facts, social themes, and behind-the-scenes information about the game and its inventors in the recent title, Pass Go and Collect $200: The Real Story of How Monopoly Was Invented.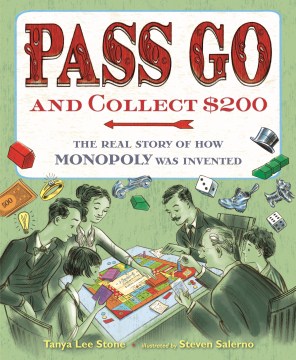 Monopoly quickly became a worldwide phenomenon. During World War II, the British Secret Intelligence Services arranged for their Nazi-held POWs to be sent "special" Monopoly games containing hidden cash, maps, and compasses to be used in escape attempts.

The earliest Monopoly games did not include game tokens—people used buttons or other household items to move around the board. Around 1937, the metal-type game tokens were introduced: the iron, lantern, purse, rocking horse, race car, cannon, shoe, battleship, top hat, and thimble (my favorite!). The shoe token had a loop on the end, a holdover from the original, which is said to be a charm from the charm bracelet of Mr. Darrow's niece.
The Monopoly pieces have changed frequently over time. The current pieces are a T-Rex, rubber ducky, penguin, Scottie dog, top hat, race car, cat, and battleship. Only the top hat, race car, and battleship pieces have stood the test of time over the past 85 years. (Sadly, my fav, the thimble, was voted out in 2017.)

Special editions exist around the world with local geography added: in the UK version of Monopoly, Mediterranean Avenue, the least expensive property, is Old Kent Road, and the ritzy Boardwalk property is called Mayfair.
Expert tips: the 2009 World Monopoly Champion, Bjorn Halvard Knappskog of Norway, recommends buying these Monopoly "hot spots" since they are the most frequently landed on: the orange streets (St. James Place, Tennessee Avenue, and New York Avenue) red streets (Kentucky, Indiana, and Illinois Avenues) and light blue streets (Oriental, Vermont, and Connecticut Avenues). Also, never buy utility or railway companies, he advises; the likelihood of earning money from them is low.

Speaking of the above properties, they are named for actual streets in Atlantic City, New Jersey. Of note: Marvin Gardens is a typo for the actual "Marven Gardens," Illinois Avenue is now Dr. Martin Luther King Jr. Blvd., and St. Charles Place is now a parking lot.
The patents for Monopoly are now expired, but trademarks are still held for the Monopoly® brand by Hasbro, Inc. which acquired them from Parker Brothers.
You can learn more about Monopoly at the display in the Business Resource & Innovation Center (BRIC) on the Ground Floor of Parkway Central Library. Inventors and small businesses can also find the information they need to protect their intellectual property in our Patent & Trademark Resource Center.
You may also be interested in these Free Library of Philadelphia resources on Monopoly, available in our catalog. Play on!