Masterpieces of Silent Film at the Free Library
By
Violet L.
Thu, January 31, 2019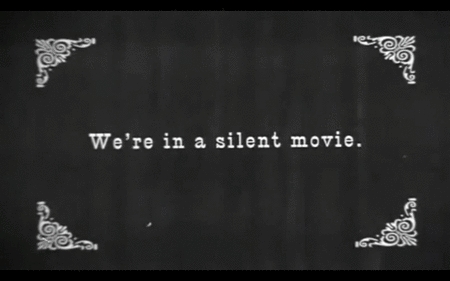 On a cold winter day 125 years ago, only two hours from here in West Orange, New Jersey, Thomas Edison completed construction on the Black Maria, (pronounced "muh-RYE-uh") the world's first film production studio. The black tarpaper shack (built for a cost of more than $15,000 in today's money) followed the sun like a flower: it was built on tracks so its open roof could get the most sunlight at any time of day, allowing his crew to shoot experimental and promotional films like Carmencita and Fred Ott's Sneeze (the oldest surviving film with a copyright).
Most people today think silent film means fast-motion slapstick accompanied by ragtime piano, but the 30-some years between Ott's achoo! and 1927's The Jazz Singer (the first movie publicized as a "talkie") are actually filled with some of the most innovative, eye-popping, heart-tugging films ever made. Here's a list of must-see silents—everything from romance to horror to comedy to epic drama—available at the Free Library, either on DVD or offered on our streaming services Hoopla and Kanopy. (Like Netflix, but free with your library card!)
The first movie to win the Academy Award for best picture of the year was the Air Force drama Wings, but it's a little known fact that in the first Oscar ceremony, there were two categories for "best picture": one for "Outstanding Picture" (won by Wings) and one for "Best Unique and Artistic Picture". That second award went to Sunrise: A Song of Two Humans, a breathtaking visualization of a simple and familiar tale: an Everyman is tempted away from his wife and child by a city seductress, and the aftermath of that moment of weakness changes their relationship—and outlook on life—forever. Director F.W. Murnau found ways to depict his character's emotions visually, using the special effects available at the time in a way that still looks fresh and creative almost a century later.
Murnau also wanted to film Bram Stoker's Dracula, but when he couldn't get the rights he just made up his own (very similar) vampire story Nosferatu. This vampire isn't seductive—he's hideous, and Murnau uses dark, raking shadows everywhere to cut up the space and represent the monster's ability to move between somnambulistic dimensions. Fun fact: this is the movie that establishes the legend that vampires are destroyed by sunlight—a detail that wasn't in the original Dracula.
Russian director Dziga Vertov was also entranced by the possibilities of cinematography and special effects, and his semi-documentary Man With A Movie Camera is a vibrant, vivid, expressionistic impression of everyday life in the heady early days of the Russian revolution. If you're a fan of this very Soviet style of expressionistic moviemaking, make sure to also put Earth and Battleship Potemkin on your list.
It's the great apples and oranges question: who's funnier, Buster Keaton or Charlie Chaplin? If you've got a dry, absurd sense of humor, a slightly cynical take on human nature, a love of gadgets and machines, and loads of respect for athletes of all sorts, you're probably a Keaton kind of person. Check out The Cameraman, The General, or (my favorite) Sherlock Jr. But if you're a big softie with a sentimental view of life, a tendency to flirt, a utopian political conscience, and a slightly grade school sense of humor, you're one of Chaplin's fans. Check out City Lights, The Gold Rush, or (my favorite) Modern Times. But who says you have to decide?
The Passion of Joan of Arc is argued by some to be the finest silent film ever made—and it's still making the top ten of Sight & Sound's prestigious critic's poll of the greatest movies of all time. Renée Maria Falconetti may have suffered terribly under director Carl Theodor Dreyer during the 18-month shoot, but the torment she channels into the film's many intimate, prying, unblinking close-ups immortalized her.
The silent era had two great sex symbols: the smoldering "Latin lover" Rudolph Valentino, and the bubbly, saucy Clara Bow. To get a taste of what the fuss was all about, check out the films that made them famous. Valentino set the hearts of Jazz Age women aflame as an Arab royal who captures a headstrong American tourist in The Sheik, and Clara Bow did the same for the men in the audience in the proto-"chick flick" It, where she exhibited that titular quality described somewhere between charisma, sex appeal, and an indefinable sparkle.
We could go on and on about the great silent films... and if we've forgotten an important one, drop it in the comments! But for now, know that 90% of silent films have been lost forever—so let's enjoy and be grateful for the masterpieces we still have.