Curl Up with a Cozy Mystery
By
Kim B.
Fri, May 29, 2020
Are you looking for some binge-worthy reading that has nothing to do with the quasi dystopian reality outside your front door? Look no further than the literary comfort food that is the Cozy Mystery!
Here is Goodreads' excellent explanation of this beloved genre:
Cozies very rarely focus on sex, profanity or violence. The murders take place off stage, and are often relatively bloodless (e.g. poisoning), while sexual activity (if any) between characters is only ever gently implied and never directly addressed. The cozy mystery usually takes place in a small town or village. The small size of the setting makes it believable that all the suspects know each other. The amateur sleuth is usually a very likeable person who is able to get the community members to talk freely about each other. There is usually at least one very knowledgeable, nosy, yet reliable character in the book who is able to fill in all of the blanks, thus enabling the amateur sleuth to solve the case.
I would also add that Cozies are usually written in series, so if you fall in love with a sleuth, many more adventures await you. They also tend to have adorkably punny titles—and sometimes feature (magical) talking pets! What's not to love?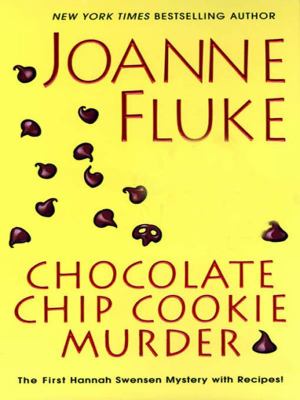 Chocolate Chip Cookie Murder by Joanne Fluke
Hannah already has her hands full trying to dodge her mother's attempts to marry her off while running The Cookie Jar, Lake Eden's most popular bakery. But once Ron LaSalle, the beloved delivery man from the Cozy Cow Dairy, is found murdered behind her bakery with Hannah's famous Chocolate Chip Crunchies scattered around him, her life just can't get any worse. Determined not to let her cookies get a bad reputation, she sets out to track down a killer. But if she doesn't watch her back, Hannah's sweet life may get burned to a crisp.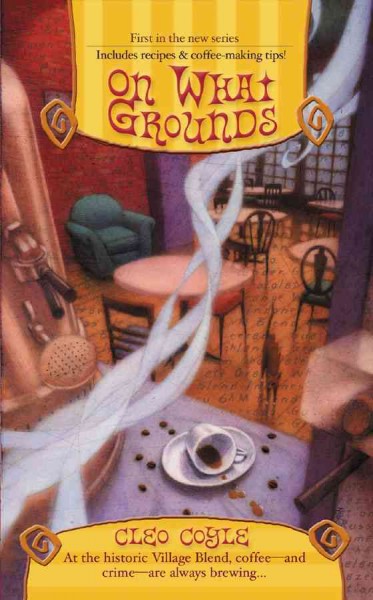 On What Grounds by Cleo Coyle
Clare Cosi used to manage New York City's historic Village Blend coffeehouse, until she opted for quieter pastures and a more suburban life. After ten years away, she's back in action and back to the grind, serving up steaming hot caffeine one cup at a time. With a sprawling rent-free apartment directly above the coffeehouse, her cat Java by her side, and plenty of redecorating ideas, Clare is thrilled to return to work—until she discovers the assistant manager dead in the back of the store, coffee grounds strewn everywhere. NYPD Detective Mike Quinn finds no sign of forced entry or foul play and deems the whole thing an accident. But despite the attractive investigator's certainty, Clare isn't convinced. Now, if she wants to get to the bottom of things she'll have to do some sleuthing of her own—before anyone else ends up in hot water...
Books Can Be Deceiving by Jenn McKinlay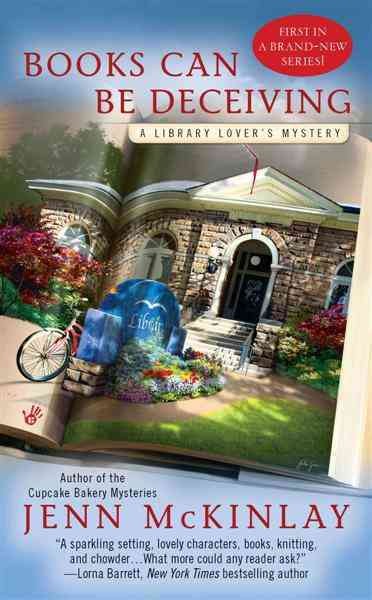 Lindsey is getting into her groove as the director of the Briar Creek Public Library when a New York editor visits town, creating quite a buzz. Lindsey's friend Beth wants to sell the editor her children's book, but Beth's boyfriend, a famous author, gets in the way. When they go to confront him, he's found murdered—and Beth is the prime suspect. Lindsey has to act fast before they throw the book at the wrong person.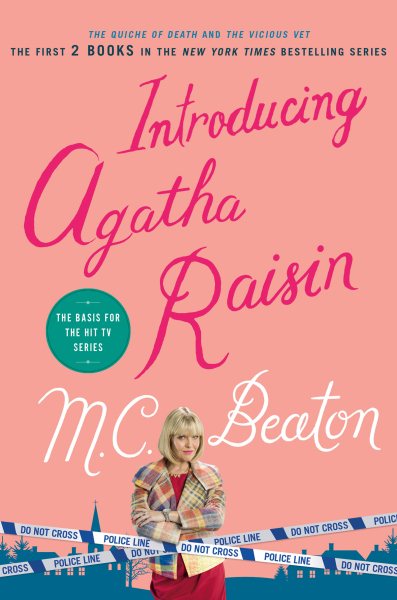 Introducing Agatha Raisin by M.C. Beaton
Putting all her eggs in one basket, Agatha Raisin gives up her successful PR firm, sells her London flat, and samples a taste of early retirement in the quiet village of Carsely. Bored, lonely, and used to getting her way, she enters a local baking contest. Despite the fact that Agatha has never baked a thing in her life, she is sure the pie she has secretly bought from an upper-crust London quicherie will make her the toast of the town. But her recipe for social advancement sours when the judge not only snubs her entry—but falls over dead!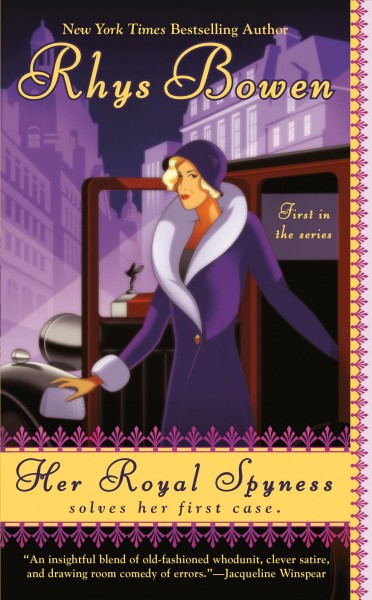 Her Royal Spyness by Rhys Bowen
London, 1930. Lady Victoria Georgiana Charlotte Eugenie, 34th in line for the English throne, is flat broke. She's bolted Scotland, her greedy brother, and her fish-faced betrothed. London is a place where she'll experience freedom, learn life lessons aplenty, do a bit of spying for HRH—oh, and find a dead Frenchman in her tub. Now her new job is to clear her long family name...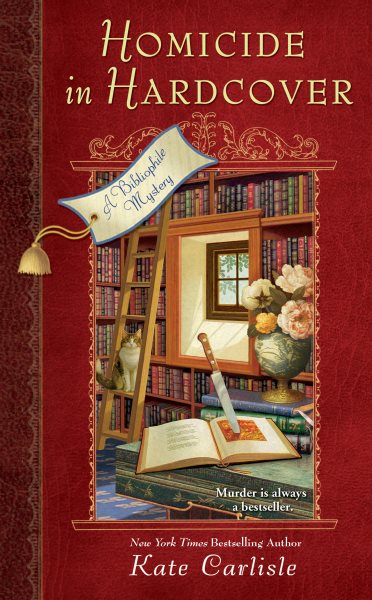 Homicide in Hardcover by Kate Carlisle
Brooklyn Wainwright is a skilled surgeon. Sure, her patients might smell like mold and have spines made of leather, but no ailing book is going to die on her watch. The same can't be said of Abraham Karastovsky, Brooklyn's friend and former employer. On the eve of a celebration for his latest book restoration, Brooklyn finds her mentor lying in a pool of his own blood. With his final breath Abraham leaves Brooklyn with a cryptic message, "Remember the Devil," and gives her a priceless—and supposedly cursed—copy of Goethe's Faust for safe-keeping. Brooklyn suddenly finds herself accused of murder and theft, thanks to Derek Stone, the humorless—and annoyingly attractive—British security officer who found her kneeling over the body. Now she has to read the clues left behind by her mentor if she is going to restore justice...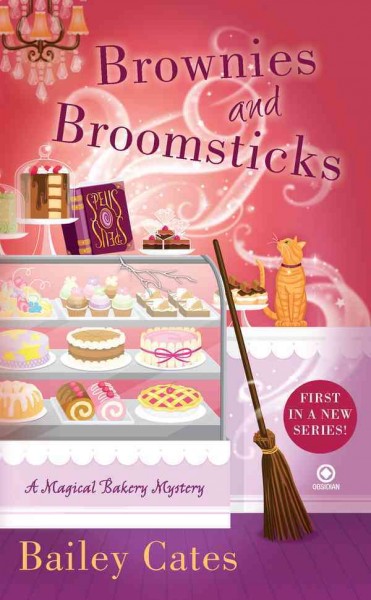 Brownies and Broomsticks by Bailey Cates
Katie Lightfoot's tired of loafing around as the assistant manager of an Ohio bakery. So when her aunt Lucy and uncle Ben open a bakery in Savannah's quaint downtown district and ask Katie to join them, she enthusiastically agrees. While working at the Honeybee Bakery—named after Lucy's cat—Katie notices that her aunt is adding mysterious herbs to her recipes. Turns out these herbal enhancements aren't just tasty... Aunt Lucy is a witch and her recipes are actually spells! When a curmudgeonly customer is murdered outside the Honeybee Bakery, Uncle Ben becomes the prime suspect. With the help of handsome journalist Steve Dawes, charming firefighter Declan McCarthy, and a few spells, Katie and Aunt Lucy stir up some toil and trouble to clear Ben's name and find the real killer.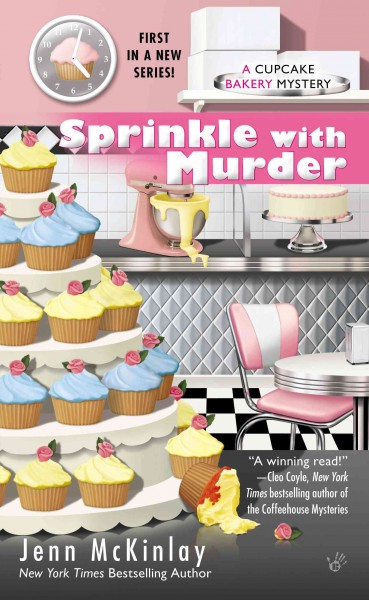 Sprinkle with Murder by Jenn McKinlay
Melanie Cooper and Angie DeLaura are finally living out their dream as the proud owners of the Fairy Tale Cupcakes bakery. Their first big order is a sweet deal, too—five hundred cupcakes for a fashion designer's wedding. The only sour note is the demanding bridezilla who insists on original recipes for the cupcakes. When Mel stumbles upon the bride-to-be dead-by-cupcake, she immediately becomes the prime suspect. The police believe that a secret ingredient in the cupcakes caused her death. To save Mel and their business, the ladies need to find the real murderer—before the cupcake killer ices someone else ...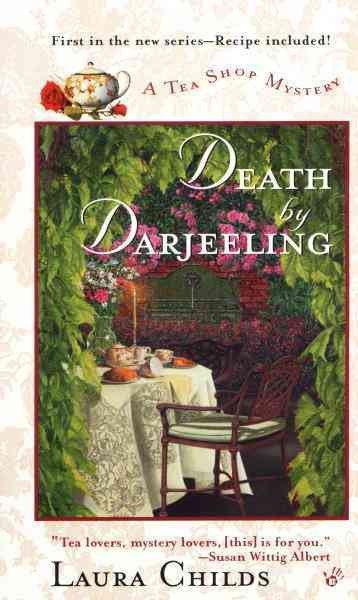 Death by Darjeeling by Laura Childs
Meet Theodosia Browning, owner of Charleston's beloved Indigo Tea Shop. Patrons love her blend of delicious tea tastings and Southern hospitality. And Theo enjoys the full-bodied flavor of a town steeped in history—and mystery. It's tea for two hundred or so at the annual historic homes garden party. Theodosia, an event caterer, is busy serving steaming teas and blackberry scones while guests sing her praises. But the sweet smell of success turns to suspense when an esteemed guest is found dead—his hand clutching an empty teacup. Trouble is brewing, and all eyes are on Theo...
Secondhand Spirits by Juliet Blackwell
Lily Ivory feels that she can finally fit in somewhere and conceal her "witchiness" in San Francisco. It's there that she opens her vintage clothing shop, outfitting customers both spiritually and stylistically. Just when things seem normal, a client is murdered and children start disappearing from the Bay Area. Lily has a good idea that some bad phantoms are behind it. Can she keep her identity secret, or will her witchy ways be forced out of the closet as she attempts to stop the phantom?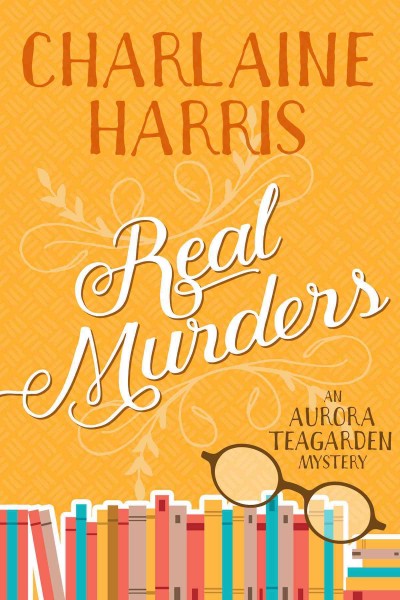 Real Murders by Charlaine Harris
Aurora Teagarden, a small-town librarian and true crime buff, is looking forward to the monthly meeting of the Real Murders Society, a group of fellow crime enthusiasts who share a unique interest in historical murders. The Society meetings are the highlight of Roe's social life in sleepy Lawrenceville, Georgia, and she's ready for a quiet night of discussion, coffee, and cookies. But after she finds the body of a Society member in a staged crime scene eerily similar to the one the group was supposed to discuss that very night, Roe finds herself at the center of a murderous story of her own. As the killer strikes again, it's obvious that members of the Real Murders Society have become targets of a knowledgeable copycat. With the help of handsome police detective Arthur Smith and the town's dashing new resident, mystery novelist Robin Crusoe, it's up to Roe to discover if the murderer is one of the group's own and to piece the perplexing puzzle together before another body appears.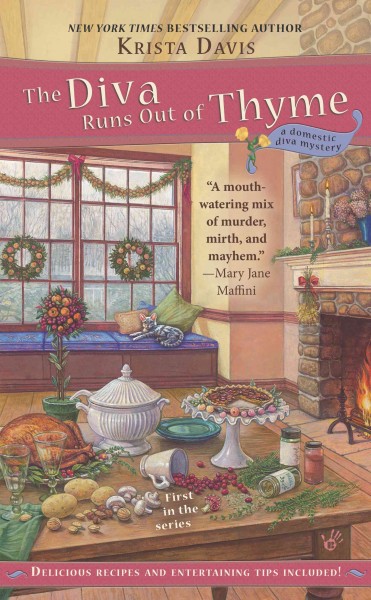 The Diva Runs Out of Thyme by Krista Davis
Few can compete with Natasha Smith when it comes to entertaining, but her childhood rival, Sophie Winston, certainly tries. Natasha may have stolen the spotlight—and Sophie's husband—but Sophie is determined to rob her of the prize for the Stupendous Stuffing Shakedown. She just needs the right ingredient. But Sophie's search for the perfect turkey takes a basting when she stumbles across a corpse. And when the police find her name and photo inside the victim's car, Sophie will have to set her trussing aside to solve the murder—or she'll be serving up prison grub.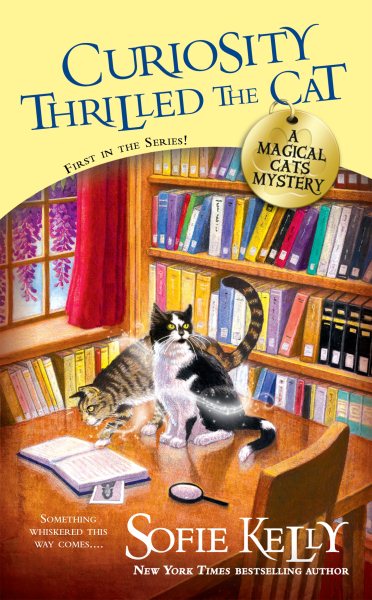 Curiosity Thrilled the Cat by Sofie Kelly
When librarian Kathleen Paulson moved to Mayville Heights, Minnesota, she had no idea that two strays would nuzzle their way into her life. Owen is a tabby with a catnip addiction and Hercules is a stocky tuxedo cat who shares Kathleen's fondness for Barry Manilow. But beyond all the fur and purrs, there's something more to these kitties. When murder interrupts Mayville's Wild Rose Summer Music Festival, Kathleen finds herself the prime suspect. More stunning is her realization that Owen and Hercules are truly special—perhaps even magical. Now, with a little legwork from her four-legged friends, Kathleen may be able to solve this purr-fect murder...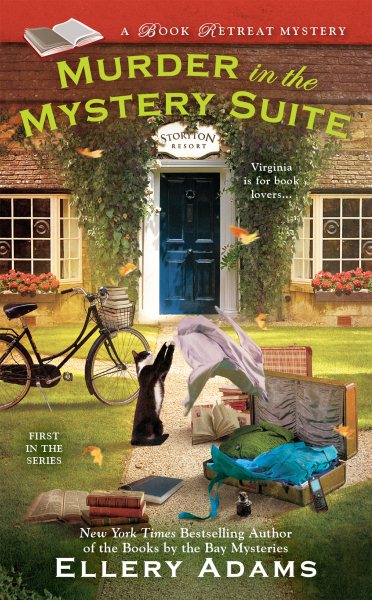 Murder in the Mystery Suite by Ellery Adams
Tucked away in the rolling hills of rural western Virginia is the storybook resort of Storyton Hall, catering to book lovers who want to get away from it all. To increase her number of bookings, resort manager Jane Steward has decided to host a Murder and Mayhem week so that fans of the mystery genre can gather together for some role-playing and fantasy crime-solving. But when the winner of the scavenger hunt, Felix Hampden, is found dead in the Mystery Suite, and the valuable book he won as his prize is missing, Jane realizes one of her guests is an actual murderer. Amid a resort full of fake detectives, Jane is bound and determined to find a real-life killer. There's no room for error as Jane tries to unlock this mystery before another vacancy opens up...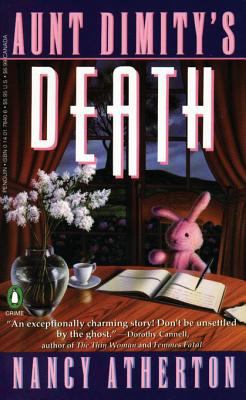 Aunt Dimity's Death by Nancy Atherton
Lori Shepherd thought Aunt Dimity was just a character in a bedtime story—until the Dickensian law firm of Willis & Willis summons her to a reading of the woman's will. Down-on-her-luck Lori learns she's about to inherit a sizeable estate—if she can discover the secret hidden in a treasure trove of letters in Dimity's English country cottage. What begins as a fairy tale becomes a mystery—and a ghost story—in an improbably cozy setting, as Aunt Dimity's indomitable spirit leads Lori on an otherworldly quest to discover how, in this life, true love can conquer all.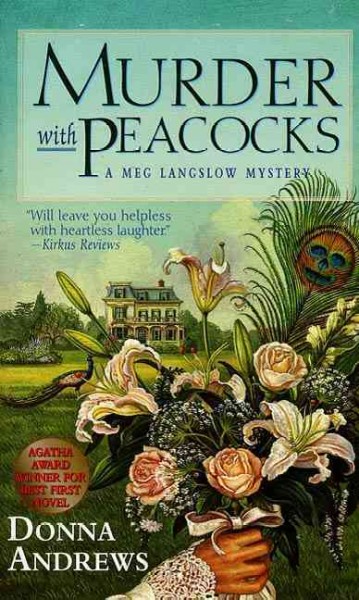 Murder with Peacocks by Donna Andrews
So far Meg Langslow's summer is not going swimmingly. Down in her small Virginia hometown, she's the maid of honor at the nuptials of three loved ones—each of whom has dumped the planning in her capable hands. One bride is set on including a Native American herbal purification ceremony, while another wants live peacocks on the lawn. Only help from the town's drop-dead gorgeous hunk, disappointingly rumored to be gay, keeps Meg afloat in a sea of dotty relatives and outrageous neighbors. And, in a whirl of summer parties and picnics, Southern hospitality is strained to the limit by an offensive newcomer who hints at skeletons in the guests' closets. But it seems this lady has offended one too many when she's found dead in suspicious circumstances, followed by a string of accidents—some fatal. Soon, level-headed Meg's to-do list extends from flower arrangements and bridal registries to catching a killer—before the next catered event is her own funeral...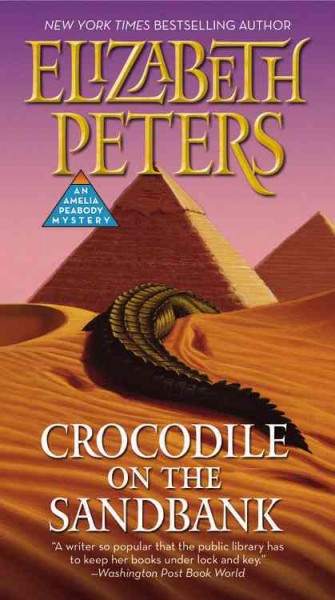 Crocodile on the Sandbank by Elizabeth Peters
Amelia Peabody embarks on her debut Egyptian adventure armed with unshakable self-confidence, a journal to record her thoughts, and, of course, a sturdy umbrella. On her way to Cairo, Amelia rescues young Evelyn Barton-Forbes, who has been abandoned by her scoundrel lover. Together the two women sail up the Nile to an archeological site run by the Emerson brothers—the irascible but dashing Radcliffe and the amiable Walter. Soon their little party is increased by one—one mummy that is, and a singularly lively example of the species. Strange visitations, suspicious accidents, and a botched kidnapping convince Amelia that there is a plot afoot to harm Evelyn. Now Amelia finds herself up against an unknown enemy—and perilous forces that threaten to make her first Egyptian trip also her last...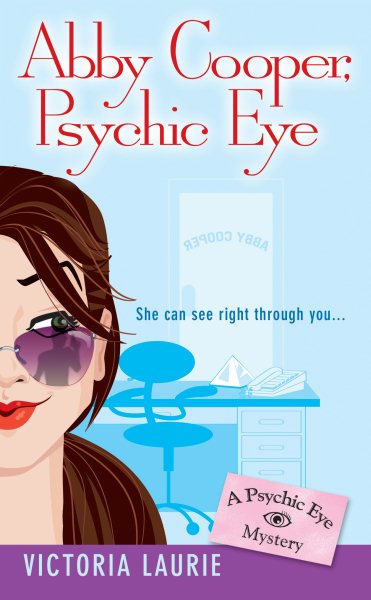 Abby Cooper, Psychic Eye by Victoria Laurie
In Royal Oak, a suburb of Detroit, thirty-something Abby Cooper lives a life that's kind of like vanilla ice cream: good enough, but a little bland. Her work as a P.I.—Psychic Intuitive—can be rewarding, but she feels like somehow she's missing out on the hot fudge topping. Now she's getting what she wished for when a client winds up dead and the clues start pointing in Abby's direction. Turns out she knows too many details about the murder for her own good. To make matters worse, the hot blind date she just met is the lead investigator on the case, and gorgeous Detective Dutch Rivers is convinced she's a fraud. Now, with the police suspicious of her abilities and a killer on the loose, Abby's future looks more uncertain than ever.
The Free Library's OverDrive ebook collection has a great selection of the genre's hard-hitters, so click around, see what looks good, and enjoy! Oh, and if you're a cozy connoisseur who believes that our ebook collection is missing a title or series in this much-loved genre, please contact us and let us know!