Happy National Ice Cream Month!
By
Naquawna L.
Thu, July 16, 2020
I know we have all heard the saying "I scream, you scream, we all scream for ice cream." For people of all ages, from toddlers to seniors, ice cream has become an American classic; but do you know the history of this sweet treat?
Originating in Ancient China, King Tang is referenced first for ice cream. It is believed between A.D. 618 – 907, King Tang of Shang employed about 100 "ice men" to prepare an ice cream-like dessert made out of buffalo milk, flour, and camphor. Fortunately, what we now enjoy is a much smoother and creamier version of ice cream, for which we can likely thank explorer Marco Polo. It has been claimed that Marco Polo (1254) learned the Ancient Chinese method of making ice cream with salt, which is now known as the freezing point depression, and shared it with others during his travels. Due to this fact, there are countless variations of ice cream we enjoy today.
The most popular version of ice cream consumed today was introduced to Americans in 1744 through a letter written about one of Maryland's colonial Governor's dinner socials for the elite. The article highlighted the "delicious strawberry ice cream" served for dessert. With this in mind, it took an additional one hundred years before mass production began and ice cream became available to everyone. The very first known advertisement for ice cream was published in the New York Star Gazette in May of 1777.
Since then, ice cream has become an iconic summertime favorite and a major impact on the nation's economy. Remarkably, ice cream production has contributed eleven billion dollars directly to the nation's economy and supports more than 26,000 direct jobs that generate 1.6 billion in direct wages. Due to this large impact, in 1984 Ronald Reagan declared the month of July National Ice Cream Month. Ice cream was also given its own day. Every year ice cream day is held on the third Sunday of July. This year it will be held on July 19, 2020.
Want to learn more about the history of ice cream? Read this terrific article and timeline!
Looking for some fun activities for Ice Cream Day? Why not make your own ice cream?! For a healthy ice cream alternative, "nice" cream is an easy, delicious way to make a sweet sorbet-like treat using frozen fruits. Try the recipe below and leave us a comment showing us of your results.
---
Basic Banana Nice Cream Recipe
Ingredients
4 cups frozen banana slices (~2 large bananas)
2–4 tablespoons unsweetened almond milk (any milk of your choice will work)

Instructions
Place frozen banana slices and 2 tablespoons unsweetened almond milk into a high-speed food processor or blender.
Blend on high for 1 to 2 minutes stopping to scrape the sides every so often. If your blender is having a hard time blending the bananas, add more almond milk by the tablespoon.
Once pureed together, your banana nice cream should be like a super thick smoothie or soft serve.
At this point, you have the option to eat immediately or to transfer to a parchment-lined pan or glass bowl to freeze for later. Be sure to cover.
Freeze banana nice cream for 1 to 2 hours so that it hardens enough to scoop like ice cream, but isn't too hard where you can't scoop it.
Feel Free to try out this recipe with different fruit or fruit blends.
Notes
Allow nice cream to thaw for about 30 minutes before scooping and serving.
Nutrition Facts
Serving Size: 1/2 recipe Calories: 123 Sugar: 17 Fat: 1 Carbohydrates: 31 Fiber: 4 Protein: 2
Author: Lee Hersh of Fitfoodiefinds.com
---
If you want to explore further, the library has tons of ebooks that will help you improve your ice cream-making skills at home! Here are a few to begin with: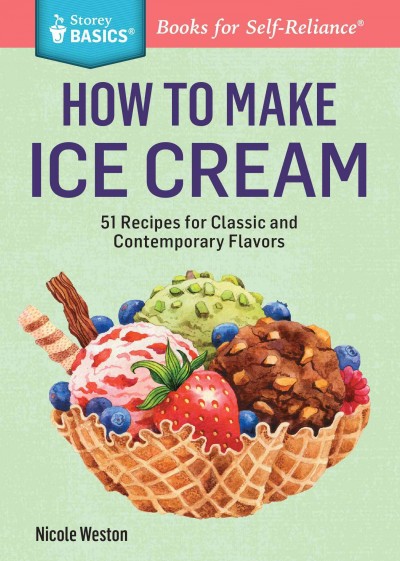 How to Make Ice Cream by Nicole Weston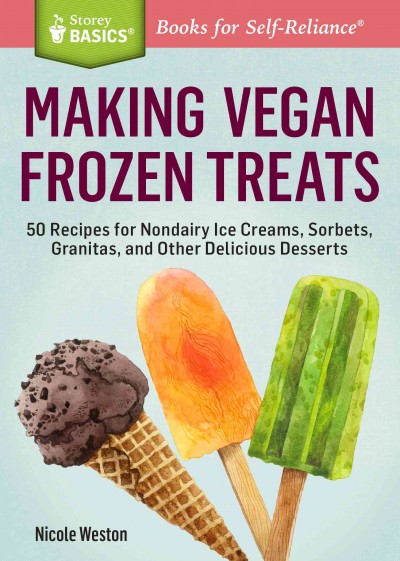 Making Vegan Frozen Treats by Nicole Weston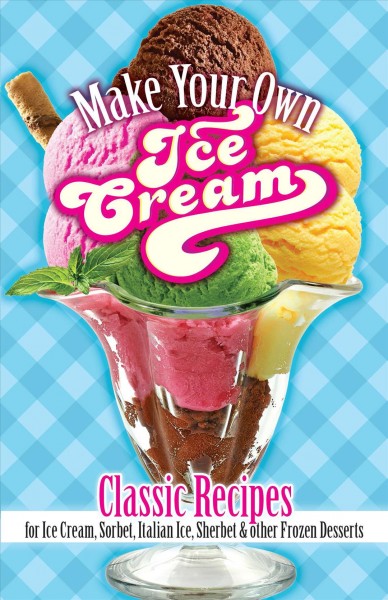 Make Your Own Ice Cream by S. T. Rorer