Whipping Up a Dream Pie
By
Naquawna L.
Fri, September 11, 2020
As a child, I loved eating, tasting, and experimenting with different ingredients. On Saturdays, I would spend my day watching cooking shows before the Food Network became a thing. It was my dream to become a chef and I practiced what was portrayed on TV. I often played with food and prepared more food than I could eat. I was a strong-willed child with a vivid imagination and when left unattended, I would pretend I was a chef. I would use any ingredients I could get my hands on to create something that neither my family nor I would eat. Living in a large family household, my love affair with food was costing my parents loads of money, they didn't have, on food waste.
Desperate to impart a more constructive interaction with me and food, I began preparing dishes and creating recipes with my family; hashtag less food waste. In my house, we almost always had jello, fruit cocktail, and whipped topping. One day when my mother was off from work, we created Dream Pie using some of my favorite childhood snacks. Creating Dream Pie is one of the first accomplishments I can remember as a chef.
Did you know, children who cook tend to have greater use of their imagination, are better at following directions, have higher self-esteem, and have better communication and interactions with adults? If you have a picky eater, a child experiencing behavioral issues, or a child struggling in school, perhaps cooking or baking with them could help. The skills I learned from cooking when I was a child had a significant impact on who I am today.
Dream Pie is a light and fluffy no-bake dessert made with fruit, whipped topping, jello, and shortbread crust. Ultimately, there are countless variations of Dream Pie and you could use fruits and flavors that are suited to your family.

Dream Pie
Prep time: 10 minutes
Refrigeration time: 2-3 hrs
Servings: 6-8

Ingredients
Shortbread crust
8 oz. of whipped topping or fresh whipped cream
1 3 oz. pack of strawberry jello
1 small can of Fruit cocktail drained
8 oz. of sliced strawberries (for garnish)

Directions
Mix the cool whip and jello together
Fold in ½ of the fruit cocktail at a time
Pour entire mixture into a pie crust
Arrange sliced strawberries in a pattern on top.
Put in the refrigerator to set. This should take about 2-3 hours.
Once the pie has set cut and enjoy

Note:
If you can't find strawberry jello, I have also used cherry.
When using the cherry jello, I use maraschino cherries for the garnish.
The shortbread crust can be substituted for any crust of your choice.

We would love to see the results of your dream pie! Leave us a picture in the comments.
To explore more experiments with food, check out these awesome titles from our catalog!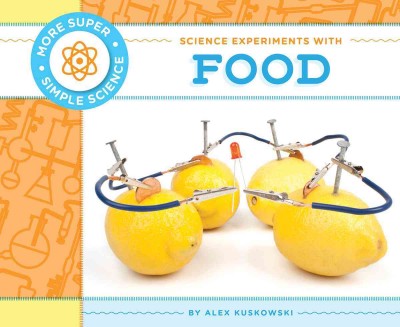 Science Experiments with Food by Alex Kuskowski
Make science simple! This book features easy and fun Science Experiments with Food using household items. Young readers can assemble experiments at home from a Lemon-Powered Lightbulb to Disco Dancing Spaghetti. No laboratory needed! Each activity includes easy instructions with how-to photos, and short science explanations. Use fun to introduce math and science to kids. Super simple says it all. Aligned to Common Core Standards and correlated to state standards.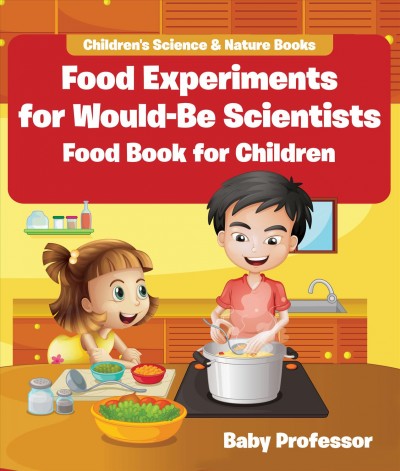 Food Experiments for Would-Be Scientists by Baby Professor
Here's a yummy book of experiments for would-be scientists! Composed of scientific ideas to do with food, this book will make an addictive addition to your child's collection. Of course, since we're working with food and some cooking, adult supervision is required. Encourage your child to never stop learning.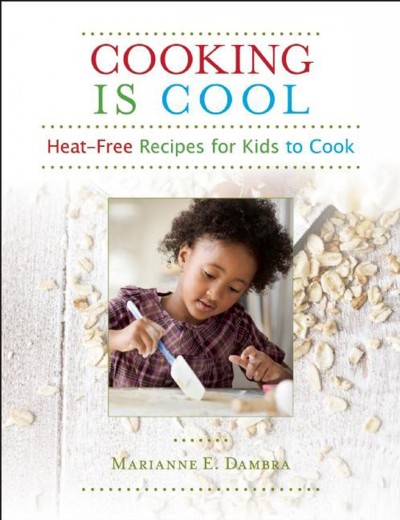 Cooking is Cool: Heat-Free Recipes for Kids to Cook by Marianne E. Dambra
More than 50 heat-free recipes packed with flavor and learning. Cooking can be a delicious learning experience for children. As children read recipes, measure ingredients, and taste each dish, they build math and literacy skills, practice science process skills, and explore different food groups. Cooking Is Cool makes all of this hands-on learning possible without stepping foot in the kitchen. These classroom-friendly recipes are all heat-free, meaning they can be made without an oven, stove, microwave, or hot plate. With your guidance, budding chefs can follow the easy instructions to transform fresh, simple ingredients into tasty snacks, beverages, entrees, and treats. This book includes more than 50 heat-free recipes that are fun to make and taste great, an explanation of the learning that occurs as children cook, tips to create your own classroom cooking center, and nutrition information, extension ideas, and interesting food facts.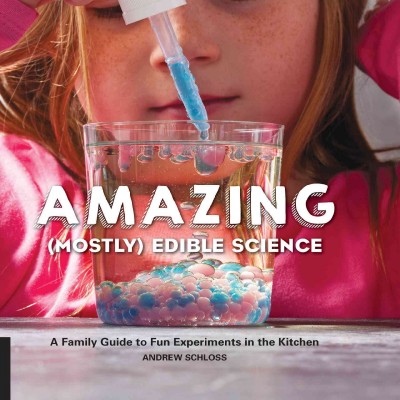 Amazing (Mostly) Edible Science by Andrew Schloss
Teaching your kids science just got better, and tastier! With the awe-inspiring and accessible recipes and projects in Amazing (Mostly) Edible Science, uniting science and cooking has never been easier. Introduce your children to the wonders of science by creating projects and experiments in your very own kitchen. Entertaining to make and spectacular to behold, not only will your child learn important scientific principles, but they can even enjoy the delicious final product. Almost everything made in this book is edible. Learn and appreciate projects like classic exploding volcano cakes, glow-in-the-dark Jell-O, singing cakes, and bouncy eggs. Food expert Andrew Schloss provides you and your kids with practical and humorous projects that include step by step instructions, illustrated with fun full-color photos sure to appeal to kids of all ages. All recipes/projects in this book are non-toxic and safe for consumption; some just to taste (slime, ectoplasm) and many you will love, such as molten chocolate cupcakes, disappearing peppermint pillows, and amber maple syrup crystals!