New Titles Coming to the Free Library in November!
By
Paul A.
Mon, November 2, 2020
We have quite an interesting list of new titles for you this month—there's a re-telling of the Little Mermaid tale, the beginning of a new children's Native American series, teen and adult fiction that entertain and make you think, the history of housing, and Bill and Ted's latest movie. You'll find these new titles in our libraries and, when available, as ebooks and audiobooks.
Young Children (Up to 2nd Grade)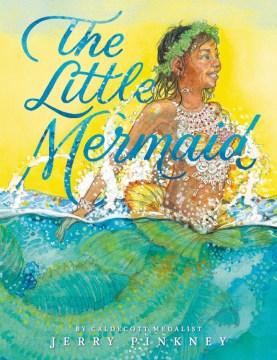 The Little Mermaid by Jerry Pinkney
In this captivating reimagining of Hans Christian Andersen's classic, Philly native, Caldecott medalist, and bestselling artist Jerry Pinkney conjures a poignant friendship story and an epic tale of redemption—the definitive new version for our time.
Older Children (3rd Grade to 6th Grade)
The Barren Grounds (Misewa Saga #1) by David A. Robertson
Lonely kids become family and broken identities are mended in this new fantasy series opener, full of friendship, loss, and love. Foster child Morgan doesn't remember what life was like with her Cree mother before she started living with white families. While her current foster parents are well-meaning, kind, but clueless, she feels frustrated by their attempts to "reconnect" her with her culture. When her new foster brother, Eli, another Cree kid who was taken from his family recently, moves in, she finds herself wanting to protect him while also feeling a little jealous of his memories of his biological family. Then one of Eli's drawings morphs into a portal to the ever-winter land of Aski. Morgan is thrust into a world where Cree folklore comes to life and animals Ochek, the fisher, and Arikwachas, the squirrel, enlist Eli and Morgan for their quest to save their world from the endless winter. Robertson, a member of the Cree Nation, uses Cree legends of the stars and constellations to dissect modern humanity's destruction of nature, worship of capitalism, and abuse of First Nations people. Along the way, repeated dreams of her birth mother bring Morgan to a startling conclusion of how she came to be in foster care.
Teen Fiction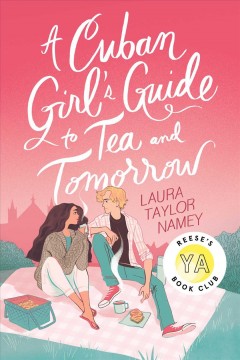 A Cuban Girl's Guide to Tea and Tomorrow by Laura Taylor Namey
For Lila Reyes, a summer in England was never part of the plan. The plan was 1.) take over her abuela's role as head baker at their panadería, 2.) move in with her best friend after graduation, and 3.) live happily ever after with her boyfriend. But then the Trifecta happened, and everything—including Lila herself—fell apart. Worried about Lila's mental health, her parents make a new plan for her: Spend three months with family friends in Winchester, England, to relax and reset. But with the lack of sun, a grumpy inn cook, and a small town lacking Miami flavor (both in food and otherwise), what would be a dream trip for some feels more like a nightmare to Lila… until she meets Orion Maxwell. A teashop clerk with troubles of his own, Orion is determined to help Lila out of her funk, and appoints himself as her personal tour guide. From Winchester's drama-filled music scene to the sweeping English countryside, it isn't long before Lila is not only charmed by Orion, but England itself. Soon a new future is beginning to form in Lila's mind—one that would mean leaving everything she ever planned behind.
Adult Fiction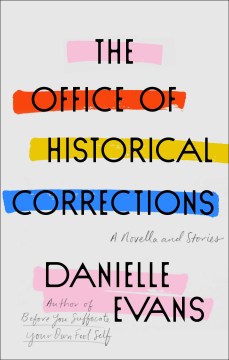 The Office of Historical Corrections: A Novella and Stories by Danielle Evans
The award-winning author of Before You Suffocate Your Own Fool Self brings her signature voice and insight to the subjects of race, grief, apology, and American history. Danielle Evans is widely acclaimed for her blisteringly smart voice and x-ray insights into complex human relationships. In this novel, she zooms in on particular moments and relationships in her characters' lives in a way that allows them to speak to larger issues of race, culture, and history. She introduces us to Black and multiracial characters who are experiencing the universal confusions of lust and love, and getting walloped by grief--all while exploring how history haunts us, personally and collectively. Ultimately, she provokes us to think about the truths of American history—about who gets to tell them and the cost of setting the record straight. In "Boys Go to Jupiter," a white college student tries to reinvent herself after a photo of her in a Confederate-flag bikini goes viral. In "Richard of York Gave Battle in Vain," a photojournalist is forced to confront her own losses while attending an old friend's unexpectedly dramatic wedding. And in the eye-opening title novella, a black scholar from Washington, DC, is drawn into a complex historical mystery that spans generations and puts her job, her love life, and her oldest friendship at risk.
Adult Nonfiction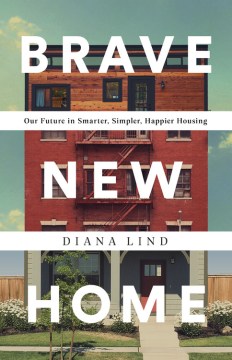 Brave New Home: Our Future in Smarter, Simpler, Happier Housing by Diana Lind
Urban policy researcher Lind sketches the history of housing in America and looks at emerging trends in her detailed and optimistic debut. Noting a lack of affordable housing in many cities and persistent racial disparities in homeownership rates, Lind tracks the shift from the boarding houses and apartment buildings of the 19th and early 20th centuries to the suburban sprawl of the mid-20th century. Diana Lind is a writer and urban policy specialist who has worked at Architectural Record magazine, Next City, Philadelphia Inquirer, and the University of Pennsylvania. She lives in Philadelphia and is currently the Executive Director of the Arts + Business Council for Greater Philadelphia and the Housing Fellow at the global nonprofit, NewCities.
DVD and Blu-ray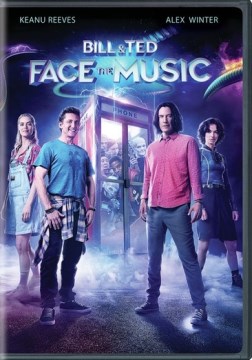 Bill & Ted Face The Music | Starring Keanu Reeves, Alex Winter, Samara Weaving, Brigette Lundy-Paine, Kid Cudi, Kristen Schaal, Anthony Carrigan, Erinn Hayes, Jayma Mays, Jillian Bell, Holland Taylor, Beck Bennett |
Directed by Dean Parisot (Release date November 12, 2020)
Once told they'd save the universe during a time-traveling adventure, William "Bill" S. Preston, Esquire, and his best friend, Ted "Theodore" Logan, two would-be rockers from San Dimas, California find themselves as middle-aged dads raising daughters. They haven't created the future that they saw in their last adventure as their epic song didn't become a hit or make the world a better place. They are still trying to crank out a hit song and fulfill their destiny. A visitor from the future tells the best friends that one of their songs can save life as they know it and bring harmony to the universe. Given 78 minutes to write the epic song and save the world from destruction, the two heroes decide to try to steal it from their future selves by time traveling and dimension-hopping to save the world.

You can find these new titles and many more great books, ebooks, audiobooks, movies, and music in our catalog and at a neighborhood library near you!
---
When are you getting the new Susan Albert Wittig book, The Darling Dahlia and the Vodoo Lilly
Sunday, November 15, 2020
---
Donna, we're getting the ebook of The Darling Dahlias and the Voodoo Lilly this week. Our vendors don't have the hard copy format yet, but we will order it when they do.
Thursday, November 19, 2020
---