Picture Book Highlights | Black History Month: Biographies
By
Monica C.
Fri, February 26, 2021
Throughout February, in celebration of Black History Month, Picture Book Highlights will focus on books written and / or illustrated by African American authors and illustrators.
Today to close out the month, we take a look at biographies: doctors, scientists, and inventors, authors, artists, and architects, trailblazers, politicians, and athletes—each person in these wonderful biographies has made our world richer, more beautiful, and infinitely better. Their lives are full of ingenuity, talent, and determination.
Here are some recommendations to get you started!
The Vast Wonder of the World: Biologist Ernest Everett Just written by Mélina Mangal; illustrated by Luisa Uribe
ebook available in Overdrive.
Ernest Everett Just was not like other scientists of his time. He saw the whole, where others saw only parts. He noticed details others failed to see. He persisted in his research despite the discrimination and limitations imposed on him as an African American. His keen observations of sea creatures revealed new insights about egg cells and the origins of life.
Buzzing with Questions: The Inquisitive Mind of Charles Henry Turner written by Janice N. Harrington; illustrated by Theodore Taylor III
ebook available from Overdrive.
Can spiders learn? How do ants find their way home? Can bugs see color? All of these questions buzzed endlessly in Charles Henry Turner's mind. As the first Black entomologist, he was fascinated by plants, animals, and bugs. And even when he faced racial prejudice, Turner did not stop wondering. He constantly read, researched, and experimented.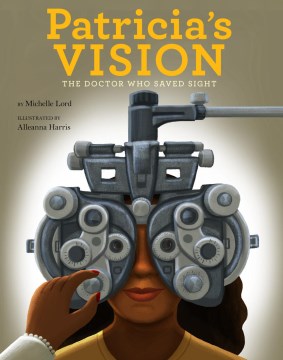 Patricia's Vision: The Doctor Who Saved Sight written by Michelle Lord; illustrated by Alleanna Harris
Born in the 1940s, Patricia Bath dreamed of being an ophthalmologist at a time when becoming a doctor wasn't a career option for most women—especially African American women. This empowering biography follows Dr. Bath in her quest to save and restore sight to the blind, and her decision to "choose miracles" when everyone else had given up hope. Along the way, she co-founded the American Institute for the Prevention of Blindness, invented a specialized laser for removing cataracts, and became the first African American woman doctor to receive a medical patent.
Tiny Stitches: The Life of Medical Pioneer Vivien Thomas written by Gwendolyn Hooks; illustrated by Colin Bootman
The life story of Vivien Thomas, an African American surgical technician who developed the first procedure used to perform open-heart surgery on children.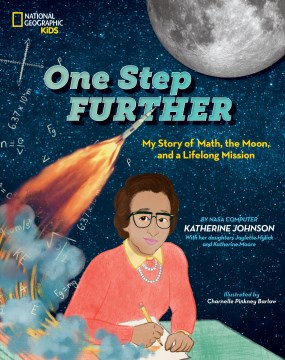 One Step Further: My Story of Math, the Moon, and a Life-Long Mission written by Katherine G. Johnson; illustrated by Charnelle Pinkney-Barlow
ebook available from Overdrive.
Johnson's own empowering narrative is complemented by the recollections of her two daughters about their mother's work and insights about how she illuminated their paths, including one daughter's fight for civil rights and another's journey to become a NASA mathematician herself. The narrative gracefully weaves together Johnson's personal story, her influence on her daughters' formative years, her and her daughters' fight for civil rights, and her lasting impact on NASA and space exploration.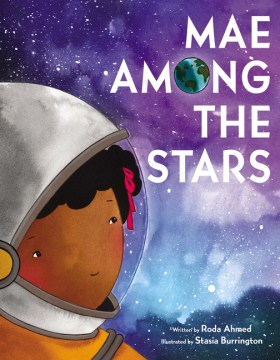 Mae Among the Stars written by Roda Ahmed; illustrated by Stasia Burrington
ebook available from Overdrive.
When Little Mae was a child, she dreamed of dancing in space. She imagined herself surrounded by billions of stars, floating, gliding, and discovering. Little Mae is a girl with big dreams, a supportive loving family, unbounded passion, and all the right stuff to dance among the stars. Against all odds, she will overcome any obstacle to become an astronaut one day.
Exquisite: The Poetry and Life of Gwendolyn Brooks written by Suzanne Slade; illustrated by Cozbi A. Cabrera
ebook available from Overdrive.
Gwendolyn Brooks (1917–2000) is known for her poems about "real life." She wrote about love, loneliness, family, and poverty—showing readers how just about anything could become a beautiful poem.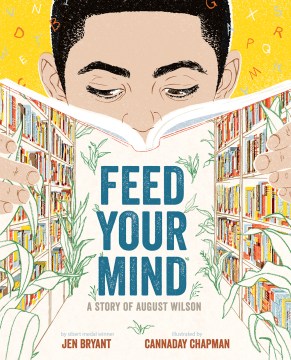 Feed Your Mind: The Story of August Wilson written by Jennifer Bryant; illustrated by Cannady Chapman
ebook and audiobook available from Hoopla.
August Wilson (1945–2005) was a two-time Pulitzer Prize-winning playwright who had a particular talent for capturing the authentic, everyday voice of Black Americans. As a child, he read off soup cans and cereal boxes, and when his mother brought him to the library, his whole world opened up. After facing intense prejudice at school from both students and some teachers, August dropped out. However, he continued reading and educating himself independently. He felt that if he could read about it, then he could teach himself anything and accomplish anything.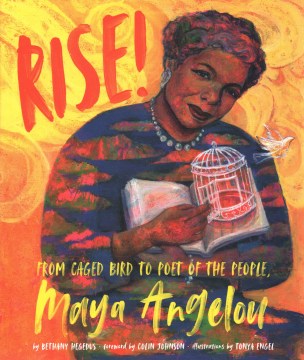 Rise: From Caged Bird to Poet of the People, Maya Angelou written by Bethany Hegedus; illustrated by Tonya Engel
Writer, activist, trolley car conductor, dancer, mother, and humanitarian—Maya Angelou's life was marked by transformation and perseverance. In this comprehensive picture book biography geared towards older readers, Bethany Hegedus lyrically traces Maya's life from her early days in Stamps, Arkansas, through her work as a freedom fighter to her triumphant rise as a poet of the people.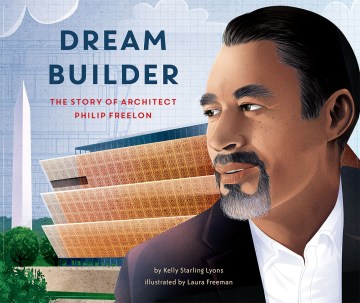 Dream Builder: The Story of Architect Philip Freelon written by Kelly Starling Lyons; illustrated by Laura Freeman
ebook available from Overdrive.
Philip Freelon's grandfather was an acclaimed painter of the Harlem Renaissance. His father was a successful businessman who attended the 1963 March on Washington. When Phil decided to attend architecture school, he created his own focus on African American and Islamic designers. He later chose not to build casinos or prisons, instead concentrating on schools, libraries, and museums—buildings that connect people with heritage and fill hearts with joy. In 2009, Phil's team won a commission that let him use his personal history in service to the country's: the extraordinary Smithsonian National Museum of African American History and Culture.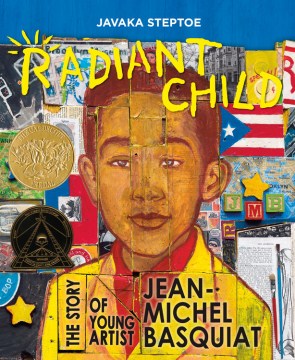 Radiant Child: The Story of Young Artist Jean-Michel Basquiat by Javaka Steptoe
ebook and audiobook available from Overdrive.
Jean-Michel Basquiat and his unique, collage-style paintings rocketed to fame in the 1980s as a cultural phenomenon, unlike anything the art world had ever seen. But before that, he was a little boy who saw art everywhere: in poetry books and museums, in games and in the words that we speak, and in the pulsing energy of New York City.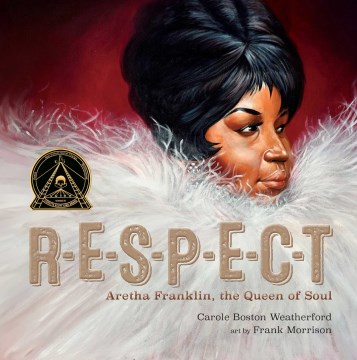 R-E-S-P-E-C-T: Aretha FranklIn, The Queen of Soul written by Carole Boston Weatherford; illustrated by Frank Morrison
ebook available from Overdrive.
Aretha Franklin was born to sing. The daughter of a pastor and a gospel singer, her musical talent was clear from her earliest days in her father's Detroit church where her soaring voice spanned more than three octaves. Her string of hit songs earned her the title "The Queen of Soul," multiple Grammy Awards, and a place in the Rock and Roll Hall of Fame. But Aretha didn't just raise her voice in song, she also spoke out against injustice and fought for civil rights.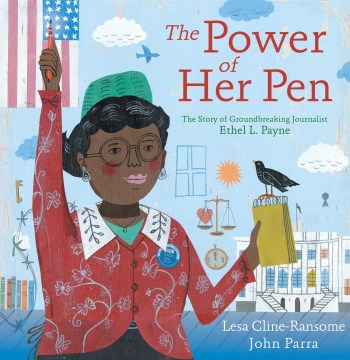 The Power of Her Pen: The Story of Groundbreaking Journalist Ethel L. Payne written by Lesa Cline-Ransome; illustrated by John Parra
ebook available from Overdrive.
Ethel Payne always had an ear for stories. Seeking truth, justice, and equality, Ethel followed stories from her school newspaper in Chicago to Japan during World War II. It even led her to the White House briefing room, where she broke barriers as the only black female journalist. Ethel wasn't afraid to ask the tough questions of presidents, elected officials, or anyone else in charge, earning her the title, "First Lady of the Black Press."
Shirley Chisholm Is a Verb! written by Veronica Chambers; illustrated by Rachelle Baker
ebook available from Overdrive.
Shirley Chisholm famously said, "If they don't give you a seat at the table, bring a folding chair." This dynamic biography illuminates how Chisholm was a doer, an active and vocal participant in our nation's democracy, and a force to be reckoned with. Now young readers will learn about her early years, her time in Congress, her presidential bid, and how her actions left a lasting legacy that continues to inspire, uplift, and instruct.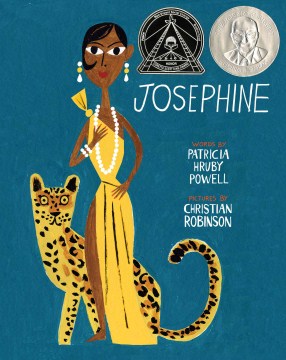 Josephine: The Dazzling Life of Josephine Baker written by Patricia Hruby Powell; illustrated by Christian Robinson
ebook and audiobook available from Hoopla.
In exuberant verse and stirring pictures, here is an extraordinary portrait of the passionate performer and civil rights advocate Josephine Baker, the woman who worked her way from the slums of St. Louis to the grandest stages in the world. Meticulously researched by both author and artist, Josephine's powerful story of struggle and triumph is an inspiration and a spectacle, just like the legend herself.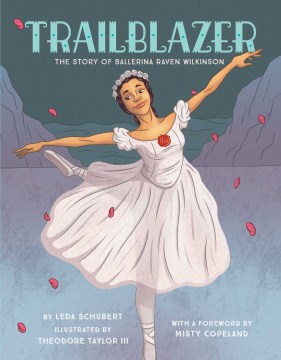 Trailblazer: The Story of Ballerina Raven Wilkinson written by Leda Schubert; illustrated by Theodore Taylor, III
Raven Wilkinson was born on February 2, 1935, in New York City. From the time she was a little girl, all she wanted to do was dance. On Raven's ninth birthday, her uncle gifted her with ballet lessons, and she completely fell in love with dance. While she was a student at Columbia University, Raven auditioned for the Ballet Russe de Monte Carlo and was finally accepted on her third try, even after being told she couldn't dance with them because of her skin color. This beautiful picture book tells the uplifting story of the first African American woman to dance for a major classical ballet company and how she became a huge inspiration to Misty Copeland.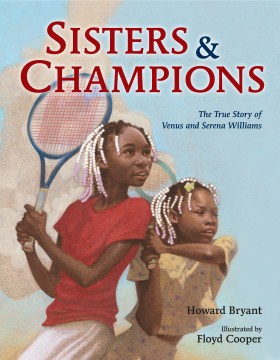 Sisters & Champions: The True Story of Venus and Serena Williams written by Howard Bryant; illustrated by Floyd Cooper
ebook available from Overdrive.
Everyone knows the names Venus and Serena Williams. They've become synonymous with championships, hard work, and shaking up the tennis world. This incredible sister duo will go down in history as two of the greatest athletes of all time.
Flying High: The Story of Gymnastics Champion Simone Biles written by Michelle Meadows; illustrated by Ebony Glenn
ebook available from Overdrive.
Before she was a record-breaking, world-famous gymnast, Simone Biles spent time in foster care as a young child. Nimble and boundlessly energetic, she cherished every playground and each new backyard. When she was six years old, Simone's family took shape in a different way: her grandparents, Ron and Nellie Biles, adopted her and her sister Adria. Simone was also introduced to gymnastics that same fateful year, launching a lifelong passion fueled by remarkable talent, sacrifice, and the undying support of her family.
Swish!: The Slam-Dunking, Alley-Ooping, High-Flying Harlem Globetrotters written by Suzanne Slade; illustrated by Don Tate
In this book, you will find one-finger ball-spinning, rapid-fire mini-dribbling, and a ricochet head shot! You will find skilled athletes, expert players, and electrifying performers—all rolled into one! You will find nonstop, give-it-all-you've-got, out-to-win-it, sky's-the-limit BASKETBALL!
Be sure to check our catalog and Overdrive Kids eReading Room, for these titles and many more being added!
---