Picture Book Highlights | Women in the Arts
By
Monica C.
Thu, March 18, 2021
March is Women's History Month, so let's take a look at picture books highlighting the creative and innovative work of women in the arts: painters, writers, architects, musicians, and dancers!

Frida Kahlo and Her Animalitos written by Monica Brown; illustrated by John Parra
Streaming movie and read-along available from Hoopla.
This book chronicles Frida Kahlo's life—from her childhood to her rise as one of the world's most influential painters—capturing the beauty and strength of her creative spirit, which carried her through tragedy and triumph, and the animals that inspired her along the way.
Jump at the Sun: The True Life Tale of Unstoppable Storycatcher Zora Neale Hurston written by Alicia Williams; illustrated by Jacqueline Alcántara
ebook available from Overdrive.
Zora Neale Hurston was a girl who hankered for tales like bees for honey. Now, her mama always told her that if she wanted something, "to jump at de sun", because even though you might not land quite that high, at least you'd get off the ground. So Zora jumped from place to place, from the porch of the general store where she listened to folktales, to Howard University, to Harlem. And everywhere she jumped, she shined sunlight on the tales most people hadn't been bothered to listen to until Zora. The tales no one had written down until Zora. Tales on a whole culture of literature overlooked… until Zora. Until Zora jumped.
Building Zaha: The Story of Architect Zaha Hadid by Victoria Tentler-Krylov
ebook available from Overdrive.
Zaha Hadid knew from a young age that she wanted to be an architect. She set goals for herself and followed them against all odds. A woman in a man's world, and a person of color in a white field, Zaha was met with resistance at every turn. When critics called her a diva and claimed her ideas were unbuildable, she didn't let their judgments stop her from setting goals and achieving them one by one, finding innovative ways to build projects that became famous the world over. She persisted, she followed her dreams, and she succeeded.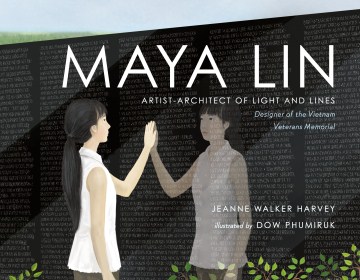 Maya Lin: Artist-Architect of Light and Lines written by Jeanne Walker Harvey; illustrated by Dow Phumiruk
ebook available from Overdrive.
As a child, Maya Lin loved to study the spaces around her. She explored the forest in her backyard, observing woodland creatures, and used her house as a model to build tiny towns out of paper and scraps. The daughter of a clay artist and a poet, Maya grew up with art and learned to think with her hands as well as her mind. From her first experiments with light and lines to the height of her success nationwide, this is the story of an inspiring American artist: the visionary artist-architect who designed the Vietnam Veterans Memorial.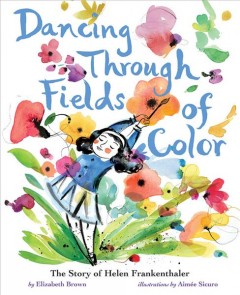 Dancing Through the Fields of Color: The Story of Helen Frankenthaler written by Elizabeth Brown; illustrated by Aimée Sicuro
ebook available from Hoopla.
They said only men could paint powerful pictures, but Helen Frankenthaler (1928-2011) splashed her way through the modern art world. Channeling deep emotion, Helen poured paint onto her canvas and danced with the colors to make art unlike anything anyone had ever seen. She used unique tools like mops and squeegees to push the paint around, to dazzling effects. Frankenthaler became an originator of the influential "Color Field" style of abstract expressionist painting with her "soak stain" technique, and her artwork continues to electrify new generations of artists today.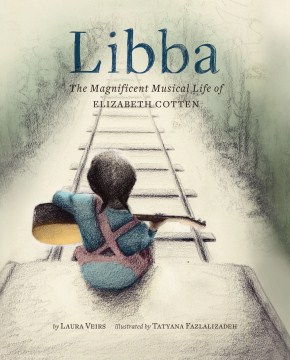 Libba: The Magnificent Musical Life of Elizabeth Cotten written by Laura Veirs; illustrated by Tatyana Fazlalizadeh
ebook available from Hoopla.
Elizabeth Cotten was only a little girl when she picked up a guitar for the first time. It wasn't hers (it was her big brother's), and it wasn't strung right for her (she was left-handed). But she flipped that guitar upside down and backwards and taught herself how to play it anyway. By age eleven, she'd written "Freight Train," one of the most famous folk songs of the twentieth century. And by the end of her life, people everywhere—from the sunny beaches of California to the rolling hills of England—knew her music.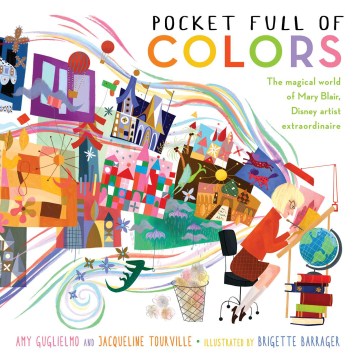 Pocket Full of Colors: The Magical World of Mary Blair, Disney Artist Extraordinaire by Amy Guglielmo
ebook available from Overdrive.
Mary Blair lived her life in color: vivid, wild color. From her imaginative childhood to her career as an illustrator, designer, and animator for Walt Disney Studios, Mary wouldn't play by the rules. At a time when studios wanted to hire men and think in black and white, Mary painted twinkling emerald skies, peach giraffes with tangerine spots, and magenta horses that could fly.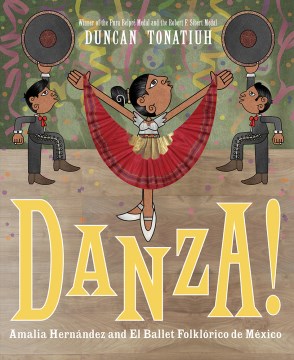 Danza!: Amalia Hernández and el Ballet Folklórico de Mexico by Duncan Tonatiuth
Streaming movie and read along available from Hoopla.
As a child, Amalia Hernández saw a pair of dancers in the town square. The way they stomped and swayed to the rhythm of the beat inspired her. She knew one day she would become a dancer. Amalia studied ballet and modern dance under the direction of skilled teachers who had performed in world-renowned dance companies. But she never forgot the folk dance she had seen years earlier. She began traveling through the Mexican countryside, witnessing the dances of many regions, and she used her knowledge of ballet and modern dance to adapt the traditional dances to the stage. She founded her own dance company, a group that became known as el Ballet Folklórico de México.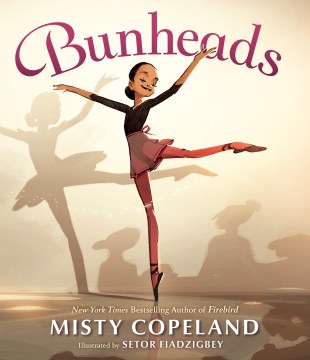 Bunheads written by Misty Copeland; illustrated by Setor Fiadzigbey
ebook available from Overdrive.
Misty is so captivated by the tale and its heroine, Swanilda, she decides to audition for the role. But she's never danced ballet before; in fact, this is the very first day of her very first dance class! Though Misty is excited, she's also nervous. But as she learns from her fellow bunheads, she makes wonderful friends who encourage her to do her very best. Misty's nerves quickly fall away, and with a little teamwork, the bunheads put on a show to remember.
Be sure to check our catalog and Overdrive Kids eReading Room, for these titles and many more being added!