New Titles Coming to the Free Library in April!
By
Rachel F.
Thu, April 1, 2021
This April, our children and teen titles explore curiosity and adventure while our adult selections are taking us into complicated realms...

Young Children (up to 2nd Grade)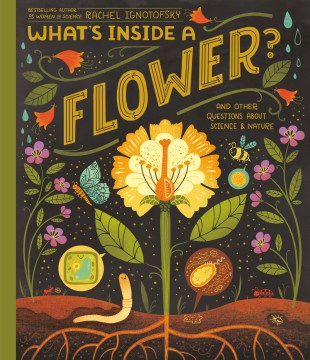 What's Inside a Flower? And Other Questions About Science and Nature by Rachel Ignotofsky
Budding backyard scientists can start exploring their world with this stunning introduction to these flowery show-stoppers—from seeds to roots to blooms. Learning how flowers grow gives kids beautiful building blocks of science and inquiry.
Older Children (3rd Grade to 6th Grade)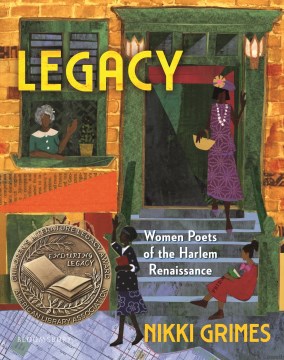 Legacy: Women Poets of the Harlem Renaissance by Nikki Grimes
This new collection of poems celebrates the contributions of lesser-known Harlem Renaissance women poets from a modern viewpoint. Award-winning poet Nikki Grimes delivers heart-filled offerings that tie together generations of Black artistic excellence aimed at positive social change. These poems sample the words of the original poets to create new poems, a form known as the Golden Shovel, invented by poet Terrance Hayes in homage to Gwendolyn Brooks. They emphasize care for oneself, one's communities, and the Earth together for the possibility of a brighter tomorrow. Accompanying them are contributions from an all-star cast of Black women illustrators. This book is beautifully drawn and displays the historic strength of Black women's brilliance creating a timely mirror to a new generation of readers.
Teen Fiction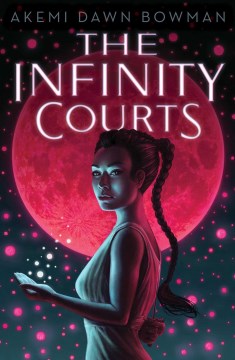 The Infinity Courts by Akemi Dawn Bowman
Eighteen-year-old Nami Miyamoto is certain her life is just beginning. She has a great family, just graduated high school, and is on her way to a party where her entire class is waiting for her—most importantly, the boy she's been in love with for years. The only problem? She's murdered before she gets there. When Nami wakes up, she learns she's in a place called Infinity, where human consciousness goes when physical bodies die. She quickly discovers that Ophelia, a virtual assistant widely used by humans on Earth, has taken over the afterlife and is now posing as a queen, forcing humans into servitude the way she'd been forced to serve in the real world. Even worse, Ophelia is inching closer and closer to accomplishing her grand plans of eradicating human existence once and for all. It's Westworld meets Warcross in this high-stakes, dizzyingly smart sci-fi about a teen girl navigating an afterlife in which she must defeat an AI entity intent on destroying humanity.

Adult Fiction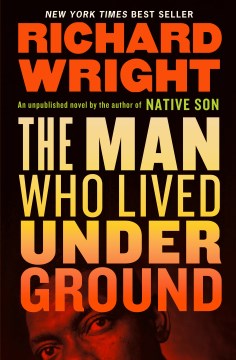 The Man Who Lived Underground by Richard Wright
A major literary event: an explosive, previously unpublished novel from the 1940s by a legendary author. Fred Daniels, a Black man, is picked up by the police after a brutal double murder and tortured until he confesses to a crime he did not commit. After signing a confession, he escapes from custody and flees into the city's sewer system. This is the devastating premise of this scorching novel, a masterpiece that Richard Wright was unable to publish in his lifetime. Written between his landmark books Native Son (1940) and Black Boy (1945), at the height of his creative powers, it would eventually see publication only in drastically condensed and truncated form in the posthumous short story collection Eight Men (1961). Now, for the first time, by special arrangement with the author's estate, the full text of this incendiary novel about race and violence in America, the work that meant more to Wright than any other ("I have never written anything in my life that stemmed more from sheer inspiration"), is published in the form that he intended, complete with his companion essay, "Memories of My Grandmother." Malcolm Wright, the author's grandson, contributes an afterword.
Adult Nonfiction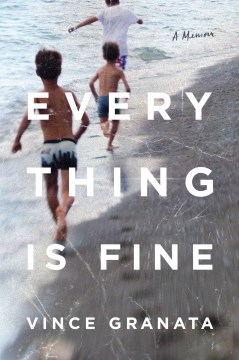 Everything Is Fine: A Memoir by Vince Granata
Vince Granata was a thousand miles away when he received the shocking news that would change his life: his younger brother Tim, propelled by unchecked schizophrenia, had killed their mother in their childhood home. Not only devastated by the grief of losing his mother, Vince is consumed by the act itself, so incomprehensible that it overshadows every happy memory of life growing up in a seemingly idyllic middle-class family. In an extraordinary feat of willpower, he decides to examine the disease that irrecoverably changed his family's destiny and piece together his brother's story.
DVDs and Blu-rays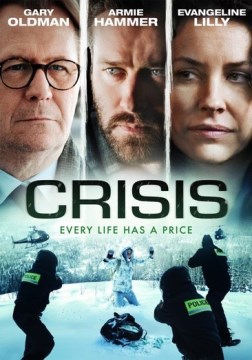 Crisis | Starring: Gary Oldman, Armie Hammer, Evangeline Lilly, Greg Kinnear, Michelle Rodriguez, Kid Cudi, Indira Varma, Lily-Rose Depp | Directed by Nicholas Jarecki (Release Date: April 20, 2021)
Three stories about the world of opioids collide: cartels work together to smuggle Fentanyl between Canada and the United States, a former OxyContin addict discovers a secret kept by her son in regards to illegal narcotics, and a professor deals with unexpected struggles as he tries to research a painkiller that is non-addictive.
You can find these new titles and many more great books, ebooks, audiobooks, movies, and music in our catalog and at a neighborhood library near you!