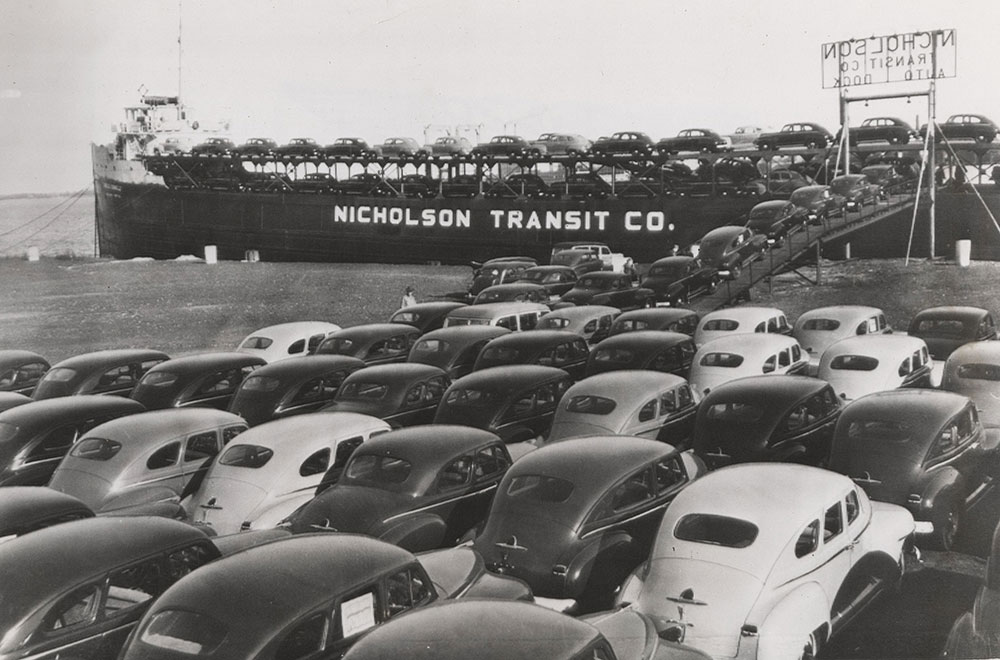 Item Info
Item No: arcm00087
Title: These little rigs go to market
Creation Date:
4/17/1946
Media Type:
Photographic Prints
Source:
Automobile Reference Collection
Notes:
Info attached to photo:
And these little rigs (1946 Cars) go to market
Detroit, Mich....New 1946 Plymouth, Dodge, Chrysler, and Buick cars are driven aboard the seamer Charles Donnelly under their own power, for shipment to Cleveland and Buffalo. Notice the new design on the Freighter which has a top deck similar to the flight deck of an aircraft carrier. Auto production enables the boats to carry a full load. The ice flow being broken up on the Great Lakes makes the operation of these steamers practical.
Info on Nicholson Transit Co.
Retrieved from: http://www.nicholson-terminal.com/about/history.htm
Captain William Nicholson and William F. (Frank) Deane Sr. established Nicholson Terminal & Dock Company in February 1928. Captain Nicholson was a renowned navigator in the Great Lakes region during the early 1920's. His experience and knowledge of the shipping industry helped establish the company as a major player in the marine services business. The company has operated various business units during its history. Nicholson Terminal & Dock Company has since its inception been an important above the waterline shipyard and shipping terminal. The business activities and operations include stevedoring, ship repair, and bulk material handling, such as ferrous metal alloy material used in the steel manufacturing process, warehousing and many others.
Creator Name:
Eddie Nold - Photographer