Lithography, engraving and printing establishment. Augs. Kollner designer, engraver & lithographer. Henry Camp copperplate & lithographic printer. Phoenix Block corner of Second & Dock streets Philadelphia [graphic]
Historical Images of Philadelphia
Augustus Kollner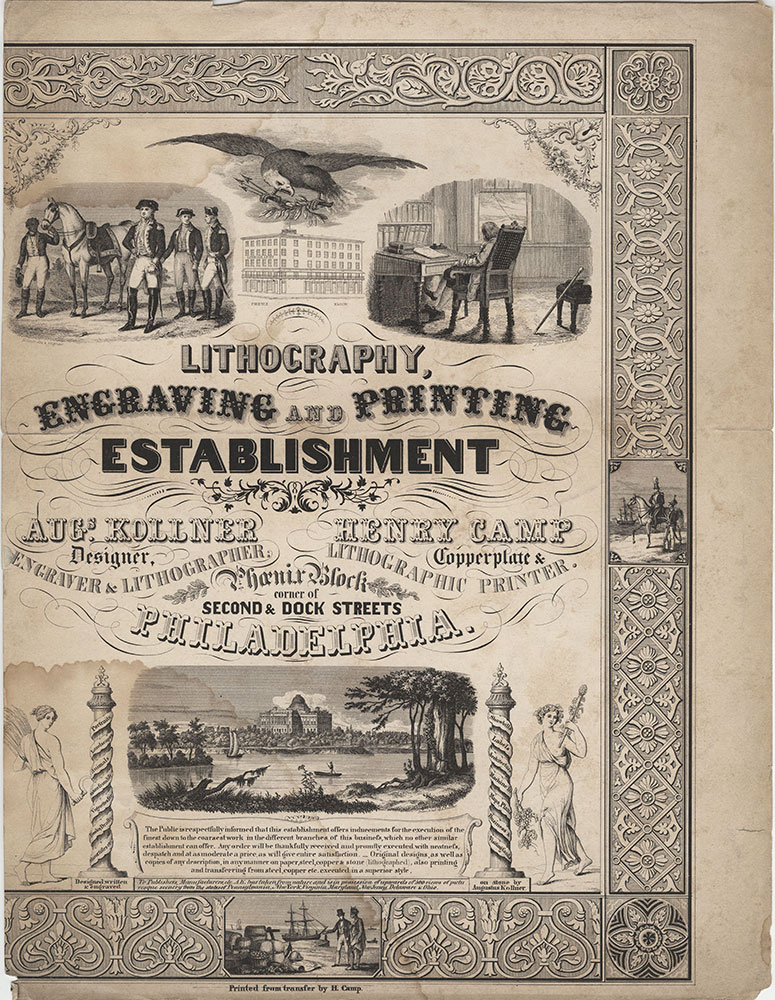 Item Info
Item No: pdck00001
Title: Lithography, engraving and printing establishment. Augs. Kollner designer, engraver & lithographer. Henry Camp copperplate & lithographic printer. Phoenix Block corner of Second & Dock streets Philadelphia [graphic]
Media Type:
Lithographs
Source:
Print and Picture Collection
Notes:
Advertisement containing an ornamental border, vignette examples of Kollner's work, and several lines of advertising text for the collaboration between Camp and Kollner at the Phonenix Block circa 1849-1851. Vignettes, marked with variant Kollner imprints, include General Washington, accompanied by two of his officers, and dismounted from a horse that is managed by a black handler (Servant William Lee?); a line drawing of the Phoenix Block building; the back of an old man, possibly Franklin, dressed in colonial attire, and seated at his secretary; and a view showing a grand building, probably a Capitol, along a river on which vessels sail. Border also includes vignettes. Vignettes depict a military scene with an officer on horseback accompanied by another soldier on the shore of an ocean on which a ship sails; and a trade scene between a gentleman and a Native American reviewing a stack of goods of commerce at a pier. Advertisement also contains depictions of female allegorical figures representing probably Spring and Fall flanking two ornamented poles entwined with banners. The banners are marked with the subject matter and types of prints issued by the partners, including "Portraits, Landscapes, Animals, taken from life. Vignettes from books, drafts, music titles etc." and "Showbills, labels, architectures, machine d. maps, plans, business & visiting cards."
Notes:
Free Library of Philadelphia: Augustus Kollner Collection - Drawings, Etchings, Lithographs Box - Lithographs-Tradesmen's Cards
Notes:
Lithography, engraving and printing establishment. Augs. Kollner designer, engraver & lithographer. Henry Camp copperplate & lithographic printer. Phoenix Block corner of Second & Dock streets Philadelphia [graphic] : The Public is respectfully informed this establishment offers inducements for the execution of the finest down to the coarsest work in the different branches of this business, which no other similar establishment can offer. Any order will be thankfully received and promptly executed with neatness, dispatch, and at as moderate a price as will give entire satisfaction._ Original designs, as well as copies of any description, in any manner on paper, steel, copper & stone (lithographed), also printing and transferring from steel, copper, etc. executed in a superior style. / Designed, written & engraved on stone by Augustus Kollner.
Notes:
Phoenix Block (Philadelphia, Pa.)
Notes:
Printed on recto: To Publishers, Manufactures, etc. A.K. has taken from nature and is in possession of upwards of 500 views of picturesque scenery from the states of Pennsylvania, New York, Virginia, Maryland, New Jersey, Delaware & Ohio.
Creation Year:
ca. 1850
Creator Name:
Kollner, Augustus, 1813-1906 - Artist
Camp, John Henry, 1822-1881 - Printer
Camp, John Henry, 1822-1881 - Publisher