Merrick & Hijo, Succesores De Merrick & Towne, Filadelfia. = Merrick & Son, successors to Merrick & Towne, Philadelphia. = Merrick & Fils, Successeur De Merrick & Towne, Philadelphie. [graphic]
Historical Images of Philadelphia
Philadelphiana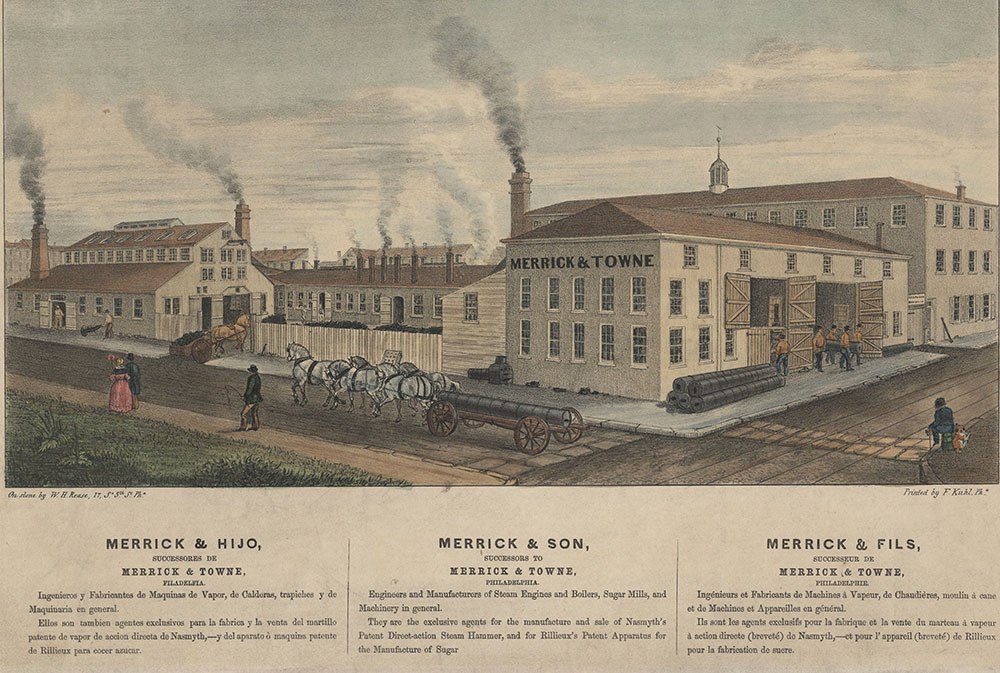 Item Info
Item No: pdcp00023
Title: Merrick & Hijo, Succesores De Merrick & Towne, Filadelfia. = Merrick & Son, successors to Merrick & Towne, Philadelphia. = Merrick & Fils, Successeur De Merrick & Towne, Philadelphie. [graphic]
Media Type:
Lithographs
Source:
Print and Picture Collection
Notes:
Advertisement showing the factory complex between Washington, Federal, Fourth, and Fifth streets for the firm established in 1836 as Merrick & Towne (renamed Merrick & Son in 1849 and Merrick & Sons in 1852). In the right of the image, several laborers remove a pipe through the stable-like doors of a warehouse nea r which a pile of pipes lies on the sidewalk. A boy, sitting on a hydrant, with a dog watches the scene from the opposite corner. To the rear of the warehouse, a horse-drawn cart filled with coal enters the fenced courtyard. Piles of pipe are visible in the yard and workers are visible at the doorway of the workshop bordering the yard. Past the courtyard, a laborer pushes a hand cart by another workshop. Smokestacks adorn most of the buildings and machine parts and tools line the sidewalk in front of them. In the street, a team of six horses pulls a truck carrying a large pipe. The team driver walks on the sidewalk behind a couple taking a stroll.
Notes:
Free Library of Philadelphia: Philadelphiana - Factories, etc.
Notes:
Merrick & Hijo, Succesores De Merrick & Towne, Filadelfia. = Merrick & Son, successors to Merrick & Towne, Philadelphia. = Merrick & Fils, Successeur De Merrick & Towne, Philadelphie. [graphic] : Ingernieros y Fabricantes de Maquinas de Vapor, de Calderas, trapiches y de Maquinaria en general. Ellos son tambien agents exclusivos para la fabrica y la venta del martillo patente de vapor de accion de Nasmyth, -y del aparato ò maquina patente de Rillieux para cocer azucar. = Engineers and manufacturers of steam engines and boilers, sugar mills, and machinery in general. They are the exclusive agents for the manufacture and sale of Nasmyth's patent direct-action steam hammer, and for Rillieux's patent apparatus for the manufacture of sugar. =Ingénieurs et fabricants de machina à vapeur, de chaudières, Moulin à cane at de machines et appareilles en général. Ils sont les agents exclusives pour la fabrique et la vente du marteau a vapeur à action directe (breveté) de Nasmyth,- et pour l'appareil (breveté) de Rillieux pour la fabrication de sucre. On stone by W.H. Rease, 17 So. 5th St. Pha.
Notes:
Merrick & Son.
Creation Year:
1850
Creator Name:
Rease, W. H. - Artist
Kuhl, Frederick, b. ca. 1812 - Printer
Kuhl, Frederick, b. ca. 1812 - Publisher