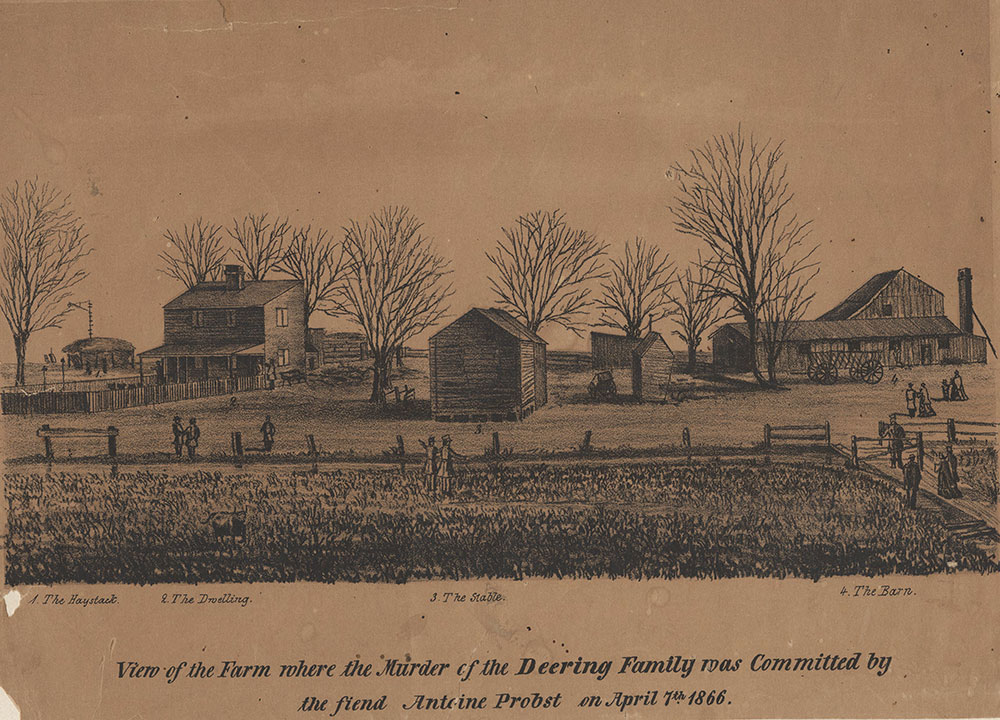 Item Info
Item No: pdcp00022
Title: View of the farm where the murder of the Deering [sic] Family was committed by the fiend Antoine Probst on April 7th 1866. [graphic].
Media Type:
Lithographs
Source:
Print and Picture Collection
Notes:
Dearing Family.
Notes:
Key to buildings depicted printed below the image.
Notes:
News print showing the farm at Jones Lane in South Philadelphia of the Philadelphia family murdered by their farmhand Anton Probst on April 7, 1866. The victims included Christopher Dearing, aged 38 years; his wife, Julia Dearing, aged 45 years; their son, John Dearing, aged 8 years; their son, Thomas Dearing, aged 6 years; their daughter, Anna Dearing, aged 4 years; their daughter, Emily Dearing, aged 2 years; family friend Elizabeth Dolan, aged 25 years; and fieldhand Cornelius Cary, aged 17 years. Depicts (left to right) "1. The Haystack" where the headless body of the first murdered, field hand Cary, was hidden; "2. The Dwelling" Probst ransacked for money and in which he shaved, changed, napped, and ate after the murder; "3. The Stable" where Probst fed the animals before his departure; and "4. The Barn" where the family was lured one by one, killed, and discovered by neighbors a few days later. Individuals walk the property, including spectators and police, and a cow stands across from two policemen in a field tilled for planting in the foreground. Also shows barren trees, carts, wagons, and other farm equipment. Probst, a German immigrant and swindler, was a disgrun tled former farmhand of the Dearings who murdered the family by hammer and ax for revenge and money. He was convicted in May 1866 and executed the following month at Moyamensing Prison for the largest murder in Philadelphia at that time.
Notes:
Probst, Anton, 1842-1866.
Notes:
Free Library of Philadelphia: Philadelphiana - Farms
Creation Year:
ca. 1866