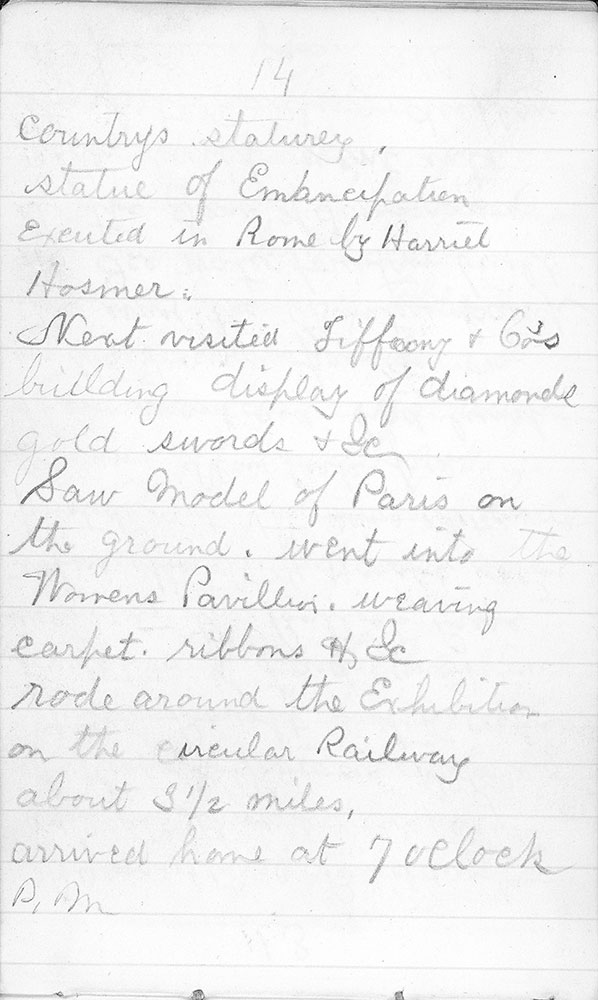 Item Info
Item No: c070014
Title: My trip to Philadelphia in 1876
Additional Title: [diary-pg.14]
Series:
Diary
Media Type:
Diaries
Notes:
"CENTENNIAL CELEBRATION DIARY. Diary of Frank L. Thomas, 17 years of age, kept when he visited the Centennial Celebration in Philadelphia from July 12, 1876 to July 26, 1876. Notebook type diary measuring 3 1/2" x 5" 32 pgs. Records his visits to places in the City of Philadelphia--Jefferson Medical College & Pennsylvania Hospital--where he saw cases operated on; J.P. Lippincott's Pub. House on Market Street where he went from floor to floor into each department of book making; Ward's Bronze Foundry where he saw the statue of Rev. John Witherspoon; Carpenter's Hall where he heard the delegate from Germany speak at the Universal Peace convention; Independence Hall which seemed to impress this young man most with its colonial and revolutionary relics. Frank Thomas also records his visits to the various Buildings & Exhibitions at the Centennial Fair Grounds.He noted his visits to the exhibits of the various nations and the goods they displayed: Germany--orchestral-Piano; Tunis--swords & military goods; England--fine cabinet furniture; U.S. Mechanical warblers & the War Eagle Old Abe---- He told of his visits to Machinery Hall, the Horticulturan Building, the Agricultural Building, Art Building--to Tiffany & Company's display of diamonds & gold. He saw the Centennial Vase made by Gorham & Co. He told of a trip up the Delaware on steamer & visits to Philadelphia's parks. A good legible diary of a visit to Philadelphia & the Centennial Exhibition in 1876."--Accompanying description. First 32 pages consists of dated diary entries, page [33] an inscription by the author's son, last 5 pages an expense account.
Notes:
"The preceding diary was written by my father Frank L. Thomas when he was 17 years of age on his visit to the Centennial Celebration in Philadelphia in 1876. His son, Erwin S. Thomas, July 4, 1976, year of the Bicentennial. My birthday Feb. 19, 1888."--p.[33]
Notes:
[112] p. of lined paper bound at top with black leather covers, first [33] and last [5] p. written on in pencil, remaining [74] p. blank.
Notes:
[112] p.; 15 x 10 cm.
Notes:
Accompanied by letter acknowledging donors' gift, dated Dec. 9, 1983 and mimeographed description from unknown source [auction catalog?].
Notes:
Also known as: Centennial Celebration diary.
Notes:
Gift of Irving and Margery Lowens, 1983.
Sirsi Catalog Key:
1314911
Call Number:
c070000
Creator Name:
Frank L. Thomas