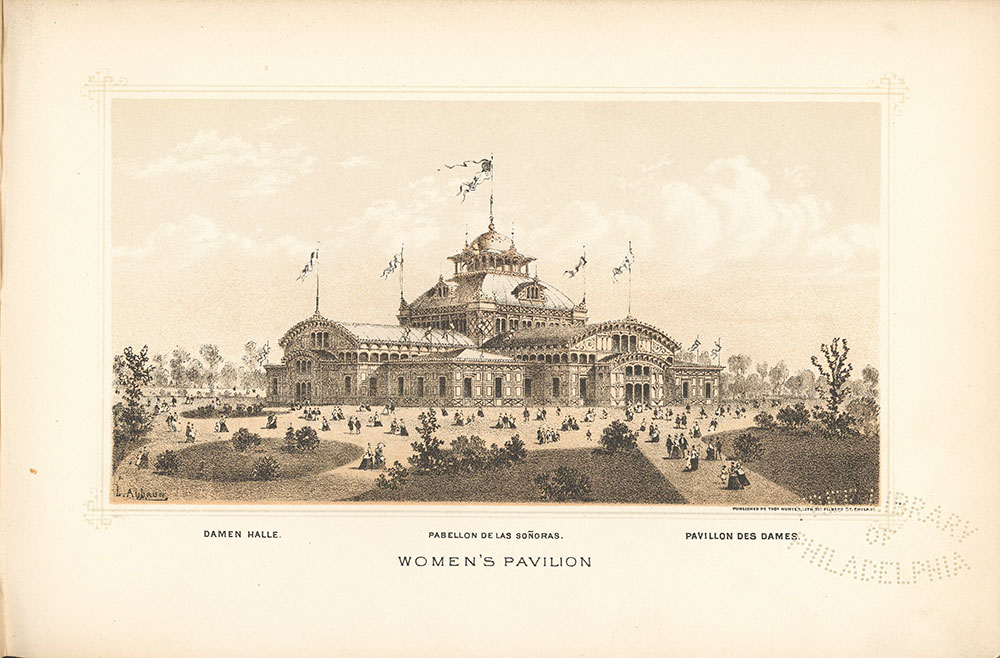 Item Info
Item No: c090080
Title: Women's Pavilion
Additional Title: Women's Pavilion
Series:
Lithograph
Media Type:
Lithographs
Notes:
"Damen Halle, Pavillon des dames."
Notes:
Lithograph Caption:
The Women's Centennial Committee have performed a noble work in aiding the great Exhibition. A very large amount of money has been raised through the exertions of that committee and invested in the stock of the Board of Finance. After many months of labor in that direction, the ladies interested desired special means of exhibiting the work of women in such manner as would display to advantage the industry, taste and manufacturing and artistic skill of the sex. For obvious reasons this object could not be effected in the general Exhibition Buildings so as to separate the work of women from that of men. It was therefore resolved by the Women's Centennial Committee to raise a special fund for a building of their own, which should not in any manner interfere with the contributions devoted to the great object of the Exhibition. Liberal responses were made to this proposition, and an amount of money quite sufficient for the purpose was secured with but little difficulty.
The Women's Pavilion is situate on the east side of Belmont Avenue, opposite the United States Government Building. It is formed by two naves, each 64 x 192 feet, which intersect each other. At the end of each of these naves is a porch, 8 x 32 feet. The corners formed by the two naves are filled out by 4 pavilions, each 48 feet square. The centre of the edifice is raised 25 feet higher than the rest of the building, and is surmounted by an observatory with a cupola on top, 90 feet above the ground. The material is of wood. The interior is very attractive. Four columns which sustain the dome are the only incumbrances which can obstruct the view. The roof is mainly supported by trusses resting on the outside walls. The walls are painted with light color, neatly panelled with blue upon the ceilings. The panels on the side walls are decorated with groups allegorical of faith, hope, charity, art, labor, instruction and the family, from designs of Camille Pitou. The area covered by the Pavilion is 30,000 square feet. The architect of this fine building was H. J. Schwarzmann; builders, Jacob G. Peters and John D. Burger, of Lancaster, Pa. Cost, $40,000.
Notes:
1 lithograph; 12 x 22 cm.
Notes:
Architect: H.J. Schwarzmann.
Notes:
Removed from: Centennial portfolio / Thompson Westcott. Philadelphia : T. Hunter, 1876.
Notes:
The Building, situated in a landscaped field. People stroll in the foreground.
Creator Name:
Westcott, Thompson. Centennial portfolio.
Thomas Hunter, lithographer.