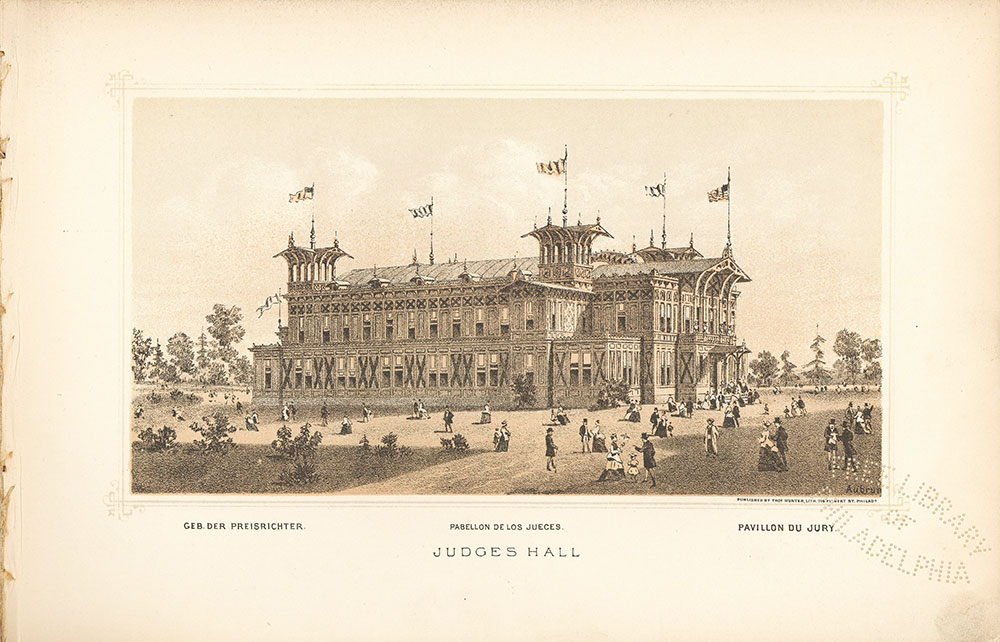 Item Info
Item No: c090090
Title: Judges Hall
Additional Title: Judges Hall
Series:
Lithograph
Media Type:
Lithographs
Notes:
"Geb. der Preisrichter, Pavillon du jury."
Notes:
"Length 152 ft. width 119 ft."
Notes:
Lithograph Caption:
According to the plan agreed upon by the Centennial Commission, the magnificent collection of articles displayed at the Exhibition are to be subjected to the examination of 200 judges, one-half of whom are foreigners and one-half citizens of the United States. They are selected for their known qualification and character, and are experts in the departments to which they are respectively assigned. The judges from the United States are appointed by the Centennial Commission; the foreign judges, by the Commission of each country. These judges examine the articles and base their awards on merit. In consideration of the important question, What is merit? are involved originality, invention, discovery, utility, quality, skill, workmanship, fitness for the purposes intended, adaptation to public wants, economy and cost. All these matters are taken into consideration by the judges in making their final reports, which are written, and upon which the awards are to be made by the Centennial Commission. The Commission does not offer graded premiums. The medal of the Exposition will be of bronze, uniform in all cases; but the worth of the medal to the exhibitor will depend upon the written report of the judges, which will fully point out the merit of the object exhibited. The large number of judges engaged in this work, and the necessity of having some accommodation of their own for consultation and comparison, necessitated the erection of a building for their occupation and use. The Judges' Hall stands on the east side of Belmont Avenue, north of the west end of the Main Exhibition Building. It is handsome in exterior appearance and finely decorated in the interior. It is 152 feet long by 115 feet wide. The towers at the four corners of the building are each 50 feet high, and have been made very ornate. The woodwork on the inside is handsome. The interior is fitted up for the use of the judges and for meetings of committees and larger number of persons. In the centre is a hall for meetings, 60 x 80 feet. In the rear is a smaller apartment, 60 x 26 feet, intended to be used for large committee meetings. These rooms can be thrown into one by taking down the partitions. There are 14 small committee-rooms, and in the second story a comfortable sitting-room. There is much taste in the construction of this Hall, which is painted upon the exterior with neutral colors, judiciously contrasted. Architect, H. J. Schwarzmann. Cost, $30,000.
Notes:
1 lithograph; 12 x 22 cm.
Notes:
Architects: H.J. Schwarzmann and Hugh Kafka.
Notes:
Removed from: Centennial portfolio / Thompson Westcott. Philadelphia : T. Hunter, 1876.
Notes:
The Building, situated in a landscaped field. People stroll in the foreground.
Creator Name:
Westcott, Thompson. Centennial portfolio.
Thomas Hunter, lithographer.