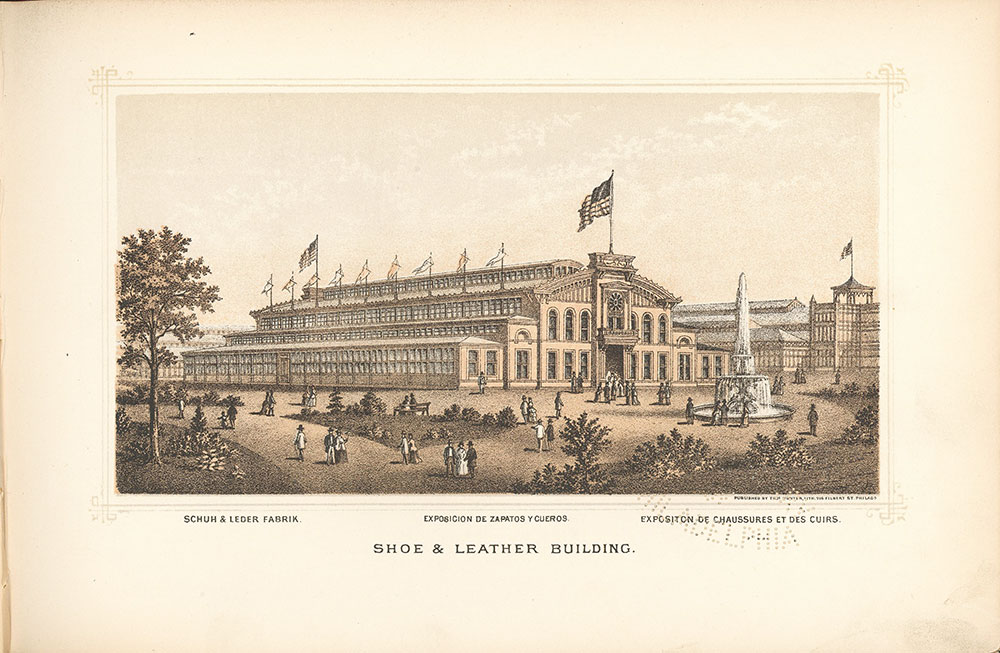 Item Info
Item No: c090100
Title: Shoe & Leather building
Additional Title: Shoe and Leather Building
Series:
Lithograph
Media Type:
Lithographs
Notes:
"Schuh & Leder Fabrik, Expositon [sic] de chaussures et des cuirs."
Notes:
Lithograph Caption:
Several special industries which might have been accommodated by a display of their products in the Main Exhibition Building, or of the apparatus used in the preparation of goods in Machinery Hall, could not, in the opinion of persons interested in such pursuits, be as well illustrated in buildings for general exhibition as they would be in special enclosures which might answer all the purposes of great workshops, showing every process of manufacture, from the incipient handling of the raw material to the finished work. The manufacturers of shoes and boots were of the belief that a special building for their own accommodation would be preferable, and in this idea they united, and raised means to erect the structure known as the Shoe and Leather Building. In general character it assimilates with Machinery Hall, which it adjoins on the south, and of which it is considered an annex. The structure is 314 feet long and 160 feet in width, and although not ornate in architecture is in pleasing style. The interior contains leather of all kinds – sole leather tanned with oak bark and with hemlock, union crop leather tanned with both substances, and also for upper leathers kip, calf, fine morocco, curaçoa, kid, lamb and sheep skins. The process of leather manufacture after tanning, including skiving, splitting, stripping, edge-setting and burnishing, is shown. The art of making shoes and boots is displayed, including all varieties, from the coarse brogan and plough-shoe up to the most dainty lady's gaiter or slipper. The manufacture of leather articles, from a pocketbook to a Saratoga trunk, is illustrated, as is saddlemaking from horse and pig skin. A large steam-engine in the centre furnishes the power to run the machinery. The manufacture of shoes and boots by these means is so strongly contrasted with the methods of the old-fashioned cordwainer, who hammered on his lapstone and drew his wax-ends tight, that every one visiting this building is exceedingly pleased. The hall is well lighted. The main aisle is 15 feet wide, two parallel aisles, each 10 feet, running from east to west; they are crossed by other aisles, making 8 main exhibition spaces. Stairways lead to the second floor, which is divided into rooms at each end, and galleries on the north and south, 8 feet wide by 112 feet in length. The roof construction is divided on the cross-sections into an 80 feet span circular truss, and 16 and 24 feet sections, which are triangular in shape. The architect was Alexander B. Bary of Philadelphia; builders, J. H. Coffrode & Co. Cost, $31,000.
Notes:
1 lithograph; 12 x 22 cm.
Notes:
Architect: Alexander B. Bary.
Notes:
Removed from: Centennial portfolio / Thompson Westcott. Philadelphia : T. Hunter, 1876.
Notes:
The Building, situated on a landscaped path with a fountain in front. People stroll in the foreground. Machinery Hall in the background.
Creator Name:
Westcott, Thompson. Centennial portfolio.
Thomas Hunter, lithographer.