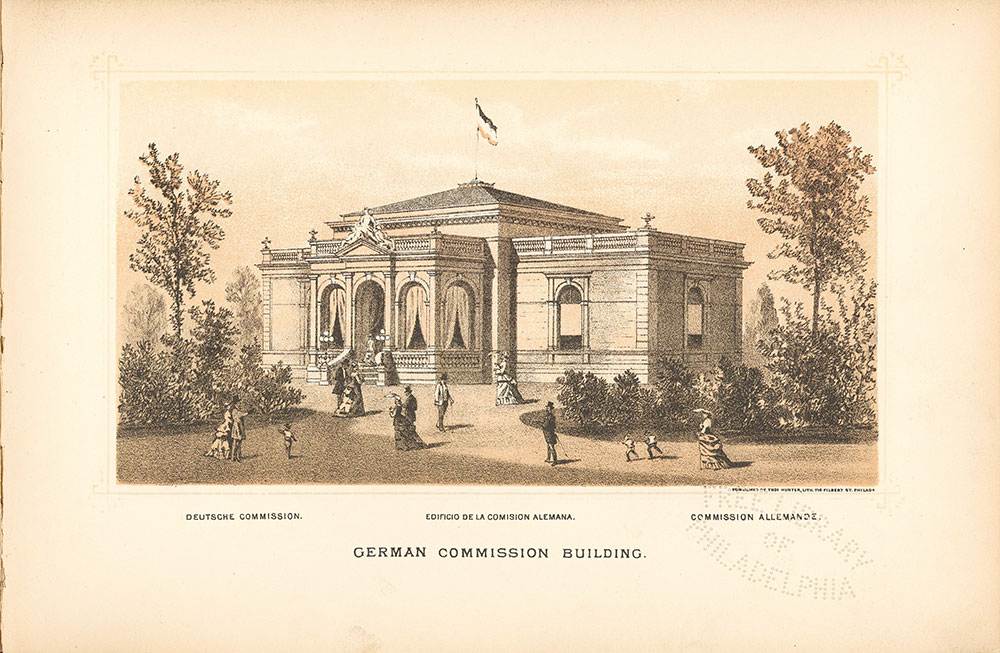 Item Info
Item No: c090200
Title: German Commission Building
Additional Title: German Commission Building
Series:
Lithograph
Media Type:
Lithographs
Notes:
"Deutsche Commission, Commission Allemande."
Notes:
Lithograph Caption:
Whilst the great majority of the structures erected by the foreign governments and the States of the Union upon the Centennial grounds are of wood, Germany has resolved to be distinguished by a structure solid and strong, analogous, as an architectural idea, to the plain and practical character of the people of the German nation. This building is of brick, rough-cast and plastered, situate on Lansdowne Drive, near the east side of Belmont Avenue, 82 feet in length by 42 in breadth, and is finished in the Italian Renaissance style, being principally noticeable upon account of the portico, which is spacious and handsome. The approach to this grand feature of the edifice is by broad steps, which lead, with balustrade, to the principal entrance. The main passage leads into a hall, which is finished in stucco-work, the walls and ceilings adorned with fresco paintings. The officers of the commission occupy the rooms upon one side of the hall, and upon the other side are reception-rooms for ladies and gentlemen. The roof of the main building is quadrangular in shape, rises gently to a small central space, from which towers the flagstaff. The main hall is 32 feet square; the ceiling is 34 feet from the floor. The imperial arms of the German empire are frescoed in the centre. The black eagle is presented with outstretched wings, in which the feathers are separated with bizarre taste, and the tail is eked out with the collar and cross of an order of nobility. The claws, red and strong, are suggestive of power for attack or defence. Upon the breast is the shield of the Hohenzollerns, charged with a duplicate eagle grasping the globe and sceptre and bearing the white and black quarterings of the Imperial House. The four corners of the ceiling are embellished with emblematical designs, interspersed with garlands and floral decorations, Cupids and figures in a high style of elaborate painting. A building adjoining the main structure is occupied by German exhibitors for the purpose of displaying the quality of their native wines.
Notes:
1 lithograph; 12 x 22 cm.
Notes:
Architects: H.J. Schwarzmann and Hugh Kafka.
Notes:
Removed from: Centennial portfolio / Thompson Westcott. Philadelphia : T. Hunter, 1876.
Notes:
The Building, situated in a landscaped field. People stroll in the foreground.
Creator Name:
Westcott, Thompson. Centennial portfolio.
Thomas Hunter, lithographer.