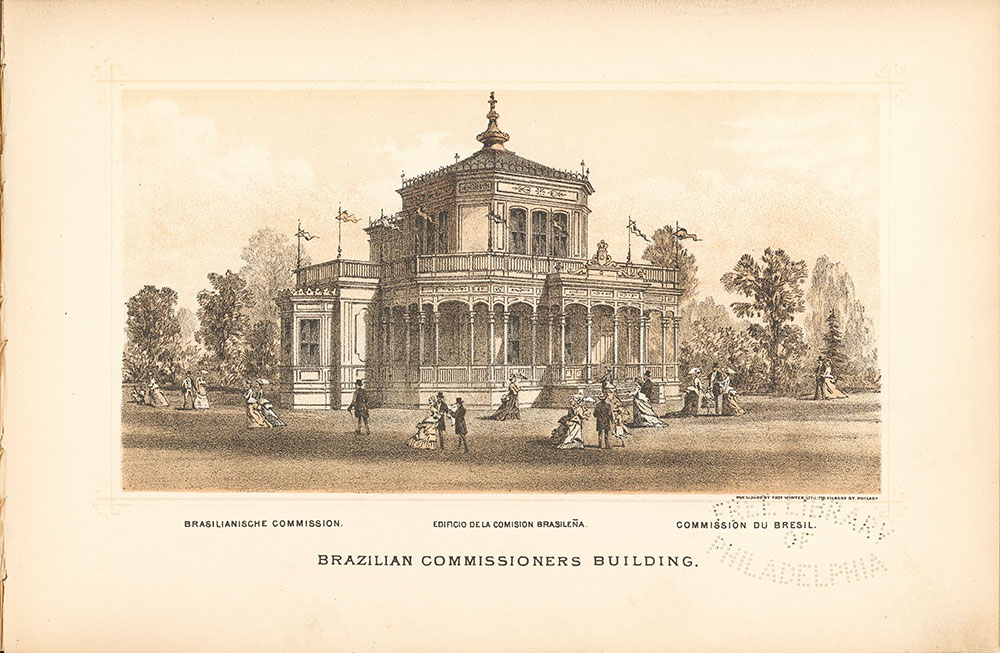 Item Info
Item No: c090210
Title: Brazilian Commissioners Building
Additional Title: Brazilian Commissioners Building
Series:
Lithograph
Media Type:
Lithographs
Notes:
"Brasilianische Commission, Commission du Bresil."
Notes:
Lithograph Caption:
The empire of Brazil is distinguished by the taste which is manifest in arranging the details connected with the participation of the government of that country in the Exhibition. The Pavilion of Brazil is situate upon a gentle wooded elevation or knoll of ground rising near the head of the Lansdowne Ravine and east of the German Building. The situation is one of the most attractive on the grounds, and the edifice is worthy of its position. The ground-plan is octagonal in form; but the porches and bay-windows – the latter extending out on all sides of the building except the front – break up the mathematical exactness which otherwise would be apparent. The style is light and graceful. The pavilion has an airy appearance which is pleasing to every beholder. The porch in front is sufficiently spacious to ensure shade and good ventilation for the interior, and the roof makes a very attractive balcony and promenade. The exterior shows pleasing combinations of colors, in which brown, yellow and red are harmoniously contrasted, the ornamentation of the scroll-work being very elaborate. The interior is about 70 feet in diameter. A large hall runs through the building from the doorway. On each side of the hall are two rooms, one opening to the front and the other to the rear. Stairways lead from the farther end of the hall into the turret-room above and to the balcony. The turret is divided into four rooms, each containing three windows and communicating with the balcony, thus ensuring light, access to a handsome promenade and a view of the Park in fine weather. The turret is surmounted by a finial of classic proportion. The walls of the interior rooms are covered with gold paper veined with flowers and vines. The furniture is plain, but in good taste. Immediately around the building the enclosure is neatly laid out and planted with Brazilian plants.
Notes:
1 lithograph; 12 x 22 cm.
Notes:
Removed from: Centennial portfolio / Thompson Westcott. Philadelphia : T. Hunter, 1876.
Notes:
The Building, situated in a grassy field, with trees in the background and people strolling in the foreground. Black ink on white paper.
Creator Name:
Westcott, Thompson. Centennial portfolio.
Thomas Hunter, lithographer.