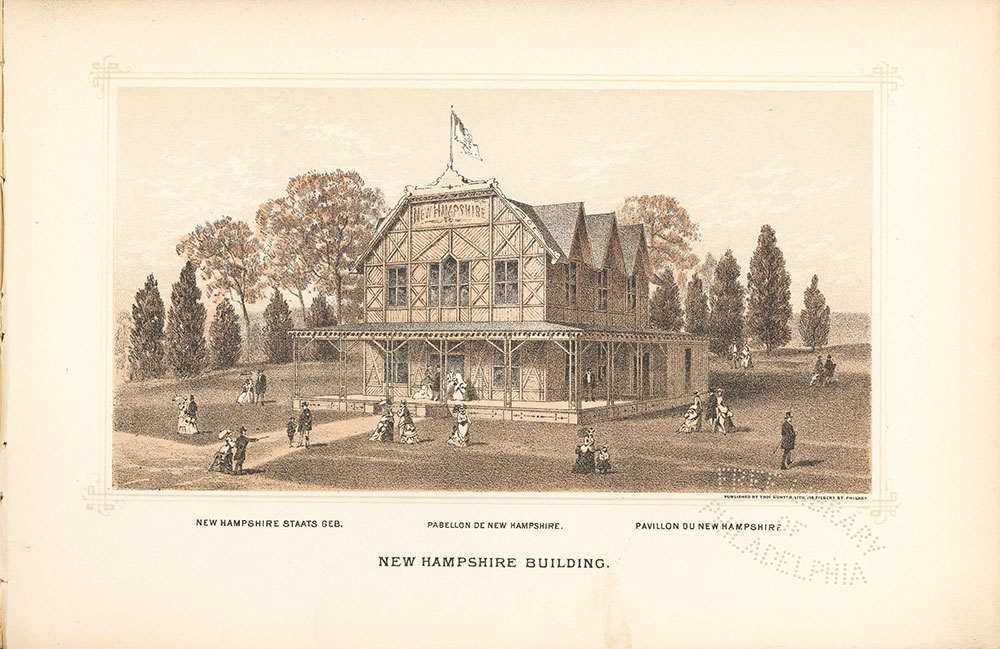 Item Info
Item No: c090260
Title: New Hampshire Building
Additional Title: New Hampshire Building
Series:
Lithograph
Media Type:
Lithographs
Notes:
"New Hampshire Staats Geb., Pavillon du New Hampshire."
Notes:
Lithograph Caption:
East of the Connecticut Building on State Avenue, with the pavilion of Michigan as a neighbor on the other side, are the accommodations furnished for the use of its citizens by the State of New Hampshire. The situation is north-east of the villa of the State of New York. For the purposes of this structure a space of ground is dedicated 50 x 50 feet. The style is plain, representing the half-timbered American house, the framework standing out from the weather-boarding, the bracings running at right angles with each other or diagonal. The building is two stories in height, the front gable flattened off near the peak; on the east and west sides three sharply-pitched gables rise above the windows. The first story has at the north end, extending east and west, a one-story extension or office, connecting with the piazza, supported by plain open columns, which extends upon three sides of the building. The entrance is by a low flight of steps, which lead through a broad door to the interior. This is fitted up in good style, but not extravagantly, comfort evidently being a more desirable object than show. There is a parlor for ladies, a reception-room for gentlemen, with apartments adjoining for toilette and other purposes. The second story is divided into several apartments for the convenience of the commission. Exceeding simplicity seems to have governed in the arrangements. The interior, unplastered, showing the wood of the weather-boarding or wainscoting, has a plain and rough appearance, which is in contrast with the usual style of fitting up of neighboring buildings. The dark woods do not woo the light, but seem to invite shade and coolness. The quadrangular stairway in the reception-room opens at the back, instead of at the front, as is most usual in American houses. This square approach to the second story in the centre of the building renders possible an arrangement of apartments up stairs which is unlike the general style in this country. There are other peculiarities about the place which elicit general attention. Natives of New Hampshire who resort to this edifice are received with great cordiality, made comfortable by the representatives of the State, and go away well satisfied with the character of the accommodations which have been prepared.
Notes:
1 lithograph; 12 x 22 cm.
Notes:
Removed from: Centennial portfolio / Thompson Westcott. Philadelphia : T. Hunter, 1876.
Notes:
The Building, situated in a grassy field, with trees in the background and people strolling in the foreground.
Creator Name:
Westcott, Thompson. Centennial portfolio.
Thomas Hunter, lithographer.