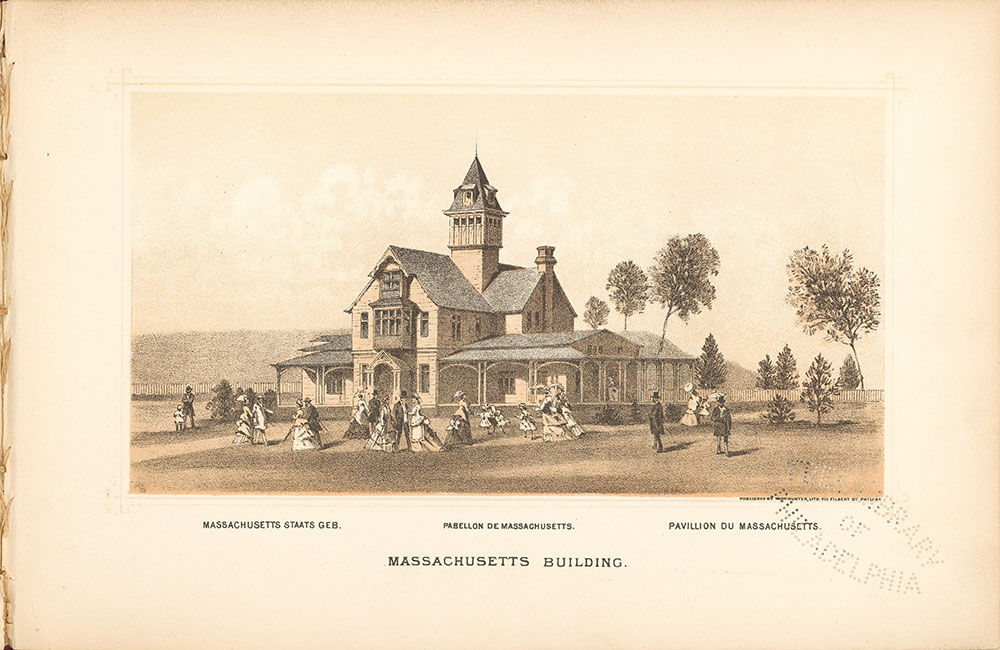 Item Info
Item No: c090270
Title: Massachusetts Building
Additional Title: Massachusetts Building
Series:
Lithograph
Media Type:
Lithographs
Notes:
"Massachusetts Staats Geb., Pavillion [sic] du Massachusetts."
Notes:
Lithograph Caption:
Somewhat sombre in appearance, quaint and old-fashioned in style, the addition of the central cupola seems to be all that would distinguish the building of the Bay State from one of those practical, comfortable houses which are still to be met with in the neighborhood of Cape Cod and in other parts of Massachusetts. It is situate on the north side of State Avenue, opposite the building of the State of New York. It is in the style of the colonial times. The front has an overhanging roof, and in the gable is a square oriel window for the garret, which rises from a larger and deeper square oriel window for the second story, whilst beneath is an old-fashioned porch. The ground-plan is cruciform. On each side of the front is a one-story structure analogous to the New England kitchen or the "keeping-room." Piazzas extend in front and on the sides of these wings. The chimneys are heavy and large and broad. The central tower and lookout seem to come from one of the seashore hotels which are now to be found on the New England coast. The size of the Massachusetts Building is 95 x 70 feet. The wings on each side, one story high, are each 26 x 60 feet. The audience-room, laid with red and black tiles, is 31-6 feet by 37-6 feet, and has an open timber ceiling. A room for the State Commission, 26 x 21, and a room for the press, are on the same floor; also a large manager's room, reception-rooms, etc. There are eleven chambers in the second story. The ridge-pole of the pitched roof is 50 feet from the ground, and the central tower rises 25 feet above it. In interior arrangement and thoughtful adaptation for the purposes intended, this is one of the best planned houses on the grounds. A practical object is demonstrated in the arrangements, which show good sense and ability.
Notes:
1 lithograph; 12 x 22 cm.
Notes:
Removed from: Centennial portfolio / Thompson Westcott. Philadelphia : T. Hunter, 1876.
Notes:
The Building, situated in a grassy field, with trees in the background and people strolling in the foreground.
Creator Name:
Westcott, Thompson. Centennial portfolio.
Thomas Hunter, lithographer.