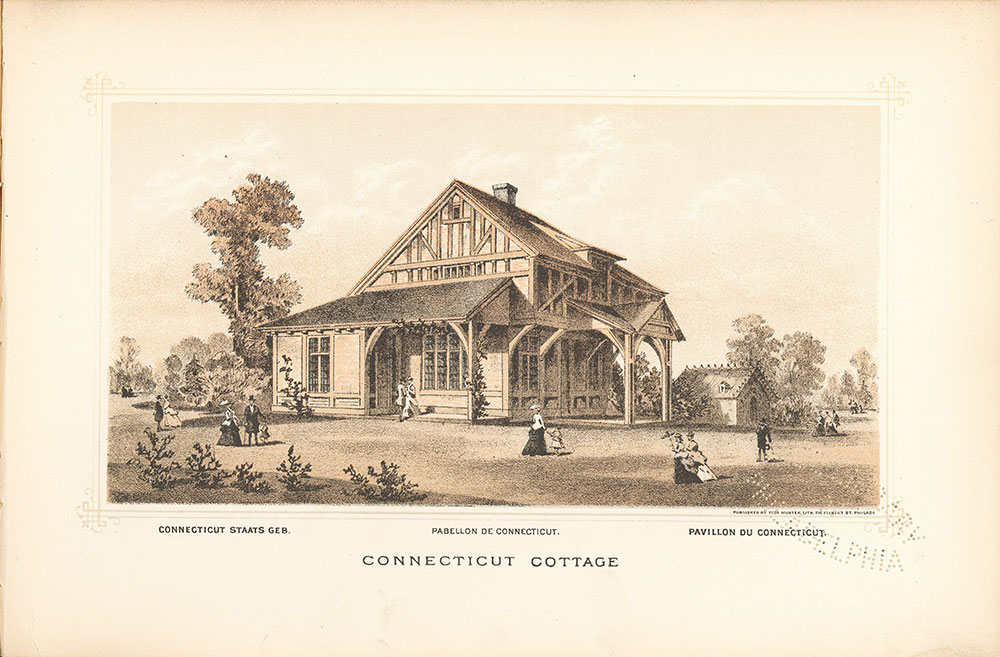 Item Info
Item No: c090280
Title: Connecticut Building
Additional Title: Connecticut Building
Series:
Lithograph
Media Type:
Lithographs
Notes:
"Connecticut Staats Geb., Pavillon du Connecticut."
Notes:
Lithograph Caption:
Connecticut is housed on the north side of State Avenue, west of Belmont Avenue and east of the Massachusetts Building. The plan of the building erected by the State of Connecticut was made by Donald G. Mitchell, the author of the "Reveries of a Bachelor," known by his nom de plume of "Ik Marvel." The house represents an old-style dwelling in the Land of Steady Habits, improved and beautified to some degree by the porches and piazzas. There is a long sloping back roof which extends nearly to the ground. The external walls are plastered and shingled, showing the crossbeams in the old-fashioned style. The chimney is low, wide and bulging, adding to the quaint appearance of the structure. Over the central porch the arms of the State of Connecticut appear as a blazon; the motto beneath, "Qui transtulit sustinet." Inside, the house is one story in height, the roof timbers plainly showing. There is an overhanging gallery which relieves the room of a barn-like effect that otherwise would be painful. The chimney-place is of the good old fashion, broad and deep, bordered with plain brownstone and glazed earthenware tiles bearing quaint antique pictorial designs. There are two deep mantel-shelves, the upper one resting on brackets which are supported by the lower or principal one. The dimensions of the building are – front, 30 feet; depth, 40 feet; western wing, 10 x 12 feet; piazza, 10 x 20 feet. The main apartment is 22 x 30 feet; ceiling, 15 feet.
Notes:
1 lithograph; 12 x 22 cm.
Notes:
Architect: D.R. Brown, from a design by Donald G. Mitchell.
Notes:
Removed from: Centennial portfolio / Thompson Westcott. Philadelphia : T. Hunter, 1876.
Notes:
The Building, situated in a landscaped field. People stroll in the foreground and background.
Creator Name:
Westcott, Thompson. Centennial portfolio.
Thomas Hunter, lithographer.