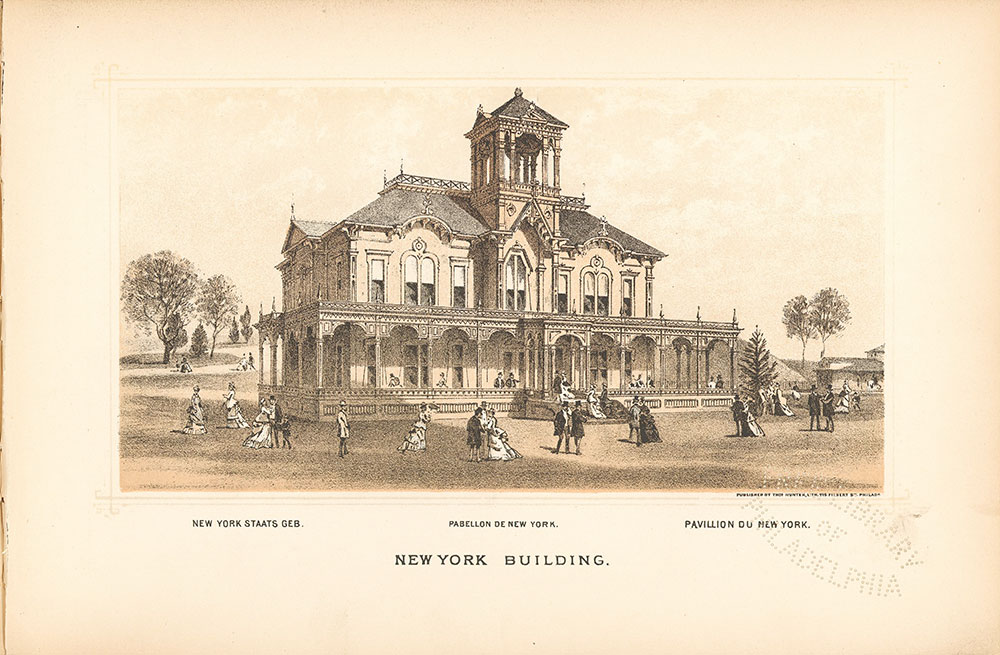 Item Info
Item No: c090290
Title: New York Building
Additional Title: New York Building
Series:
Lithograph
Media Type:
Lithographs
Notes:
"New York Staats Geb., Pavillion [sic] du New York."
Notes:
Lithograph Caption:
This building is on the south side of State Avenue, north of St. George's House. The Empire State presents a very showy structure, which cannot be said to represent any ancient style of building. The house seems to be modeled upon the plan of the ordinary fancy villas which dot the banks of the Hudson River from New York to Albany, or woo the sea-breezes upon Staten Island or Long Island. It is gay, but not illustrative of any State peculiarity. The dimensions are 80 feet in length by 35 feet in breadth. The piazzas are 15 feet wide. The tower in the front is broad and convenient, and affords a fine view of the Exhibition grounds. The fanciful ornamentation is plenteous, and the painting and finish in the most elaborate style of the American villa. Here are displayed the wonders which result from the modern adaptation of machinery to the production of irregular forms, in the wood mouldings and scroll-work, the decorations and patterns, which have all the beauty of carving without requiring the labor and patience once necessary to obtain them. This style of mansion illustrates the tendency of the American mind in architecture, which is too frequently governed by a desire to obtain all the advantages of fine appearance with solidity of construction. Severe critics decry the application of pretence to the necessities of art or convenience. They must have everything solid and real, or they are discontented. But the forms of beauty can be enjoyed even if they are but shells. A statue which is pleasing to the eye and designed with high taste and skill is none the less beautiful because it is hollow. The interior of the building is handsomely fitted up with parlors and reception-rooms, and offices and accommodations for the officers of the State of New York and the citizens of that great Commonwealth.
Notes:
1 lithograph; 12 x 22 cm.
Notes:
Architect: Croff & Camp.
Notes:
Removed from: Centennial portfolio / Thompson Westcott. Philadelphia : T. Hunter, 1876.
Notes:
The Building, situated in a grassy field, with people strolling in the foreground and background.
Creator Name:
Westcott, Thompson. Centennial portfolio.
Thomas Hunter, lithographer.