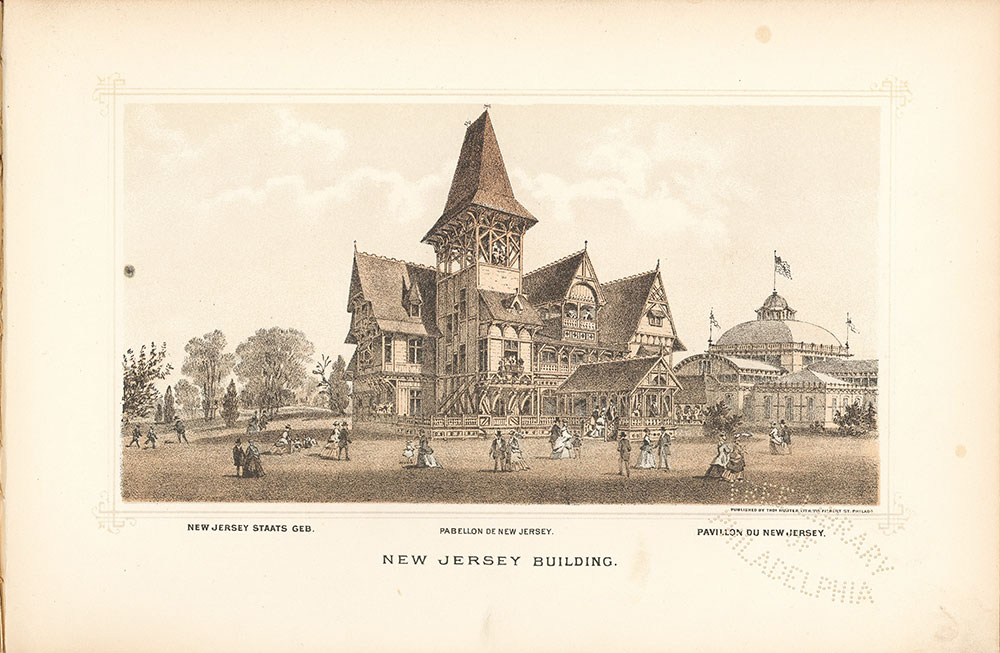 Item Info
Item No: c090300
Title: New Jersey Building
Additional Title: New Jersey Building
Series:
Lithograph
Media Type:
Lithographs
Notes:
"New Jersey Staats Geb., Pavillon du New Jersey."
Notes:
Lithograph Caption:
This fanciful structure attracts the immediate attention of every one who comes within sight of it. Its commanding position and size, the extraordinary character of the architecture – which is unlike anything usually seen in this country, with its peaks, gables, projections and porches, together with the prominent and lofty tower – are studies for every one. The style inclines to the Norwegian type, but is a method whereby the fancy of the architect has had abundant play. The building is two stories in height. The roof is peaked and covered with red clay tiles. A considerable portion of the tower end of the second story, at the north-western portion of the structure, is covered with tiles of the same color. The contrasts are strong and the general effect peculiar, rendering this one of the most remarkable buildings in the Centennial grounds. It is situated on the east side of Belmont Avenue, immediately opposite the U. S. Government Hospital. The inside finish is plain. There are offices, reception-rooms, retiring-rooms and other conveniences for the people of New Jersey, for whose benefit in particular the house was erected. The building is, however, so centrally and conveniently located that many weary visitors from other States and countries take advantage of the comforts it affords. The commissioners from this State deserve the thanks of the thousands who are thus benefited by their enterprise in securing so desirable a location and in projecting a building so well adapted to their wants.
Notes:
1 lithograph; 12 x 22 cm.
Notes:
Architect: Carl Pfeiffer.
Notes:
Removed from: Centennial portfolio / Thompson Westcott. Philadelphia : T. Hunter, 1876.
Notes:
The Building, situated in a grassy field, with people strolling in the foreground. The Women's Pavilion and trees in the background.
Creator Name:
Westcott, Thompson. Centennial portfolio.
Thomas Hunter, lithographer.