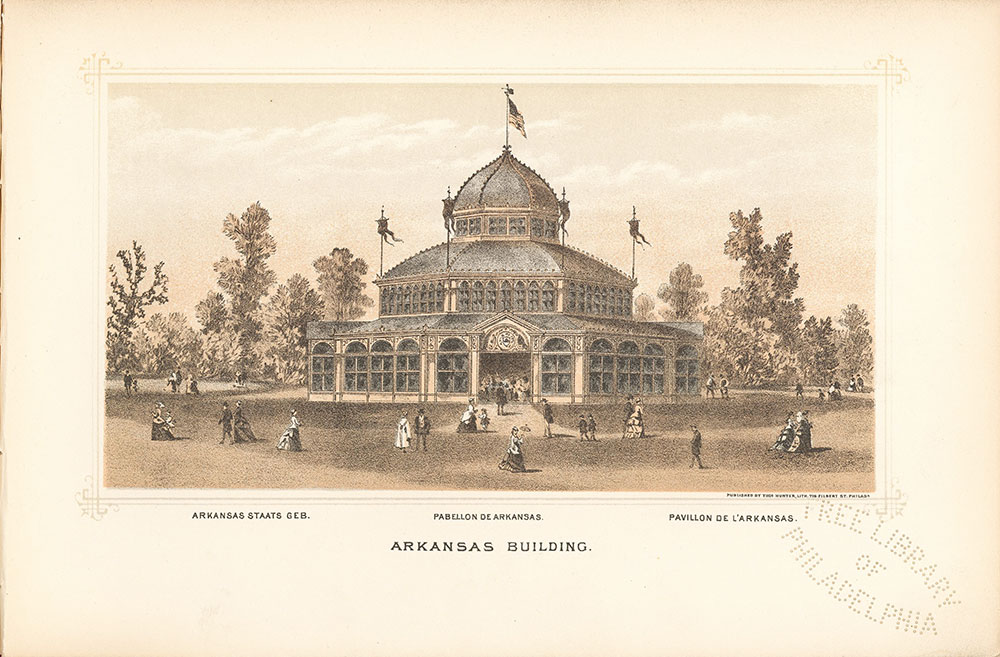 Item Info
Item No: c090350
Title: Arkansas Building
Additional Title: Arkansas Building
Series:
Lithograph
Media Type:
Lithographs
Notes:
"Arkansas Staats Geb., Pavillon de l'Arkansas."
Notes:
Lithograph Caption:
A structure octagonal in form, rising like a pavilion or lantern, of three stories, has been prepared for the State of Arkansas. By these means, the building being surrounded by windows, a great degree of light is ensured. The appearance of the exterior is neat and pleasing, and the interior is cheerful. Over the main door, which fronts the south, is the escutcheon of the State of Arkansas. The diameter of the centre circle of the building is 82 feet; the superficial area, 5000 square feet. The ceiling, spherical in surface, rises to the base of the octagonal dome, which at the top is 50 feet above the floor. A circle of columns support the roof of the principal octagon. The wall material is wood and glass, roof of iron. The interior is fitted up comfortably for a double purpose – partly for the accommodation of the commissioners and citizens of the State, and partly as an exhibit of the products of Arkansas. There is ladies' parlor, neatly furnished and provided with a piano, a room for gentlemen, offices, clothes-rooms, etc. At the north side a magnificent stuffed eagle with outstretched wings – one of the finest specimens of the bird that can be shown anywhere – supports the coat-of-arms of the State. He overlooks a very handsome cabinet made in Arkansas, constructed of 35 specimens of native woods, and an elegant piece of workmanship. Among these are woods of the Osage orange, which is indigenous to the State, white holly, walnut of various textures and appearance, corrugated pine, tulip, sassafras, ash, oak, cherry, rattan vine, grape and other varieties. Specimens of the trunks of the trees and vines which produced these woods in other portions of the hall show that they are of extraordinary size and diameter, proving a wildness and freedom of growth not to be excelled in other parts of the Union. The grasses and corn and grains are remarkable. Stalks of corn are here displayed which are 17 feet high and produced 76 bushels to the acre. Cotton, which since the close of the rebellion has become once more a matter of cultivation, is on exhibition, and proves to be of fine quality and long fibre. The ores of lead, and of iron, fossil and magnetic, the petrifactions and novaculite or hone-stone, are also worthy of examination. The architect of this building was A. B. Bary of Philadelphia. Situation north of Fountain Avenue, adjoining West Virginia Building on the east, and not far from the Catholic Fountain.
Notes:
1 lithograph; 12 x 22 cm.
Notes:
Architect: A.B. Bary.
Notes:
Removed from: Centennial portfolio / Thompson Westcott. Philadelphia : T. Hunter, 1876.
Notes:
The Building, situated in a grassy field, with people strolling. Trees in the background.
Creator Name:
Westcott, Thompson. Centennial portfolio.
Thomas Hunter, lithographer.