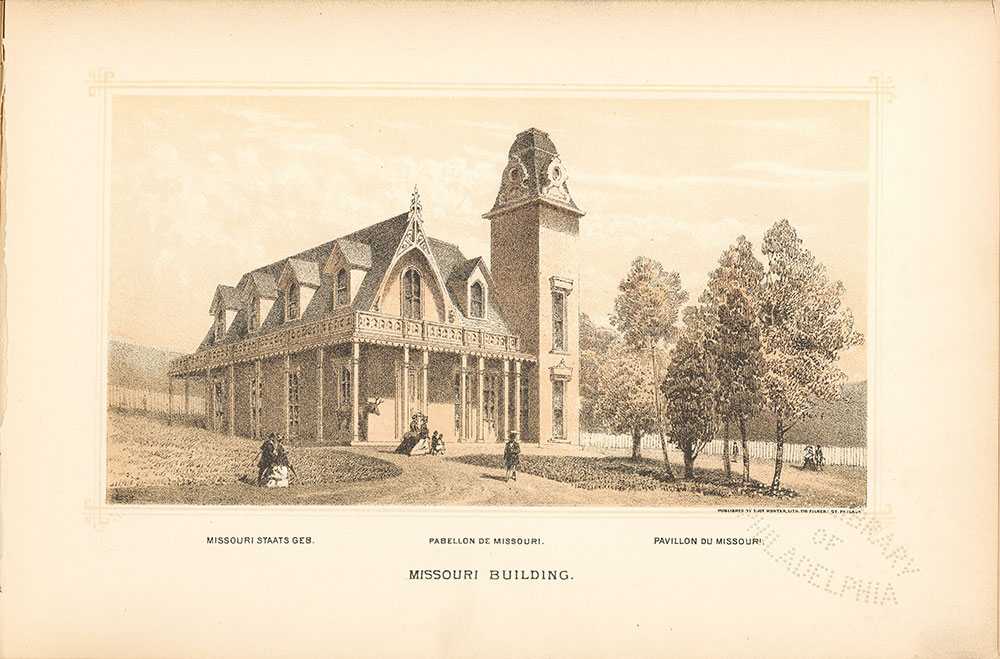 Item Info
Item No: c090360
Title: Missouri Building
Additional Title: Missouri Building
Series:
Lithograph
Media Type:
Lithographs
Notes:
"Missouri Staats Geb., Pabellon de Missouri, Pavillon du Missouri."
Notes:
Lithograph Caption:
Constructed in the Gothic villa style, the Missouri headquarters, which stand on the north side of State Avenue, the farthest west of all the State buildings on that side of the grounds, close up in handsome proportions the line of State buildings in the neighborhood. Iowa adjoins on the east, and the George's Hill restaurant is immediately south. The front shows a principal gable, which rises high near the west side of the house, and is decorated elaborately with finial, and scroll-work of sawed timber. A large arched window opens into this portion of the building. East of the gable a dormer-window rises upon the roof. At the east corner is a square tower, with window in the second story, which extends above the main building, and is finished off with a Mansard roof. A gable on the east side rises at the northern end of the house. There are two dormer-windows on that side between the gable and the tower. On the western side are four dormer-windows. The second story is formed altogether by the pitched roof and gables, lighted by the dormers. There is a piazza arranged on the east, south and west sides, supporting a veranda, pleasant for promenade and observation. On the first floor the main door opens into a large sitting-room, which occupies nearly the whole length and width of the building. Nine windows carried down to the floor open on the piazzas, thus ensuring abundance of ventilation and light. This is the main reception-room for gentlemen. The walls on the sides are wainscoted in hardwoods, fluted and varnished. The walls above are neatly colored and ornamented. The floor is matted; the furniture is comfortable and easy; and altogether there is an air of hospitality about the apartment which assures the visitor that he is welcome. Some specimens of the products of Missouri are arranged around this room. The ladies' parlor is in the second story, the approach to which is by an easy stairway arranged in the front tower. The apartment is pleasant and comfortable in all respects. There is a sitting-room for gentlemen, which is used for an office. There are four rooms in the second story. The exterior is painted in light colors. Dimensions, 48 x 56 feet. The material is mostly of Missouri woods prepared in that state. Designing architect, C. K. Ramsey. Superintending architect, L. C. Miller; both of St. Louis, Missouri.
Notes:
1 lithograph; 12 x 22 cm.
Notes:
Designing architect: C.K. Ramsey. Superintending architect: L.C. Miller.
Notes:
Removed from: Centennial portfolio / Thompson Westcott. Philadelphia : T. Hunter, 1876.
Notes:
The Building, situated in a landscaped field with a fence in the background. People stroll in the foreground.
Creator Name:
Westcott, Thompson. Centennial portfolio.
Thomas Hunter, lithographer.