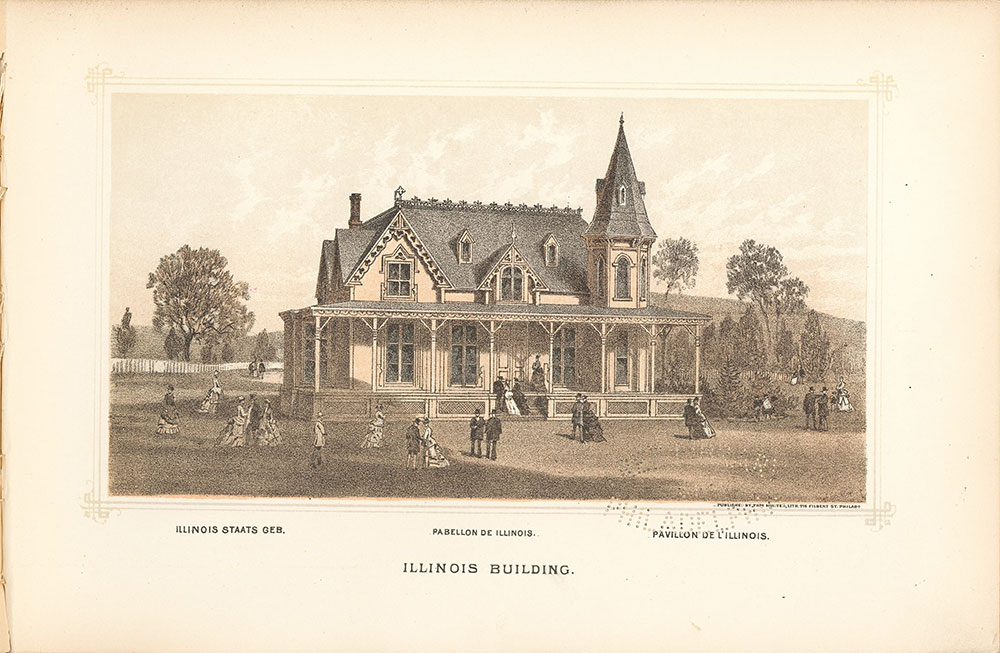 Item Info
Item No: c090400
Title: Illinois Building
Additional Title: Illinois Building
Series:
Lithograph
Media Type:
Lithographs
Notes:
"Illinois Staats Geb., Pavillon de l'Illinois."
Notes:
Lithograph Caption:
Of the Gothic villa style, the Illinois State Building, cheerful in coloring, bright and attractive, claims attention from those who pass along State Avenue. It is situated immediately west of the Indiana State Building, with Wisconsin as a neighbor on the other side. The house is of two stories and of irregular form, with two gables in front, the central one being lower than that at the end. On the east and west sides are two gables; a tower and small spire, hexagonal in shape, above the second story is a feature of the southeastern corner. The eastern and western sides are provided with bay-windows. A piazza extends around the eastern and southern sides of the house. It is broad and comfortable, affording pleasant shade, the benefit of the breeze and a fine view of the Exhibition Buildings. The main entrance-door opens into a reception-room, which extends the entire width of the building. The floor is laid in marquetry work of oak and walnut. The walls are half wainscoted in hardwoods. At the western end is a handsome mantel of clouded marble of a peculiar color, resembling lead color or gray mingled with white. The ornamentation of this elegant piece of Illinois stone-work is of black and white marble. The novel appearance of the mantel-piece attracts the admiration of every visitor. From the main reception-room opens on the west the ladies' parlor, which is nicely furnished and connected with a drawing-room. The gentleman's parlor and reading-room is on the east. From the centre of the main reception-room an arched passage leads to the stairway ascending to the upper rooms. In that part of the building are four apartments for the Commission. The secretary's office is on the east of the reception-room, fitted up appropriately for the purpose. Everything connected with this structure is comfortable, and the people of Illinois as well as those of other States are made welcome. The size of the house is 40 x 60 feet. The architects were Wheelock & Thomas, of Chicago; the builder, Jonathan Clark, of the same city. The timbers were all prepared in Illinois and transported to the Exhibition.
Notes:
1 lithograph; 12 x 22 cm.
Notes:
Architect: Wheelock & Thomas.
Notes:
Removed from: Centennial portfolio / Thompson Westcott. Philadelphia : T. Hunter, 1876.
Notes:
The Building, situated in a grassy field, with trees and a fence in the background. People stroll in the foreground.
Creator Name:
Westcott, Thompson. Centennial portfolio.
Thomas Hunter, lithographer