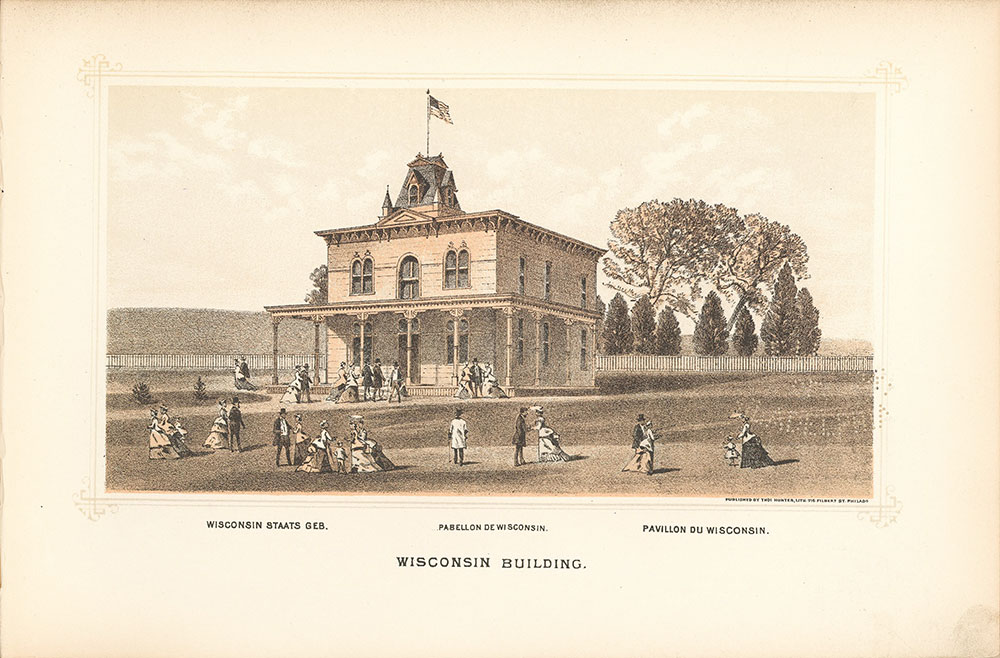 Item Info
Item No: c090420
Title: Wisconsin Building
Additional Title: Wisconsin Building
Series:
Lithograph
Media Type:
Lithographs
Notes:
"Wisconsin Staats Geb., Pavillon du Wisconsin."
Notes:
Lithograph Caption:
Plainest among the State buildings, with no more ornamentation than the ordinary frame house of the well-to-do citizen, the State of Wisconsin does not challenge admiration by the beauty of the arrangements which she has made for the accommodation of her commissioners and citizens. There is no superfluity of ornament here, but the interior shows that the more important objects of comfort and convenience have been studied. This house is on the north side of State Avenue, between the buildings of Michigan and Illinois and north-west of the west end of the United States Government Building. The dimensions are 45 x 50 feet, height of two stories, with a central round-headed window and window-door in front at the second story, and a double round-headed window on each side. A small cupola of pyramidal shape rises above the ornamental pediment and is surmounted by a flagstaff. A piazza supported by plain pillars extends around the eastern, western and southern sides of the house. From the main entrance-door a hall extends through the building seven feet wide. On the western side is the ladies' parlor, 16 x 20 feet, which is connected with a retiring-room in the rear. The floor is carpeted with Brussels, the walls covered with gilt paper, the ceiling in light blue, and panelings of thick Wisconsin paper in imitation of woods being arranged at the proper places. The furniture was made in Wisconsin. On the east side there is a reception-room 20 x 16 feet for gentlemen, baggage-room, wash rooms and a reading-room, which is furnished with files of papers published in Wisconsin. A stairway leads to the second floor, upon which the main entry, running from north to south, is of the width of the hall below. This story is divided into six rooms, three upon each side, which are used as sleeping-apartments by the employés, in addition to which there is a private office room. North of this building is an annex intended for special display of the productions of Wisconsin. It contains specimens of the ores, minerals, stone and woods of the State. Over this collection presides the war-eagle "Old Abe," a bird which can boast of a biography the particulars of which some of the "Badger State" attendants will be glad to relate.
Notes:
1 lithograph; 12 x 22 cm.
Notes:
Removed from: Centennial portfolio / Thompson Westcott. Philadelphia : T. Hunter, 1876.
Notes:
The Building, situated in a grassy field, with a fence and trees in the background. People stroll in the foreground.
Creator Name:
Westcott, Thompson. Centennial portfolio.
Thomas Hunter, lithographer.