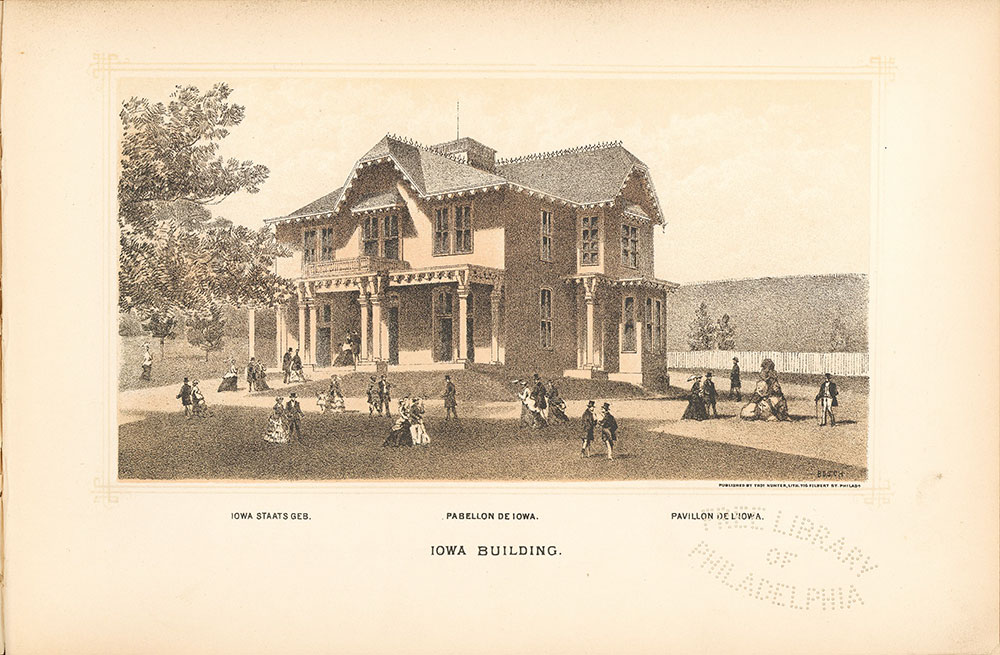 Item Info
Item No: c090430
Title: Iowa Building
Additional Title: Iowa Building
Series:
Lithograph
Media Type:
Lithographs
Notes:
"Iowa Staats Geb., Pabellon de Iowa, Pavillon de l'Iowa."
Notes:
Lithograph Caption:
There is simplicity and plainness of construction about the building of the State of Iowa which might tempt strangers to pass it by, but they will find within such arrangements as will practically demonstrate the ruling idea in its construction – namely, that it should be convenient and suitable for the purposes of a State headquarters. The house is two stories in height, and the ground plan like to the letter T. The narrowest portion is in the front building, which is 40 x 42 feet. At the northern end are bay-windows upon the east and west side, adjoining which on each side are doors and porches, so that the width of the edifice in that portion is 54 feet. The roof if of the old-fashioned gable shape. The front is plain, with a central double window with square head, and double windows of the same dimensions on each side. The piazza in front is supported by clustered columns. The appearance of this structure is significant of good taste and appropriateness of design. A central hall leads, near the back of the house, to the stairway to the upper stories. The ladies' double parlor is on the east, one room opening into the other. The furniture is good and appropriate. It is carpeted, well lighted and cheerful in appearance, the ornaments principally being pictures in worked tapestry. The gentlemen's reading-room is on the west, and the office of the commission immediately adjoining. In the upper portion of the house are four rooms fitted up for the accommodation of the commission and attendants. The situation is on the north side of State Avenue, east of the Missouri building, and adjoining the tent pavilion of Tennessee. The California State building is immediately south of it. Architect, Lovelace, of Des Moines, Iowa. Builder, Leaming, of Des Moines. Cost, $3700. A portion of the materials were prepared in Iowa.
Notes:
1 lithograph; 12 x 22 cm.
Notes:
Architect: Lovelace.
Notes:
Removed from: Centennial portfolio / Thompson Westcott. Philadelphia : T. Hunter, 1876.
Notes:
The Building, situated in a grassy field, with a fence and trees in the background. People stroll in the foreground.
Creator Name:
Westcott, Thompson. Centennial portfolio.
Thomas Hunter, lithographer.