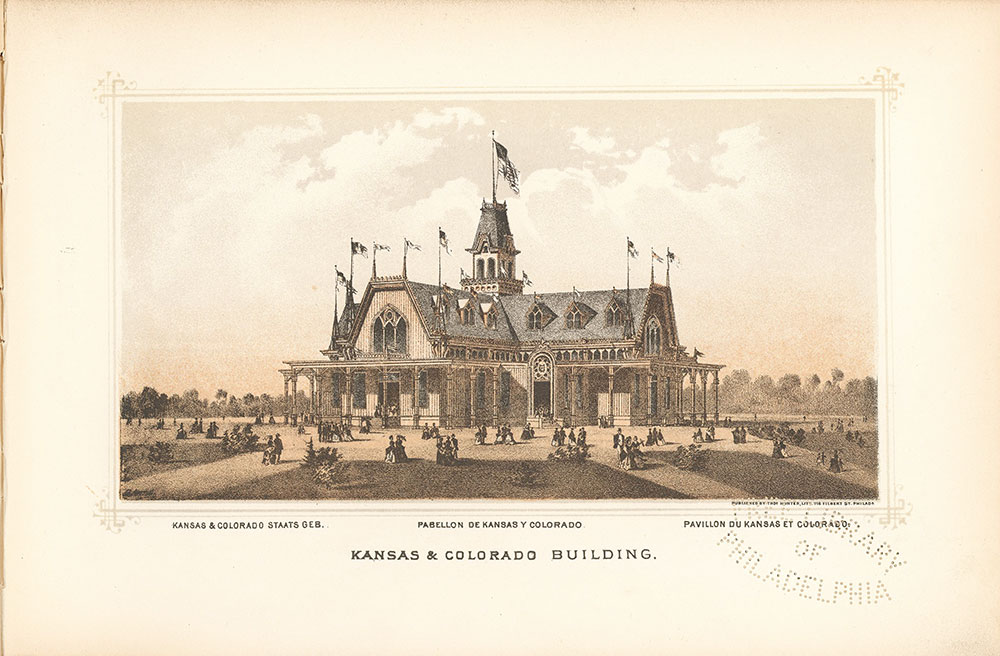 Item Info
Item No: c090440
Title: Kansas & Colorado Building
Additional Title: Kansas & Colorado Building
Series:
Lithograph
Media Type:
Lithographs
Notes:
"Kansas & Colorado Staats Geb., Pavillon du Kansas et Colorado."
Notes:
Lithograph Caption:
Two Commonwealths have here united in the construction of an edifice for their joint accommodation. It is Gothic in style, built in the form of Greek cross, the arms of which are each 132 feet in length from end to end. A central tower rises at the intersection of the roofs. Dormer windows light the second story. A broad Gothic window opens in each gable, and a piazza with small pavilions at the intersection of the angles renders the front comfortable. This hall is adapted to a double purpose. It will accommodate the commissioners and the visitors from the two States which own it, but it is also intended for an exhibition building of the products of the State of Kansas, which can be better disposed in order to give a correct idea of the resources of that portion of the great West than could be had if they were displayed in the larger buildings. These exhibits are made in a circular hall in the centre of the house, and are approached by broad passage-ways from the north and south. This structure is situate immediately east of the New Jersey State Building. A painting of the broad seal of Kansas which is nine feet in diameter is placed over the southern entrance, and a map of the State, 12 x 25 feet, hangs beneath.
Notes:
1 lithograph; 12 x 22 cm.
Notes:
Architect: E.F. Karr.
Notes:
Removed from: Centennial portfolio / Thompson Westcott. Philadelphia : T. Hunter, 1876.
Notes:
The Building, situated in a landscaped field. People stroll in the foreground and background.
Creator Name:
Westcott, Thompson. Centennial portfolio.
Thomas Hunter, lithographer.