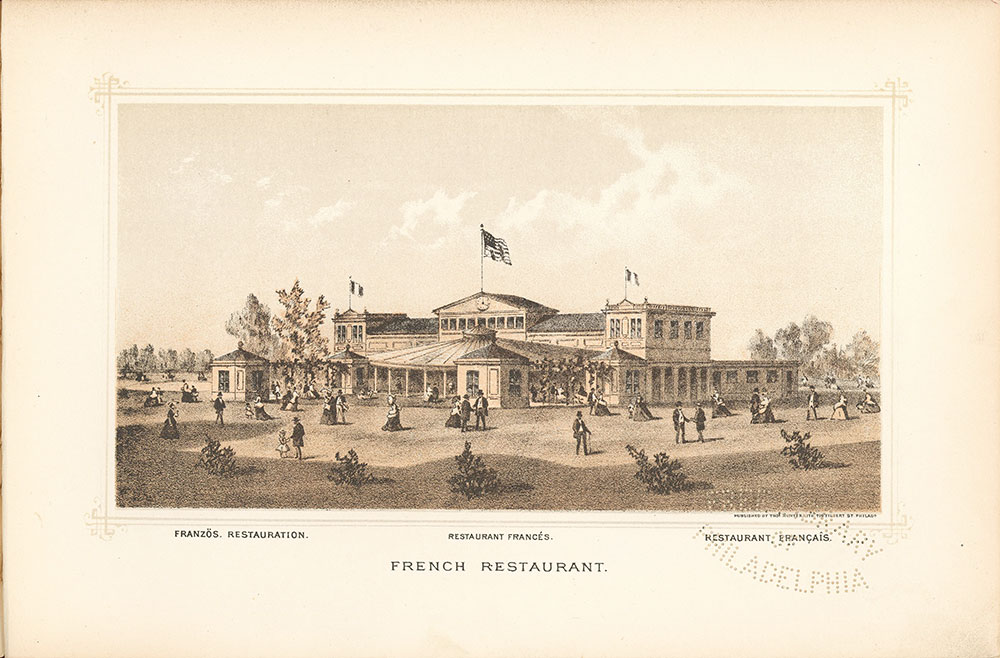 Item Info
Item No: c090480
Title: French Restaurant
Additional Title: French Restaurant
Series:
Lithograph
Media Type:
Lithographs
Notes:
"Franzos. Restauration, Restaurant Franca is."
Notes:
Lithograph Caption:
The Restaurant "Les Trois Fréres Provençaux" (the three brothers of Provence) is noted in Paris for its excellence, the pre-eminent character of its accommodations and the superiority of its cooking. A branch of this establishment was at the Vienna Exhibition, and the proprietors have transferred it to the American Exhibition. The building is on a lot 200 by 250 feet. There is a banquet-room, 130 x 50 feet, with a café, private saloons, billiard-rooms and kitchen. The main saloon is handsomely fitted up. Upon the walls are four large and elegant pictures in tapestry, woven with great skill, in which the colors are bright and the shadows harmoniously managed. They represent hunting-scenes, the figures exceedingly well drawn and life-like, and the effect complete. This work is as fine as any which is to be found in any of the great Exhibition buildings, and must have required perfect skill and patience in execution. The furniture is appropriate for the purposes of the building. There are a large number of tables conveniently disposed for the accommodation of parties and for the comfort of those who dine alone. On the sides and front the ground-space is utilized for the same purpose. Comfortable awnings cover the entire area, and those who wish to dine or sup al fresco may enjoy the shade and the breeze. On the southern side of the building tables overlook the lake, and are more secluded from observation than other parts of the enclosure. One may here enjoy not only the delicacies of the cuisine, but solace the eye with the view of the handsome expanse of water and the coolness which is diffused in the atmosphere by the numerous jets of the great fountain. The portico in front, being semicircular, is connected with pavilions, which are fitted up as wine-rooms, and are stored with the choicest vintages. It is estimated that in this restaurant there can be served at one time 1000 persons. It is under the direction of Leon Goyard, of Paris. The location is on the south-west corner of Belmont Avenue and Fountain Avenue.
Notes:
1 lithograph; 12 x 22 cm.
Notes:
Architect: Lehman.
Notes:
Removed from: Centennial portfolio / Thompson Westcott. Philadelphia : T. Hunter, 1876.
Notes:
The Building, situated in a landscaped field, with people strolling in the foreground and background.
Creator Name:
Westcott, Thompson. Centennial portfolio.
Thomas Hunter, lithographer.