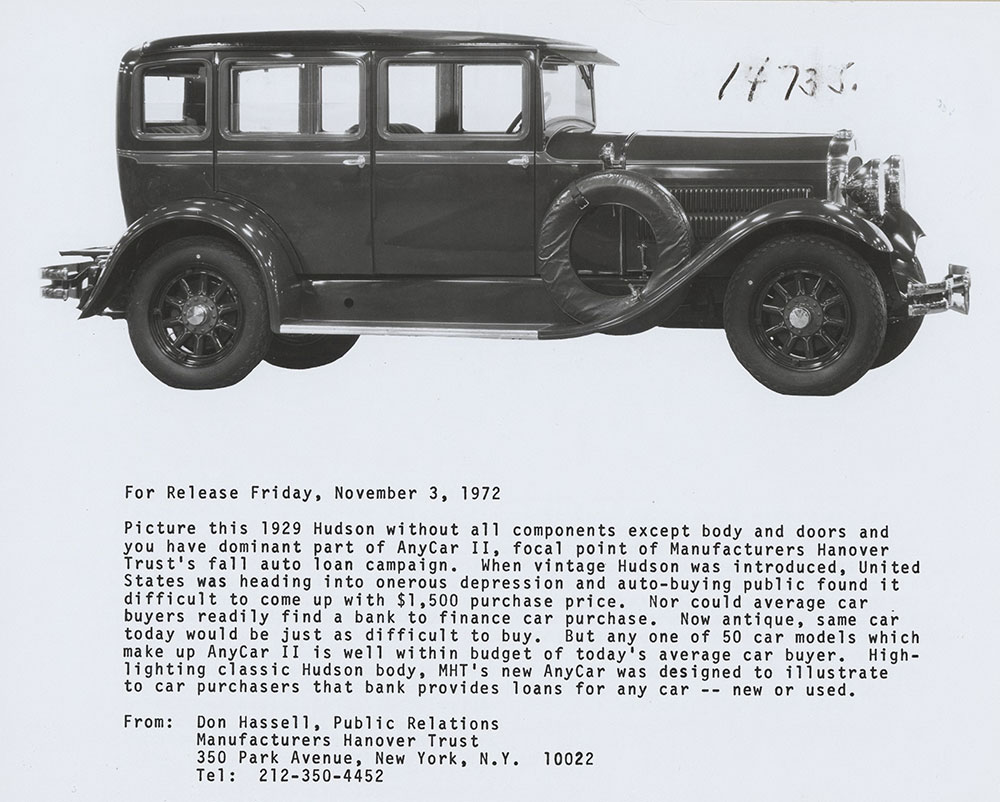 Item Info
Item No: arcm00266
Title: Anycar II 1973 Ad
Production Year:
1973
Media Type:
Photographic Prints
Source:
Automobile Reference Collection
Notes:
For Release Friday, November 3, 1972
Picture this 1929 Hudson without all components except body and doors and you have dominant part of AnyCar II, focal point of Manufacturers Hanover Trust's fall auto loan campaign. When vintage Hudson was introduced, United States was heading into onerous depression and auto-buying public found it difficult to come up with $1,500 purchase price. Nor could average car buyers readily find a bank to finance car purchase. Now antique, same car today would be just as difficult to buy. But any one of 50 car models which make up AnyCar II is well within budget of today's average car buyer. High-lighting classic Hudson body, MHT's new AnyCar was designed to illustrate to car purchasers that bank provides loans for any car--new or used.
From: Don Hassell, Public Relations
Manufacturers Hanover Trust
350 Park Avenue, New York, N.Y. 10022
Tel: 212-350-4452
Subjects
Tools
For a high-resolution copy of this image contact the AACA Library.