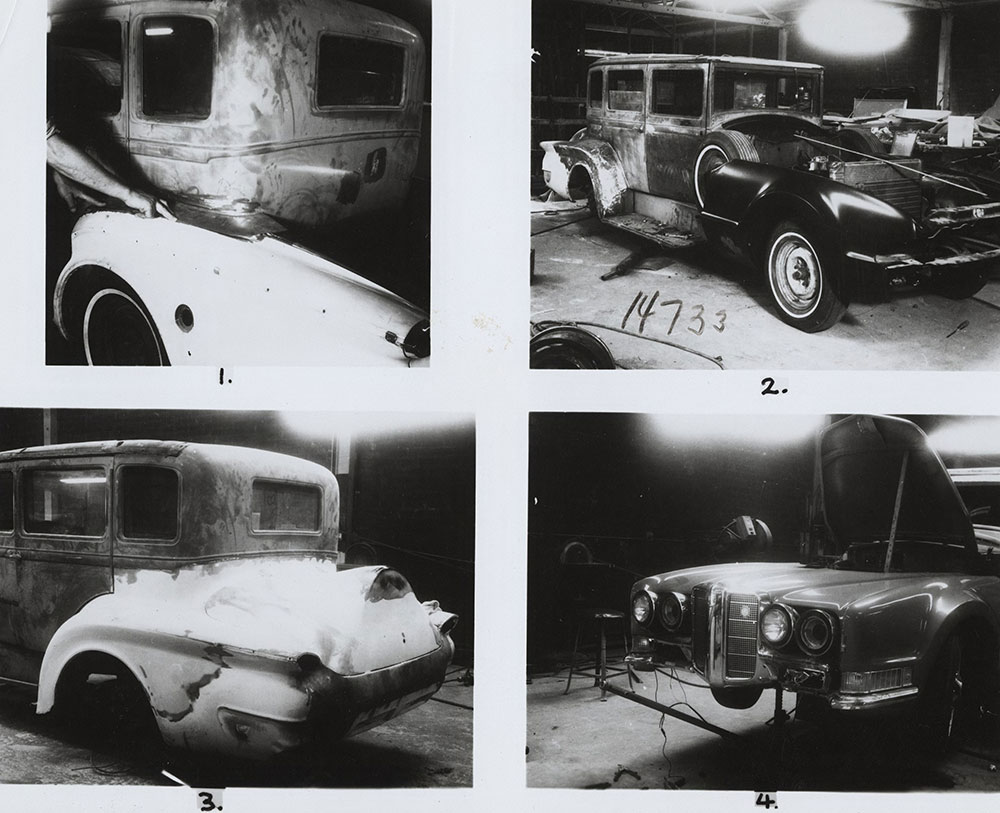 Item Info
Item No: arcm00268
Title: Anycar II Putting it all together...
Production Year:
1972
Media Type:
Photographic Prints
Source:
Automobile Reference Collection
Notes:
For Immediate Release. Friday, November 3, 1972.
Putting It All Together...highlights in construction of AnyCar II:
1) Valiant fender is fitted to Hudson body. Before rear fender assembly is completed, part of 1934 Ford fender will be joined to Valiant fender. Winfield had to design sheet metal fitting between door and Ford fender to obtain smooth joint. Rear of frame also had to be lengthened three inches so door could open and close.
2) Sheet metal components are temporarily positioned before permanent assembly is made. Toronado front fenders actually "back up" '69 Cadillac fenders in final assembly. AnyCar running gear has been "modernized" at this point with axle and brake drums from '67 Chevy Van. Radiator has been installed and side spare wheels mounted. Radiator had to be moved four times to accommodate Bonneville hood.
3) As sheet metal work nears completion, dramatic contrast between low modern lines and statuesque classic lines is evident. Fenders and trunk have been assembled. Trunk lid is from '51 Chevy with simulated spare tire enclosure from Mark III Lincoln Continental kit.
4) Sheet metal assembly has been completed and car has been prime coated. (Before it rolled out of Winfield's shop, AnyCar II had eight coats of paint.) Cadillac sidelights ('68) and front bumper ends ('70) plus Imperial headlight pods ('61) as well as '58 Dodge center grill bumper bars have been added. Final step is wiring of engine, lights, heater, air conditioning.