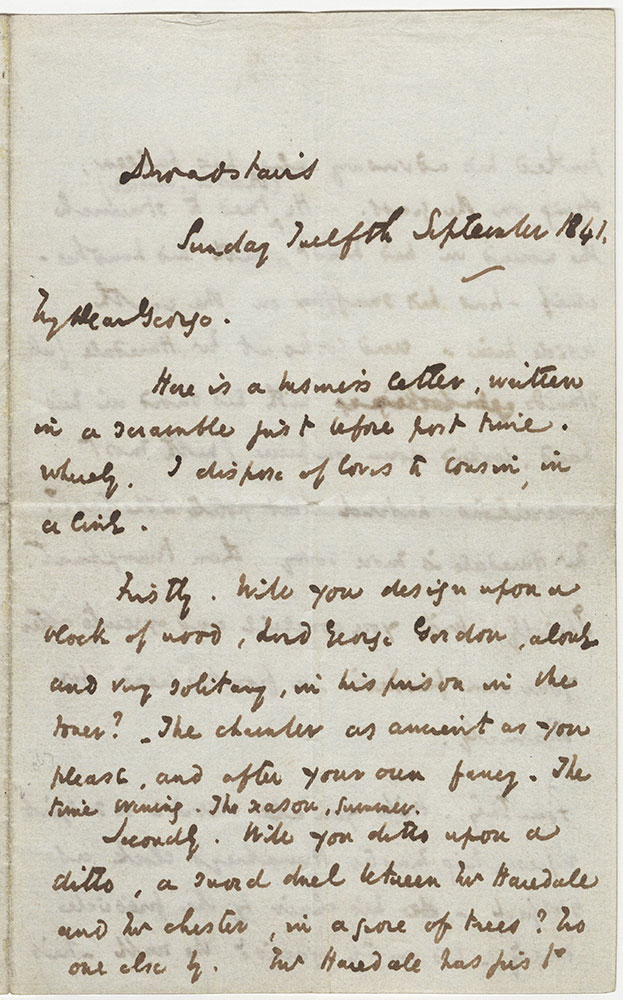 Item Info
Item No: cdc423601
Title: ALs to George Cattermole
Accession Number:
88-55
Physical Description:
[4] pages
Transcription:
Broadstairs
Sunday Twelfth September 1841.
My Dear George.
Here is a business letter, written in a scramble just before post time. Whereby, I dispose of loves to Cousin, in a line.
Firstly. Will you design upon a block of wood, Lord George Gordon, alone and very solitary, in his prison in the tower?--The chamber as ancient as you please, and after your own fancy. The time of evening. The season, Summer.
Secondly. Will you ditto upon a ditto, a sword duel between Mr. Haredale and Mr. Chester, in a grove of trees? No one else by. Mr. Haredale has just pinked his adversary who has fallen, dying on the grass. He (that is, Chester) tries to staunch the wound in his breast, with his handkerchief--has a snuffbox on the earth beside him--and looks at Mr. Haredale (who stands with his sword in his hand, looking down on him) with most supercilious hatred--but polite to the last. Mr. Haredale is more sorry, than triumphant. Thirdly. WIll you conceive and execute after your own fashion, a frontispiece for Barnaby?
Fourthly, Will you devise a subject representing Master Humphrey's clock as stopped--his chair by the fireside empty--his crutch against the wall--his slippers on the cold hearth--his hat upon the chair back--the MSS of Barnaby and the Curiosity Shop, heaped upon the table--and the flowers you introduced in the first subject of all, withered and dead? Master Humphrey being supposed to be no more.
I have a fifthly, sixthly, seventhly, and eighthly--for I sorely want you as I approach the close of the Tale--but I won't frighten you, so will take breath.
AlwaYs My Dear Cattermole
Heartily Yours
|George Cattermole Esquire CHARLES DICKENS
P.S. I have been waiting until I got to subjects of this nature; thinking you would like them best.

MssDate:
Sunday Twelfth September 1841
Media Type:
Letters
Source:
Rare Book Department
Notes:
Record created by BZ.
Recipient:
Cattermole, George, 1800-1868
Provenance:
Christies, Doheny Sale, Pt. 3, thru Ximenes, 2/2/8, Benoliel Fund.
Bibliography:
The Letters of Charles Dickens, Pilgrim Edition, Volume Two, 1840-1841, p. 378-379.
Country:
Creation Place Note:Broadstairs
Country:England
City/Town/Township:Kent
Call Number:
DL C296g 1841-09-12
Creator Name:
Dickens, Charles, 1812-1870 - Author
View other associated items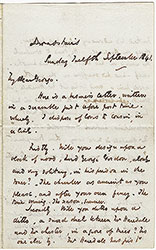 ALs to George Cattermole
Previous
Previous