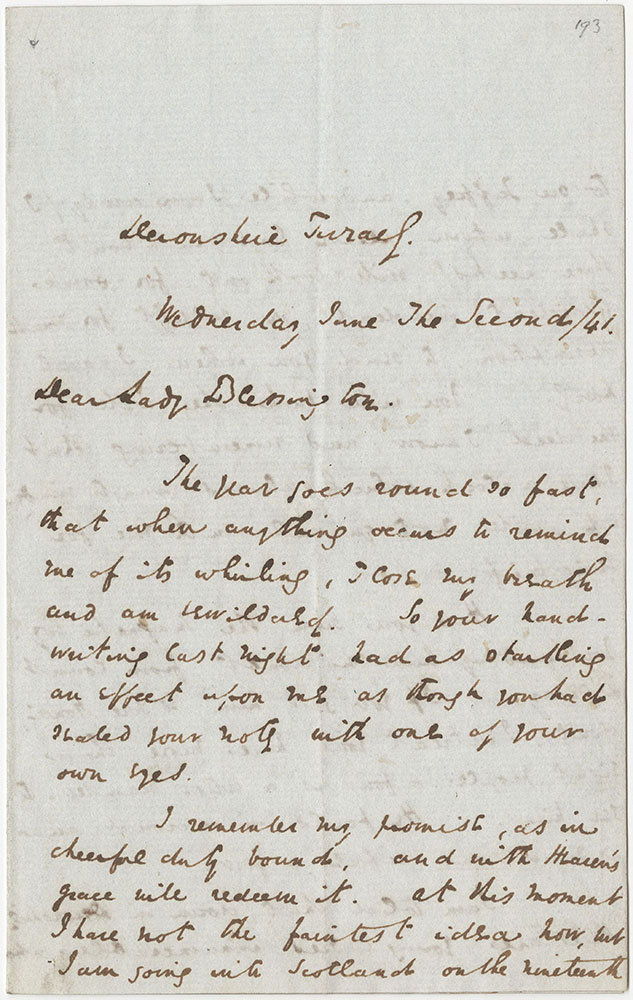 Item Info
Item No: cdc274901
Title: ALs to Lady Blessington
Accession Number:
87-129
Physical Description:
[3] pages
Transcription:
Devonshire Terrace.
Wednesday June The Second /41
Dear Lady Blessington.
The year goes round so fast, that when anything occurs to remind me of its whirling, I lose my breath and am bewildered. So your handwriting last night has a startling effect upon me as though you had sealed you note with one of your own eyes.
I remember my promise, as in cheerful duty bound, and with Heaven's grace will redeem it. At this moment I have not the faintest idea how, but I am going to Scotland on the nineteenth to see Jeffrey, and while I am away (I shall return, please God, in about three week) will look out for some accident, incident, or subject for small description, to send you when I come home. You will take the will for the deed, I know; and remembering that I have a Clock which always wants winding up, will not quarrel with me for being brief.
Have you seen the Magnetic boy? You heard of him no doubt from Count D'Orsay. If you get him to Gore House, don't, I entreat you, have more than eight people--four is a better number--to see him. He fails in a crowd, and is marvellous before a few.
I am told that down in Devonshire there are ladies innumerable, who read, crabbed Manuscript with the palms of their hands--newspaper with their ankles--and so forth, and who are, so to speak, literary all over. I begin to understand what a blue-stocking means, and have not quite the smallest doubt that Lady Stepney (for instance) could write quite as entertaining a book with the sole of her foot, as ever she did with her head.
I am a believer, in earnest, and I am sure you would be, if you saw this boy under moderately favorable circumstances--as I hope you will, before he leaves England.
Believe me Dear Lady Blessington
Faithfully Yours,
Charles Dickens

MssDate:
Wednesday June The Second/41
Media Type:
Letters
Source:
Rare Book Department
Notes:
Record created by BZ.
Recipient:
Blessington, Marguerite, Countess of, 1789-1849.
Provenance:
Gift of Mrs. D. Jacques Benoliel, 12/6/55.
Bibliography:
The Letters of Charles Dickens, Pilgrim Edition, Volume Two, 1840-1841, p. 290-292.
Call Number:
DL B617m 1841-06-02
Creator Name:
Dickens, Charles, 1812-1870 - Author
View other associated items