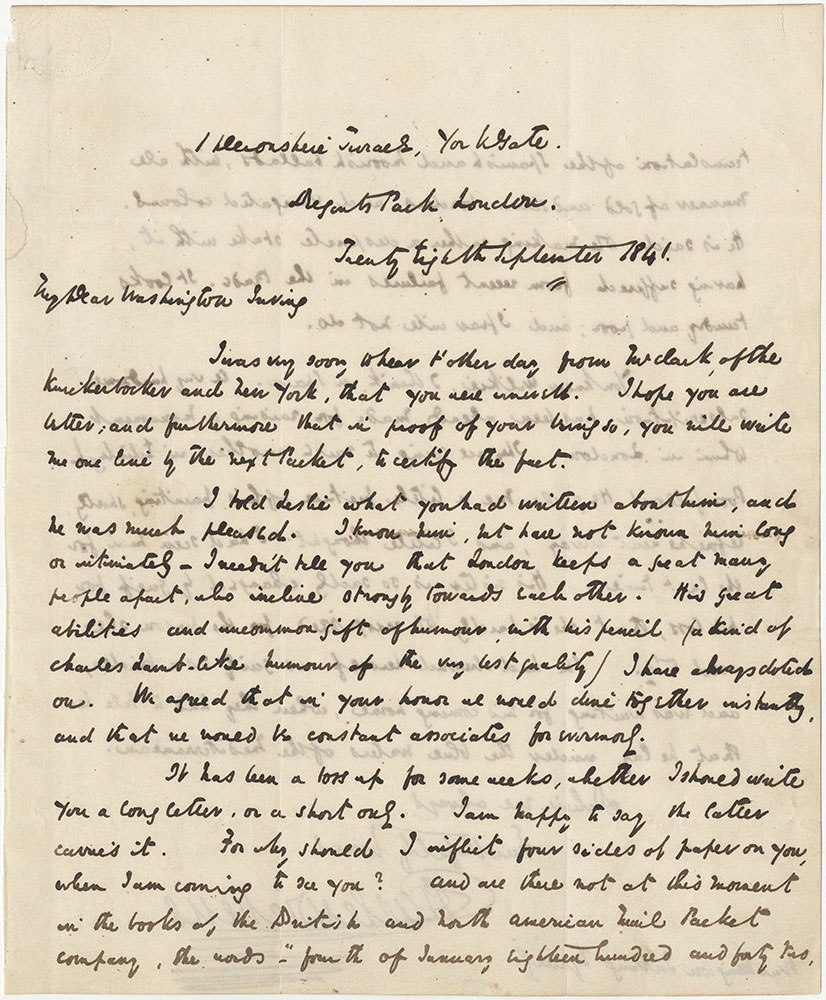 Item Info
Item No: cdc521401
Title: ALs to Washington Irving
Accession Number:
2004-1
Physical Description:
[4} pages
Transcription:
1 Devonshire Terrace, York Gate
Regent's Park, London
Twenty-eighth September, 1841
My Dear Washington Irving
I was very sorry to hear t'other day from Mr Clark, of the Knickerbocker and New York, that you were unwell. I hope you are better; and furthermore that in proof of your being so, you will write me one line by the next Packet, to certify the fact.
I told Leslie what you had written about him, and he was much pleased. I know him, but have not known him long or intimately--I needn't tell you that London keeps a great many people apart, who incline strongly towards each other. His great abilities and uncommon gift of humour, with his pencil (a kind of Charles Lamb-like humour of the best quality) I have always doted on. We agreed that in your honor we would dine together instantly, and that we would be constant associates for evermore.
It has been a toss up for some weeks, whether I should write you a long letter, or a short one. I am happy to say the latter carries it. For why should I inflict four sides of paper on you when I am coming to see you? And are there not at this moment in the books of the British and North American Mail Packet Company, the words--"fourth of January eighteen hundred forty two, Mr and Mrs Charles Dickens--for Boston?
I look forward to shaking hands with you, with an interest I cannot (and would not, if I could) describe. You can imagine, I dare say, something of the feelings with which I look forward to being in America. I can hardly believe I am coming.
[Rogers] had been in great distress and desolation at having missed your niece. He was with us last night, and bewailed his affliction in very moving terms. He begged me to say as much to you, and to remember him heartily--though I am not clear whether it is a recent occurrence, or whether my projected voyage reminded him of it.
Did you know poor [Hook]? He has left a widow (poor creature, she was not married to him, but there is mourning out of matrimony, and it is no disparagement to the word) with four illegitimate daughters--I am not sure whether I should have written, five. I heard yesterday at the Athenaeum, that the King of [Hanover] has sent them five hundred pounds. It is a good thing to find gratitude in Kings, and better when the King is a bad one, so I hope it's true. J... declined to join in a subscription for rescuing these girls from poverty--it may be, from the very streets--because they were not born in wedlock. I hardly know what your politics are; remembering the Squire in Bracebridge Hall and the radical. --But I am sure this is not your creed.
Murray has just re-published in a new form, Lockhart's translation of the Spanish and Moorish ballads, with all manner of gold and silver borders, and variegated colours. He is said to be making rather a desperate stake with it, having suffered from recent failures in the trade. It looks tawdry and poor; and I fear will not do.
You knew Wilkie, I think, in Spain. A very handsome subscription has been already made for raising a monument to him in London. They are going to raise another, in Edinburgh. Poor fellow! He gave me a little picture of his painting, shortly before he went away, and I little thought I had seen him for the last time. His sister is so sadly changed by grief for his loss, that she is hardly to be recognized for the person she used to be. She had dressed herself as gaily as a bride, and was waiting for his coming home, when they had to tell her that he lay under the blue waters of the Mediterranean.
Believe me, always
Faithfully Yours
Washington Irving Esquire CHARLES DICKENS


MssDate:
Twenty-eighth September, 1841
Media Type:
Letters
Source:
Rare Book Department
Notes:
Concerns about WI's ill health, looking forward to visit to America.
Record created by BZ.
Recipient:
Irving,Washington, 1783-1859
Provenance:
Holmes 4/2004, Gratz Fund.
Bibliography:
The Letters of Charles Dickens, Pilgrim Edition, Volume Two, 1840-1841, p. 394-397.
Country:
Creation Place Note:1 Devonshire Terrace, York Gate, Regent's Park
Country:England
City/Town/Township:London
Call Number:
DL Ir8w 1841-09-28
Creator Name:
Dickens, Charles, 1812-1870 - Author
Subjects
View other associated items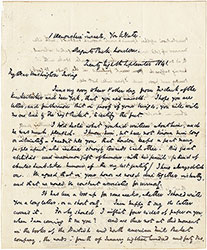 ALs to Washington Irving
Previous
Previous