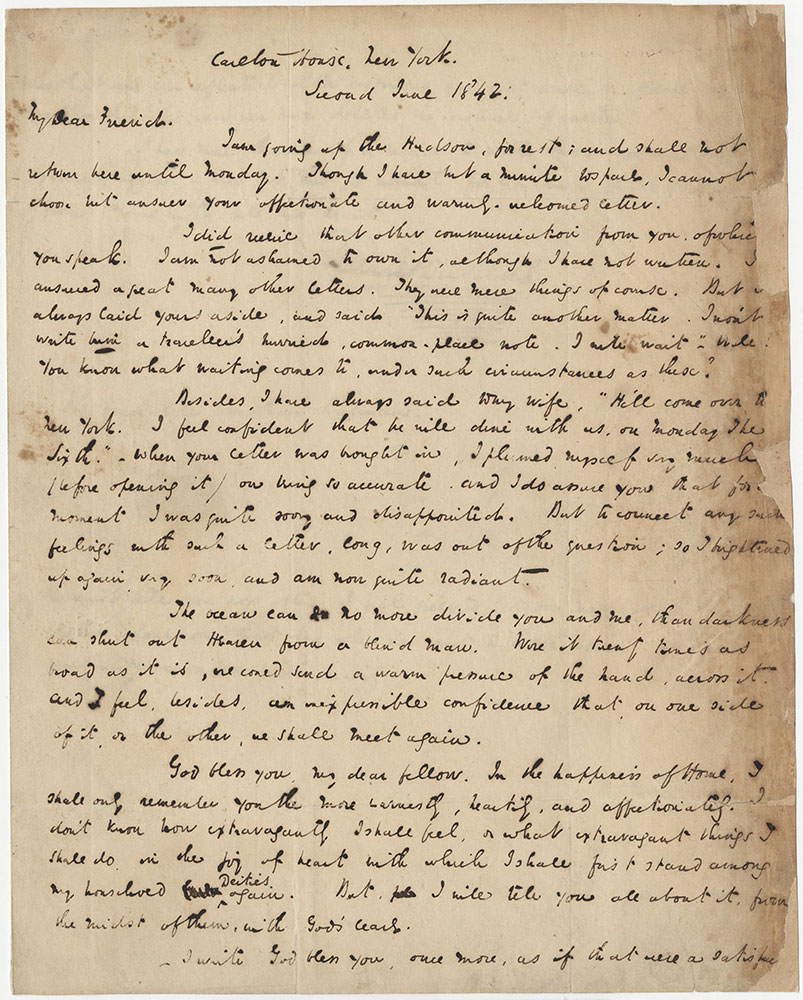 Item Info
Item No: cdc197101
Title: ALs to Jonathan Chapman
Accession Number:
82-1457
Physical Description:
[3] pages
Transcription:
Carlton House, New York I Second June 1842.
My Dear Friend,
I am going up the Hudson, for rest; and shall not return here until Monday. Though I have but a minute to spare, I cannot choose but answer your affectionate and warmly-welcomed letter.
I did receive that other communication from you, of which you speak. I am not ashamed to own it, although I have not written. I answered a great many other letters. They were mere things of course. But I always laid yours aside, and said, "This is quite another matter. I won't write him a traveller's hurried, common-place note. I will wait" - Well! You know what waiting comes to, under such circumstances as these?
Besides, I have always said to my wife, "He'll come over to New York. I feel confident that he will dine with us, on Monday The Sixth." - When your letter was brought in, I plumed myself very much (before opening it) on being so accurate. And I do assure you that for a moment I was quite sorry and disappointed. But to connect any such feelings with such a letter, long, was out of the question; so I brightened up again, very soon, and am now quite radiant.
The ocean can no more divide you and me, than darkness can shut out Heaven from a blind man. Were it twenty times as broad as it is, we could send a warm pressure of the hand, across it. And I feel, besides, an inexpressible confidence that, on one side of it, or the other, we shall meet again.
God bless you, my dear fellow. In the happiness of Home, I shall only remember you the more earnestly, heartily, and affectionately. I don't know how extravagantly I shall feel, or what extravagant things I shall do, in the joy of heart with which I shall first stand among my household Deities again. But I will tell you all about it, from the midst of them, with God's leave.
- I write God bless you, once more, as if that were a satisfaction. Who that has ever reflected on the enormous and vast amount of leave-taking there is in this Life, can ever have doubted the existence of another!
I have more than half a mind to write those three words of farewell, again. - But let this go without, for you know that it comes from Yours with all his heart.

Charles Dickens
The Honorable Jonathan Chapman

I cannont tell you how often I feel grieved at our not having dined together, alone, on that day when we went to South Boston. And now, it really weighs upon me, quite heavily.
MssDate:
Second June 1842
Media Type:
Letters
Source:
Rare Book Department
Recipient:
Chapman, Jonathan, 1807-1848
Provenance:
Sotheby, Suzannet sale, lot 226, via Maggs 11/23/7 , Matlack
Bibliography:
The Letters of Charles Dickens, Pilgrim Edition, Volume Three, 1842-1843, p. 248.
Country:
Creation Place Note:Carlton House
Country:United States of America
City/Town/Township:New York City
Call Number:
DL C366j 1842-06-02
Creator Name:
Dickens, Charles, 1812-1870 - Author
View other associated items