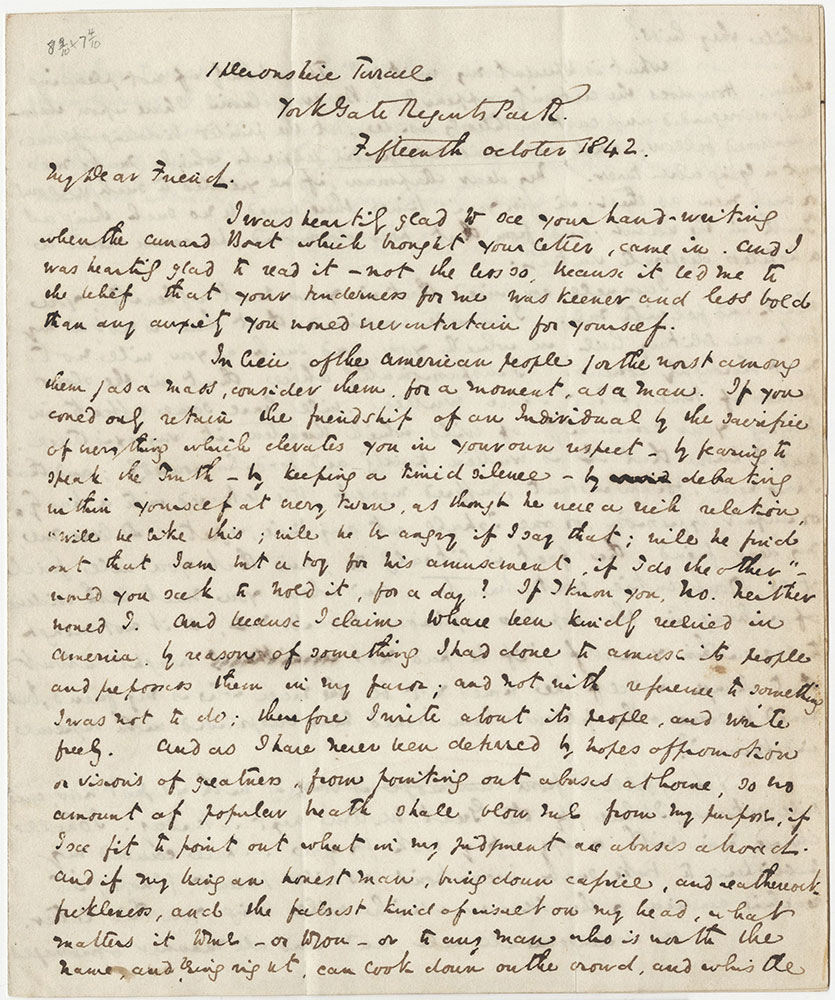 Item Info
Item No: cdc281501
Title: ALs to Jonathan Chapman
Accession Number:
87-201
Physical Description:
[4] pages
Transcription:
1 Devonshire Terrace I York Gate Regents Park.
Fifteenth October 1842.

My Dear Friend,
I was heartily glad to see your hand-writing when the Cunard Boat which brought your letter, came in. And I was heartily glad to read it-not the less because it led me to the belief that your tenderness for me was keener and less bold than any anxiety you would ever entertain for yourself.
In lieu of the American people (or the worst among them) as a mass, consider them, for a moment, as a man. If you could only retain the friendship of an Individual by the sacrifice of everything which elevates you in your own respect-by fearing to speak the Truth-by keeping a timid silence-by debating within yourself at every turn, as though he were a rich relation, "will he like this; will he be angry if I say that; will he find out that I am but a toy for his amusement, if I do the other" - would you seek to hold it, for a day? If I know you, No. Neither would I. And because I claim to have been kindly received in America, by reason of something I had done to amuse its people and prepossess them in my favor; and not with reference to something I was not to do; therefore I write about its people, and write freely. And as I have never been deterred by hopes of promotion or visions of greatness, from pointing out abuses at home, so no amount of popular breath shall blow me from my purpose, if I see fit to point out what in my judgement are abuses abroad. And if my being an honest man, bring down caprice, and weathercock fickleness, and the falsest kind of insult on my hear, what matters it to me-or to you-or to any man who is worth the name, and, being right, can look down on the crowd, and whistle while they hiss?
What is prevent my writing? The certainty of not pleasing them. How does the certainty appear? By every claim I have upon them being disregarded and cast ruthlessly aside, at the printed bidding of some abandoned fellow; and aspersions being greedily believed which make me out a lying adventurer? My dear Chapman, if we yielded to such reasons or such men as these; in five year's time there would be no such thing as Truth in the worldl and from that hour downward, her cause would be a hopeless, desperate venture.
I am well convinced that in your heart of hearts, you think and feel with me. I am well convinced that there is not, in my book, one solitary line in which you, and such as you, will not most thoroughly concur. I dispassionately believe that in the slow fullness of time, what I have written, will have some effect in purging your community of evils which threaten its very existence. And I know that it is written kindly and good-humoredly; and what I have never, for an instant, suffered myself to be betrayed into a hasty or unfair expression, or one I shall, at any time, regret. Believe me, my dear friend, the fact is literally so; and that you will find it so, to your entire contentment. And when you meet with evidences of a change in the popular opinion towards me, is it not enough to say within yourself, "if he had not brought about that change himself, he would not be the man who is my friend, but would be some other fellow whom I could hear dispraised with supreme indifference"?
Longfellow from Cambridge is staying with us just now, and will return, I believe, by the Great Western next Saturday. I shall charge him with a copy of my book for you. I have caused my publishers to take such precautions as will prevent (I hope) its reaching America by the Steamer which will bring you this letter.
Our darlings are all well, and send all manner of messages in broken English, to yours. Mrs. Dickens joing me in cordial and sincere remembrances to yourself, and to Mrs. Chapman. And I am always-stay; not always-conditionally-conditionally on your not, at any future time, talking about the length of your letters, or committing any such monstrous absurdity-Your faithful friend
Charles Dickens
MssDate:
Fifteenth October 1842.
Media Type:
Letters
Source:
Rare Book Department
Recipient:
Chapman, Jonathan, 1807-1848
Provenance:
Sotheby, Suzannet sale, lot 226, via Maggs 11/23/7 , Matlack
Bibliography:
The Letters of Charles Dickens, Pilgrim Edition, Volume Three, 1842-1843, p. 344.
Country:
Creation Place Note:Devonshire Terrace
Country:England
City/Town/Township:London
Call Number:
DL C366j 1842-10-15
Creator Name:
Dickens, Charles, 1812-1870 - Author
View other associated items